A world-class scientific meeting in a village in empty Spain | Science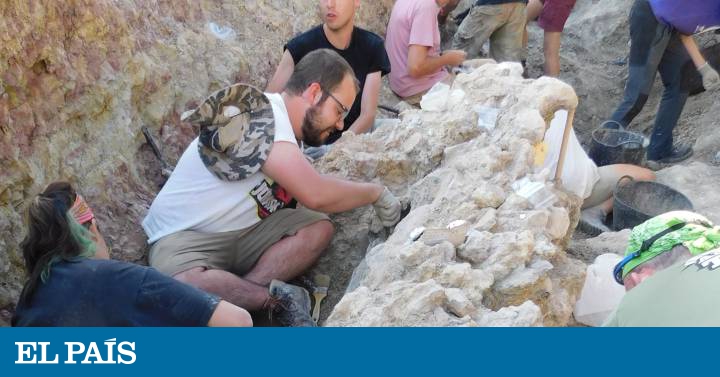 When in September of 1999 Peter Galton arrived at Salas de los Infantes (Burgos) he asked about the university. The American paleontologist, one of the most famous on the planet, had convinced him to approach there a group of young people ignorant enough to try something that seemed impossible. Galton was the first of a series of scientific luminaries that for 20 years traveled to this town of 2,000 inhabitants, in what has now been called the Spain empty, to participate in an international scientific meeting dedicated to dinosaurs. This year, from September 5 to 7, it will be celebrated again.
"We were like goats", recognizes Víctor Urién, one of the members of the Archaeological-Paleontological Collective of Salas, sitting in a cafeteria in the town square. With that unconsciousness, since December 2018, that group of paleontology enthusiasts started sending letters to some of their idols. "Then the internet was less developed and the only email account we had was mine, as a teacher, from the ministry of education," says Urién. "We wrote letters by hand and fax," adds Fidel Torcida, who is now director of the museum dedicated to dinosaurs in Salas. That first year, they also managed to attract David Norman, a researcher at the University of Cambridge who has made documentaries such as Walking among dinosaurs, and to José Luis Sanz, a reference in Spanish paleontology.
"We were lucky, because we knew that the first ones had to be important and then attract others," continues Torcida, who is surprised by the good reception received by requests "not coming from a university" but from a rural paleontological collective. In addition to taking great figures, they also received a large number of scientific communications and visitors from all over Spain. "There had not been the dinosaur boom that came after," says Torcida.
Although it did not have a university, the Salas de los Infantes area had good dinosaur sites, where animals as interesting as the Demandasaurus darwini, a herbivore similar to diplodocus more than 10 meters long, or Europatitan eastwoodi, an even larger sauropod that could reach 27 meters. Many of the pieces that later helped to define these species were then accumulated without much order in a village store. Later on, among other things, due to the impulse of the internacinonal days, it was possible to create a modest museum in which to exhibit them.
Of all these years, Urién highlights the humanity of all these popes of science. Remember, for example, the occasion when they took James Farlow, of the University of Indiana, to see from a hill the circular cemetery where the end of the film was recorded The Good, the Bad and the Ugly, a few kilometers from Salas. When he recognized the place he started running as Eli Wallach does in that mythical scene screaming that it was his favorite movie and throwing himself on the floor.
"Another one who was a star is Paul Sereno. We managed to convince him to come to the fourth attempt, "says Urién. Sereno, a professor at the University of Chicago, is famous for his appearances in National Geographic and for discoveries such as the giant crocodile Sarcosuchus. In addition, in 1997, People magazine included him in his list of the 50 most beautiful in the US. "The participants were fascinated, because it was also very interesting," Urién smiles. "The guy got up very fast, he did not sleep, because later at night he was the last one to drink beers," adds Torcida. "He went there to the Peña Rota very early to be in contact with the telluric forces, it was very intense. One day he told me that he thought that the time had come for him to finally have a son. And I think: if he is 60 years old, "recalls Urién.
When the success came, they were recommended to take the days to Burgos, near a university and with better hotels. "But we wanted to do it here, as a way to attract other types of cultural activities and to collaborate, even a little bit, with economic development and fight against depopulation," explains Torcida.
This year, among the outstanding participants of the international days of Salas de los Infantes will be Steve Brusatte, professor at the University of Edinburgh and discoverer, among other things, of Qianzhousaurus sinensis, a Chinese relative of Tyrannosaurus rex. Martin Sander from the University of Bonn, who uses the latest computer technologies to reconstruct dinosaur movements from his fossils, will also attend.
(tagsToTranslate) meeting (t) scientific (t) level (t) world (t) town (t) Spain (t) empty (t) empty (t) rooms of infants (t) group (t) enthusiast (t) ) attract (t) year (t) do (t) two (t) decade (t) main (t) expert (t) dinosaur (t) world



Source link