A woman cries in 'El intermedio' while asking for Sánchez's resignation: "Spain hurts me"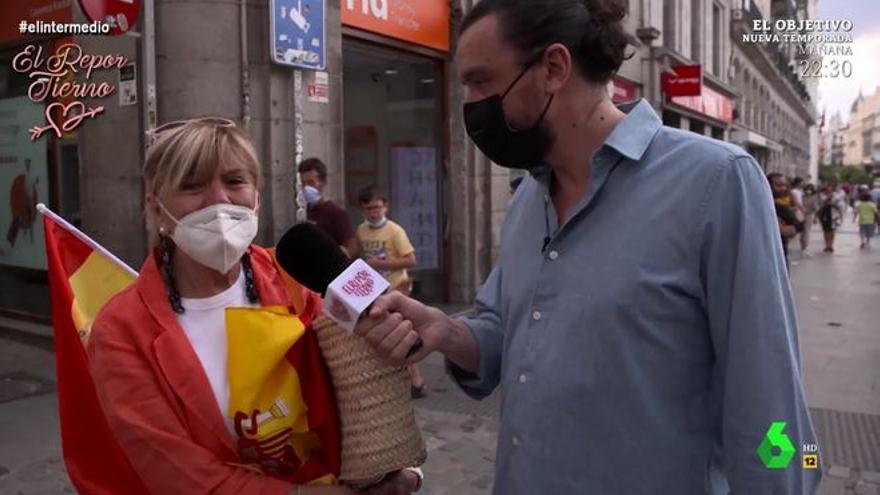 'The intermediate' has started its 16th season in the sixth with the incorporation of new collaborators. One of them is the film director David Pareja, which has become the 'reporter' of the program led by Greater Wyoming. This is a section with which he intends to calm the tension in society and which has led him to the demonstration of the 'Pedro Sánchez resignation' platform.
The space showed this Tuesday the report of Pareja, who chatted with some of the people who were demonstrating against the president. The main protagonist was Cristina, a 71-year-old woman who did not hesitate to show her rejection of the central Executive: "Pedro Sanchez he has to leave the Government and Spain ".
The protester called for "new elections" because, according to her, "we have not chosen Pedro Sánchez." A statement that caught the reporter by surprise: "I suppose people have voted for him to be there." "All the scoundrels who want to end Spain have joined"Cristina responded, who also attacked the partners of the socialist government: "The Podemitas want to destroy Spain because they are communists, and Pedro Sánchez has put him here".
On the other hand, he defined the president as "diabolical" and denied that he found him attractive. "I like men who dress by the feet"He assured before putting Santiago Abascal as an example: "He is a man who could lead the country." In case there was any doubt, Cristina affirmed that she is "on the right."
But the most surprising thing about the video came when Pareja asked him to think "a positive song" to ask for Sánchez's resignation. "I would like, Pedro Sánchez, that you remember when you were little and you thought of Spain as one and great"Cristina said with a broken voice and crying. "Spain hurts me," she settled excitedly.