A volcanic Djavan because of Bolsonaro | Culture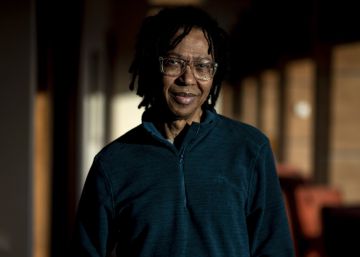 Everything is going wrong / A lot of salt / Nothing is going well / For nobody / In that pressure / Who has to shake hands / so that the world / leaves the bottom / to breathe / and not die? sing in Living is Duty, from his last album Vesuvius. To the sweet, loving and lyrical Djavan (Maceió, 1949) The gesture has been distorted since Bolsonaro has ruled his country.
"The album, however, contains an optimistic message," says the Brazilian singer. "Vesuvius It is an analogy between the woman and the volcano, the woman has more strength than the volcano, but some songs also reveal my concern about the political situation in the world and in Brazil with a final message of hope in the future. I have hope in the push of the popular force. The revolutions are from the bottom up; It is the people, not the governments, that change things. My hope is not in the changes of the governments, in the politicians, who do their jobs privileging their economic groups and the people continue with the worst public services. I hope that the people fulfill their duties. "
For Djavan, the history of Brazil is divided between before and after the Lava Jato operation, the great case of corruption around the Petrobras oil company. "Since the operation against white-collar corruption began five years ago, things have changed in the country. There is no longer total impunity that the rich had; Before it was enough to have money to avoid justice. Things have changed, the law is the same for everyone, at least it is the intention. People's behavior has changed a lot. I do not say that politics has changed radically, but there are signs of a path for the better and the longer it gets longer the harder it will be to stop. "
Djavan's soft music seems to follow the opposite direction of his texts. "When I play political issues I tend to compose soft melodies to introduce the message more fluidly. Solitude It is an almost innocent, pop melody, and it has been a great success in Brazil for easily penetrating the public. That was my goal. " The letter says: Lives, bales / mere data / countless cases / heartbreak / how much pain / much pain.
Near the 71 years of age, more than 45 of professional career, 24 discs of study, Djavan is unrelenting musically. His records, and Vesuvius also, they gather a cluster of rhythms. "All my albums are characterized because they are not characterized by a style." There is samba, bossa nova, soul, funk, jazz … "Diversity is the result of my education. When I was 13 years old I went to a friend's house and his father had a fabulous disco. There I first heard Sarah Vaughan, Ella Fitzgerald, classical music, jazz, flamenco, the intuitive complexity of African music, God took me to that house, the Lord called my curiosity so much that he let me go whenever I wanted, I learned to differentiate genres, the strong time , magic, of each genre. As a child it was a value to know how to play everything ".
Published last year in Brazil, Djavan has started the European tour of Vesuvius In a week it takes you through Paris, Lisbon, Porto, London, Paris, Madrid (this Wednesday) and Barcelona (this Thursday). The interview is conducted between their performances in Portugal, on a day off (for their helpers). "He doesn't eat meat, he doesn't drink wine, so in the morning he wants to visit the cities," complains Suzy, who asks for advice and points to a fado house and a visit to the Lisbon botanist. Djavan goes around the hotel stroking each floor, calling them by name. "They are aromatic plants, mint, lavender, thyme …", he says. The artist enjoys a farm where he grows about a thousand trees of 350 different trees, his particular Amazon.
In Orchid, Gardener Djavan plays word games with almost all species of ornamental flower. "You remember that Phalaenopis / that you gave me / left me with Sophronitis / for a kiss from you / Pleurothallis, Paphiopedilum / too many colors / none common."
So lie to him the threat to the Amazon It makes him almost lose his calm manners. "We are nature, nature is our house, our body. If nature is damaged our health is being damaged. The Brazilian Government cannot put production with conservation at the same level; He cannot think, as does the US government, that nature is less important, that nothing will happen, that it will recover. Nature is not an annual production plan. "
Ask for help
Here he is also optimistic: "The international community has become aware that it has to intervene, that otherwise life will be unfeasible. Caring for nature is urgent, there is no other option. I hope my Government takes note. I understand that Bolsonaro is bothered when it is said that 'the Amazon belongs to the world'. Ok, the usufruct is Brazilian, but when we can't guarantee its preservation, something needs to be done. I don't know what, but if Brazil doesn't know how to take good care of the Amazon, it will have to ask for international help. Something must be done immediately to stop the fires, so as not to destroy the habitat of the Indians, who protect nature. "
In his previous work (Lives to tell, 2013), Djavan remembered stories of his childhood and his family, now this appears Vesuvius more risky, linked to the current problems of Brazil. Is the artist's life more difficult with Bolsonaro? "Not that of the artist, that of the people. Bolsonaro has been in power for a year and the actions of his Government are unpredictable, unstable, insecure. We do not know where we are going, their actions give us no hope, hence my confidence in the strength of the people is very great. "
The creator of Lilás (1984) and Fleur de Lis (1987) already assumes responsibility for the entire creative circle. As an instrumentalist, singer and songwriter, years ago he also assumed the arrangements of his songs and the production of his albums. "Years ago I asked friends for arrangements. They were very good arrangements, but not for what I wanted to express; The same thing happens with production. The producer can take a record to the field he wants, with his idea of ​​the album, but it is not necessarily the idea of ​​the creator of the songs. It's a lot of work, but I like doing it. "
An unclassifiable classic, versioned by an endless range of artists, from Al Jarreau to Ketama, in his last work a bolero sings alongside Jorge Drexler, Splendor. "It was not my first bolero, I feel comfortable singing boleros and I proposed to Jorge to freely version in Spanish Meu Romance for my latin tour; he called it Splendor and I will sing it in Spanish in Madrid and at the jazz festival in Barcelona ".
(tagsToTranslate) djavan (t) volcanic (t) culpa (t) bolsonaro (t) singer (t) referent (t) popular (t) Brazilian music (t) (t) present (t) madrid (t) barcelona vesúvio (t) political disc (t)



Source link