A virus in the institution: why art returns to AIDS | Babelia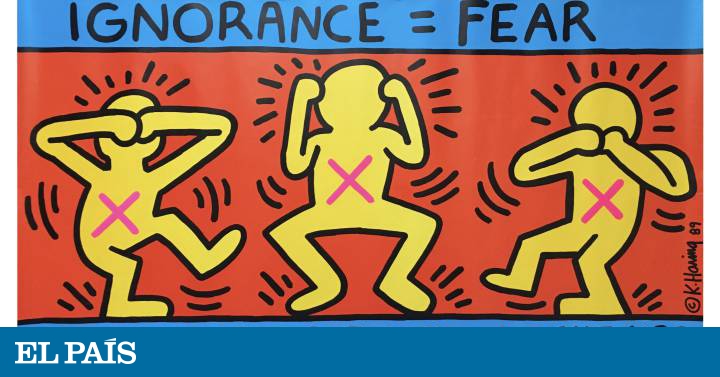 "I want to be a virus in the institution," he announced Félix González-Torres in 1994, during a conversation with the American artist Joseph Kosuth. "All ideological devices are replicating because this is how culture works. If I function as a virus, an imposter, an infiltrated element, I can replicate with these institutions. " In three few sentences, the Cuban artist laid the foundations of his artistic practice, but also of his political project. One of his co-religionists in the New York of the eighties, Keith Haring – who was born a year later and died six years before he, a victim of the same disease – worked, despite the differences in form, in an almost identical way: adopting the graphic codes of the capitalist world to inoculate in him ideas susceptible to destroy his white and heterosexual dogma. Every dollar spent on that endless products derived from their works represents an additional victory for their cause.
The tribute to González-Torres now dedicated by Arco, which starts tomorrow in Madrid, is symptomatic of the growing interest that art institutions – and, now, also the market – show for a generation of creators who, while AIDS was raging , changed the way of doing art and political activism, as if they were willing to be contaminated by their practices. In recent times, the names of artists such as Nan Goldin, David Wojnarowicz, Mark Morrisroe, Dana Wyse or Zoe Leonard – who demanded "a person with AIDS as president" in a work signed in 1992 – have become ubiquitous in museums and biennials from all over the world, while the legacy of groups such as General Idea or Group Material, which forced the conversion of museums into spaces for debate and thought, seemed increasingly relevant in the current context.
"It is not a simple fashion, but an update, which follows the pace of popular culture, where the issue is more advanced than in museums. There have always been exhibitions about AIDS, but it has taken a leap of generation to see things with perspective. That generation is already here, "analyzes French art critic Élisabeth Lebovici, who just published AIDS (Arcàdia), which brings together its essays on this issue. The author has spent years investigating the relationship between the art of the eighties and nineties and the different forms of militancy that emerged during the epidemic. "The activists of the time went to look for tools in conceptual art. Therefore, the fight against AIDS began to use photocopying, installation and performance, producing a counterculture that opposed the media representation of the AIDS patient as a monstrous being, "says Lebovici. The best known of all was the call die-in, variant of sit-in of the hippies popularized by the Act Up organization, in which the protesters pretended to be dead, in a staging of the mass deaths of patients in the face of general indifference.
Museums and researchers have been returning to this turbulent period for years and correcting their poor representation. In 2015, a traveling exhibition, Art AIDS America, launched a look at the time in New York and Los Angeles, coinciding with four other samples related to AIDS in the United States. But, however well intentioned, the initiative raised protests: a collective organized a die-ininside to protest against the absence of black artists, which they considered systematic. In 2018, something very similar happened with a great retrospective dedicated to David Wojnarowicz, victim of AIDS, which later stood out at the Reina Sofía Museum in Madrid. During his time in New York, the show did not like Act Up, in which Wojnarowicz himself died, who died of AIDS in 1992. The association accused the museum of inscribing the HIV epidemic in the distant past and of not recognizing that was still killing while the specialized magazine Frieze He denounced that the sample conveyed a "healthy" and "digestible" version of the work of Wojnarowicz, fierce scourge of American society, who came to label his countrymen as "walking swastikas." Was it right to get someone who spat on him into the western canon?
Examples abound. Two recent shows in New York and Berlin have rescued the figure of Iranian artist Reza Abdoh, who died in 1995 from complications linked to AIDS. In the meantime, Angels in America, the play that Tony Kushner premiered in 1991, was returning Broadway, starring a Hollywood star like Andrew Garfield. Now, the Comédie Française de Paris, the great temple of the public theater that Louis XIV founded in 1680, has just incorporated it into his repertoire, with a montage by the director Arnaud Desplechin. Meanwhile, in Brussels, the Bozar museum proposes a retrospective dedicated to Haring that pays attention to that political commitment that the merchandising He has managed to hide.
In Spain, there is the initiative of Anarchivo Sida, ambitious research project that collects artistic practices and collective experiences related to HIV, attending to the non-Anglo-Saxon geographical space, in charge of Team Re, formed by Aimar Arriola, Linda Valdés and Nancy Garín. The result has been seen, among other places, in centers such as the Macba, in Barcelona, ​​where the project was exhibited in 2018 and 2019. "In our museum project is the idea of ​​rereading the nineties and introducing it into the narrative of the museum, which until recently was anchored in the seventies, "explains Macba's head of programs, Pablo Martínez. "When this historical moment is analyzed, it is impossible not to understand that AIDS was a fundamental event, which affected not only the artists as individuals, but also their ways of doing. The AIDS crisis claimed a public concurrence of art, a clear commitment to a specific conflict. " In addition, individual genius and first-person practices return, invalidating the death of the author enunciated by Roland Barthes and Michel Foucault. "The self returns, although it will be a different self than before. It can no longer be understood as an individual entity or tied to the subject," Martínez adds.
Lebovici insists that it was "a fully political self, as evidenced by the cases of Wojnarowicz or González-Torres." The stellar presence of the latter in Arco It is not a problem, but it does generate certain doubts. "He never said he didn't want to sell his work, but he put drastic conditions: he didn't sell goods or objects, but possibilities," says art criticism. That is, the number of candies needed to recreate one of his works, but never the installation itself. "When that potential is reserved for those who have the power to buy these works – that is, a small circle of collectors and very rich institutions – there is a contradiction regarding their conception of art," says Lebovici. For Martínez, if AIDS infiltrates even a fair like Arco, it is because our time is not so different from the one that faced that runaway epidemic. "The era of AIDS expansion coincides with an ultraconservative moment, that of thatcherismo and the reaganism, when the advances of women and those of black and gay minorities are attacked. Today, subaltern identities are in danger again, "he concludes. The lessons of that remote time are still valid.