A vacation with public Wi-Fi and no cyber criminals | Technology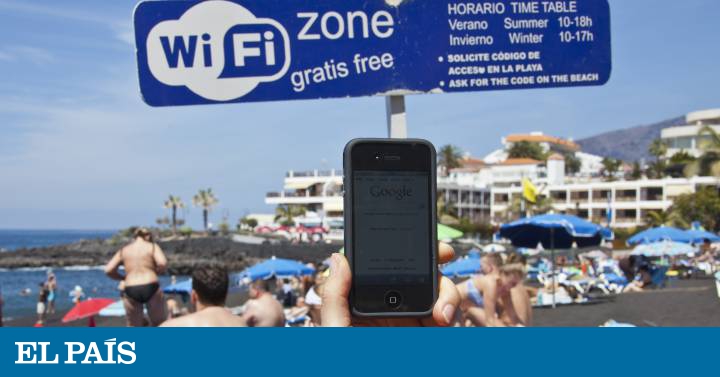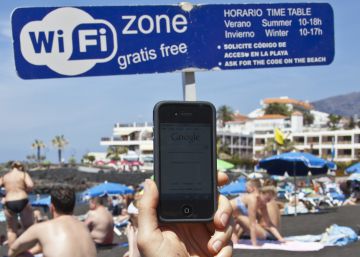 The holidays come for many. When we have a few days off, sometimes we get disconnected from work, but what we find more difficult is to disengage from the mobile. For a few years there have been studies on phone addiction. Disorders have appeared the nomophobia, which is the irrational fear of leaving home without the mobile or not to wear it constantly. In addition, all studies agree that at least 50% of mobile users are dependent on it. The addiction is a primary disorder that prevents the individual from stopping to consume despite the negative consequences that can occur using the phone.
This dependence means that we do not separate from the mobile, whether we are traveling, in the pool or at the bar. And it provokes the constant search for connections and Internet access in any place, either through 3G and 4G data, the roaming if we travel abroad or public and free wifi networks. These open wireless connections are a gateway for cybercriminals who take advantage of this type of network to access the terminals of connected users.
"The current devices automatically show wifis available networks and can be a temptation not to spend data or roaming during the holidays. But we must bear in mind that attackers often offer a free access WLAN as a decoy or trap to capture data traffic or distribute malware on connected devices, and therefore pose a real risk to the protection of our information. ", Warns Ricardo Maté, general director of Sophos Iberia
We are constantly searching for connections and Internet access anywhere, either through 3G and 4G data, the roaming if we travel abroad or public and free wifi networks. These open wireless connections are a gateway for cyber criminals
Spain has been the country of the European Union with the most victims of some Internet identity theft during 2017. One of the accesses for these attacks are open Wi-Fi networks. To prevent scares during the summer period, the network security company that directs Maté Y the National Institute of Cybersecurity (INCIBE) They offer several tips so that the connection to public WiFI networks during the summer occurs safely.
Erase the digital trail. After browsing an open network and making use of different applications and web pages, it is necessary to erase the digital trail that has left your route. For this, it is advisable to delete the browsing history and the cookies, delete the temporary files of the browser and close the sessions of all the places where you have entered with your username and password. In addition, it is advisable to have the latest version of Bluetooth because from 4.0 all connections between devices appear encrypted by default.
Do not access banking information. One of the fundamental tips is not to visit any sensitive site or access banking or commerce services on-line in which electronic payments are made through an open network that is not reliable. Data theft may not be detected until after some time and cybercriminals could access bank accounts and credit card information without your noticing.
Guarantee secure access to your social networks. Since not to enter social networks during the holidays is almost impossible mission, it is advisable to protect access to social networks by authentication in two steps, changing the password or closing the session each time you leave and enter the application. Delete the Wi-Fi networks and Bluetooth devices to which you have previously connected. They can reveal where you have been.
Protect your email account. If you are going to use the e-mail To send photos or share information during the holidays, it is recommended not to use the same account in which there is sensitive information. If you prefer to use the email account to upload photos or files to the cloud, it is preferable to create a specific user and minimize the theft of information in the event of an attack. Turn off Bluetooth and Wi-Fi connections if you are not using them.
Do not download attachments. Curiosity can be dangerous if we talk about the internet and unknown contact, and wanting to know what contains a file that you receive from a doubtful source can be how to open the door of your device to cybercriminals. Download attachments from web pages or informative documents, can also be a risk while connected to a public Wi-Fi network.
Antivirus for mobile always. As the awareness of having an antivirus for computers is already consolidated, this practice should also extend to the current handheld computers that are our own. smartphones. Mobile phones are replacing computers in capacity and functions and every time we use them for more things, that is why it is fundamental to have security software that protects access and information stored by our mobile phones or devices with an internet connection.
Make use of VPN networks. The private network or virtual VPN allows you to encrypt all the information that is transmitted from your devices at the moment of connecting to a Wi-Fi network.
A total of 3.5 million mobile applications are potentially suspicious of which 77% are malware (on Android), says a study of SophosLabs. "Today we have assimilated with a certain naturalness that cyber attacks appear in the news, so we should also be aware that mobile devices are vulnerable devices that pose a high risk every day that we do not adequately protect them", concludes Maté.
(tagsToTranslate) holidays (t) public (t) cybercriminals (t) access (t) banking information (t) bank (t) use (t) form (t) secure (t) secure (t) network (t) t) social (t) count (t) antivirus (t) be (t) recommendation (t) avoid (t) theft (t) data (t) internet



Source link