A UD Las Palmas that finds its strength in its fans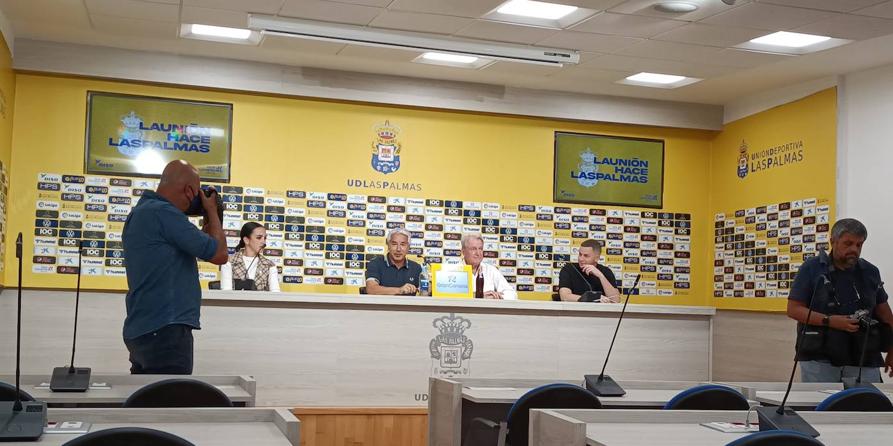 Football
The yellow club presents the season ticket campaign for the 2022-23 season, giving its fans their own voice
The
UD Las Palmas wants to dye the Gran Canaria Stadium blue and yellow again. This Friday the club presented its season ticket campaign for the 2022-23 season in the press room of the Siete Palmas venue. With some
prices that remain Compared to the past year and the fully renewed energies after the end of the campaign where the communion between the fans and the team shone with its own light, it is expected that what is to come will follow the same path.
The sellouts against Real Oviedo and against CD Tenerife, in the Canarian promotion playoff derby, lead the way. Segura funds burst and there was no room for more people in both appointments to receive the bus. A special aroma is breathed in the environment and this campaign is aimed at continuing in this wake.
Fall to get up, together. That's why it's so nice to be yellow.
«Now the subscriber takes the floor»advanced
Patrick Vinyayo, General Manager of UD Las Palmas. «He Normally he is more accompanied in victory than in defeat, but
the fans laid the first stone of this campaign of subscribers in the second leg against Tenerife, "continued the manager. "If we had had 40,000 seats, we would surely have filled them. You always learn and we learned that the path of UD, for what the public gave us all, must be surrounded by our own", Viñayo added.
As for the term of the 2022-23 subscriber campaign, the renewals will begin
from today same (from 4:00 p.m.,
on-line), Friday June 17
until july 11. Seat changes will take place on
July 12 and 13. The new additions, meanwhile, will be
from July 14 to August 7. The categories are as follows: small (0-6 years old), minor (7-17 years old), young (18-23 years old), over 65 years old and unemployed. renovations
on-line They will be made from the club's website:
www.udlaspalmas.es.
"The most important thing is not that
prices hold while everything goes upWhat is significant is that they are prices that were agreed upon with a group of fans at the time," said Piñayo, emphasizing that subscribers "had a guaranteed seat" thanks to the "fortune" of accessing their tickets without further charge. in the meetings where everyone wanted to get a ticket to access the Stadium.
«The fans gave an example of maturity and understanding which greatly comforted the players. They are now disconnecting, on their vacations, knowing that they did their job well, "said Patricio.
The different guests invited by the club, subscribers to UD, agreed that Las Palmas
"You will never be alone and that we are the best."