A triplet by Rafa Mir gives three gold points to the bottom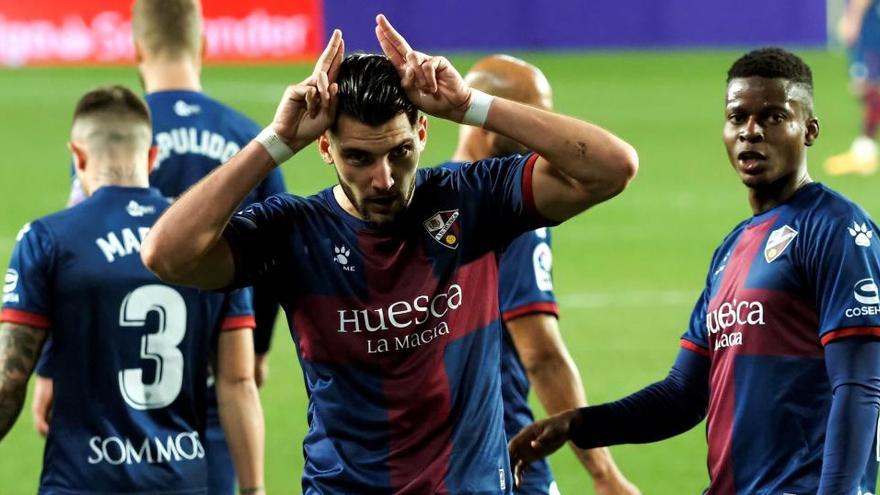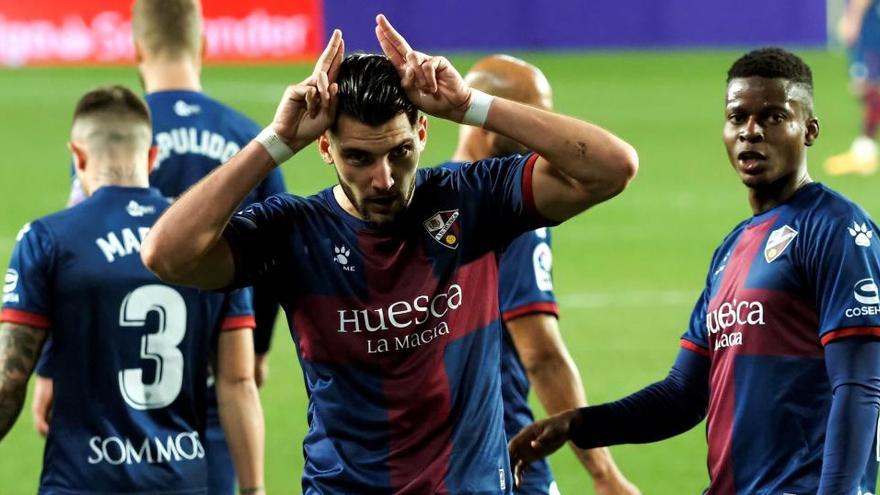 The Huesca, bottom of LaLiga Santander, achieved this Friday three gold points with a Rafa Mir's triplet before a Real Valladolid (1-3) that was shown very weak in defense and made mistakes again which resulted in a painful defeat that leaves Sergio González on the ropes.
The fear of the locals was evident in the defensive line, very delayed, which allowed Huesca to take control of the game in the first stages of the match and have the first chances to score, with a very active Rafa Mir, who showed a great offensive mordant.
Real Valladolid was advancing that line, and also had an opportunity to open the scoreboard, like the one Kike Pérez had in his boots, whose shot required Álvaro's intervention to avoid the goal. The blanquivioleta box was trying, but that last pass was missing to create danger.
And Rafa Mir warned so much that in the end he scored the first goal for his team in the 37th minute, with a perfect header after a great center from Maffeo. Again, Real Valladolid had to row against the current, in this case before the last classified, which increased his pressure.
The truth is that Huesca was more daring and with more desire to vindicate itself, so it looked more eagerly for the opposite goal, while Valladolid returned to suffer from that lack of punch, which did prove to have Pacheta's team, since their arrivals in the blanquivioleta area carried a threat.
With the 0-1 break was reached. And the reaction of Sergio González was immediate, giving entry to Guardiola to have two attack points and look for more offensive options. But Huesca was not intimidated and, in fact, in the first arrival after the restart, Rafa Mir added as much to his locker, after getting ahead of the two Blanquivioletas centrals and beating Masip.
A brutal blow for the local team, who was in a state of shock, which the team from Huesca took advantage of to once again question the Blanquivioleta defense. Rafa Mir, once again, combined with Escriche, recently joined the Huesca game, to receive and define perfectly.
0-3. Hat trick for a tremendously effective Rafa Mir. Sergio González throws the rest and gives way to Toni Villa, Hervías and Kodro, who debuted with the blanquivioleta shirt. It was of little use, because they did not achieve that intensity to be able to put the rival in a gap.
Toni Villa, already in extra time, put the 1-3 on the scoreboard, the goal of honor. Although in this case, that honor did not serve to counteract the plummet of Real Valladolid, which wasted a magnificent opportunity to distance himself from a rival in the fight for permanence.
Data sheet
1 – Real Valladolid: Masip; Luis Pérez (Hervías, m.62), Joaquín, Bruno, Nacho; Alcaraz, Míchel (Oriol Rey, m.75); Orellana (Kodro, m.62), Kike Pérez, Óscar Plano (Guardiola, m.46); Weissman (Toni Villa, m.62).
3- SD Huesca: Alvaro; Siovas, Pulido, Gastón Silva; Maffeo (Pedro López, m.76), Mikel Rico (Sergio Gómez, m.86), Doumbia (Ferreiro, m.76), Seoane, Javi Galán; Rafa Mir (Borja García, m.86), Okazaki (Escriche, m.54).
Goals: 0-1, m.37: Rafa Mir. 0-2, m.50: Rafa Mir. 0-3, m.56: Rafa Mir. 1-3, m.92: Toni Villa.
Referee: Ricardo De Burgos Bengoetxea (Basque Committee). He showed yellow cardboard to Míchel (m.33), Nacho (m.64), from Real Valladolid and Gastón Silva (m.23), Doumbia (m.29), from Huesca.
Incidents: Match corresponding to the twenty-first day of The league Santander, played at the José Zorrilla stadium. The Huesca captain wore a bracelet in tribute to the recently deceased former coach Vicente Cantatore, with his name and his usual glasses stamped on it.