A total of 131 listeriosis sufferers and there are another 523 suspected cases | Society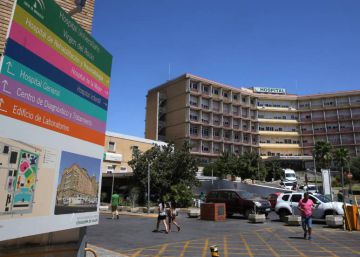 Listeriosis cases continue to increase in Andalusia. The number of confirmed infected has already risen to 131, while another 523 remain as suspects awaiting the results, as confirmed by this morning the Minister of Health and Families of the Board, Jesús Aguirre. "The incubation period of listeria is very variable, since it goes from a few days to seventy. But I am sure that more cases will be confirmed," said Aguirre during an interview in the Cope chain, in which he has mourned the death of a 90-year-old woman, the first fatality of the largest outbreak of this bacterium in Spain.
The contagion figures rise every day. "The cases should continue to rise at least until 20 days have passed since the definitive withdrawal of the contaminated product from the market," Begoña López, a member of the Andalusian Society of Epidemiology, tells this newspaper. In the last 48 hours the average of new confirmed cases was about 40 daily. Aguirre has argued that the treatment "is very effective" and the health system "is working very well." "We hope that the evolution of the patients is the best possible," he added.
The spokesman of the listeriosis outbreak monitoring cabinet established in the Ministry of Health, the doctor José Miguel Cisneros, wanted to convey a message of tranquility in the face of the possibility of more deaths. "There are about 300 cases of listeriosis infection a year and 20% die. Most people who have taken the roasted meat should not be worried, because they probably have no symptoms or suffer from mild gastroenteritis. " This morning the group of specialists returns to meet at the headquarters of the Ministry in Seville.
Although most of the infections have occurred in Andalusia, possible cases are investigated in Madrid, Extremadura and Catalonia. Yesterday the Junta de Castilla y León activated the regional alert to detect four containers of the Mecha mecha, which caused the outbreak and whose production and distribution was paralyzed on August 14, in an establishment in the Segovian town of San Rafael.
The Ministry of Health, through the General Directorate of Public Health and Pharmaceutical Management, issued on August 15 a health alert on the meat product with the commercial name 'La Mechá', manufactured by the Magrudis firm, with domicile In Seville capital, after verifying that this product is the causative agent of listeriosis outbreaks registered in Seville in recent weeks.