A thousand people demand another model of residences nationwide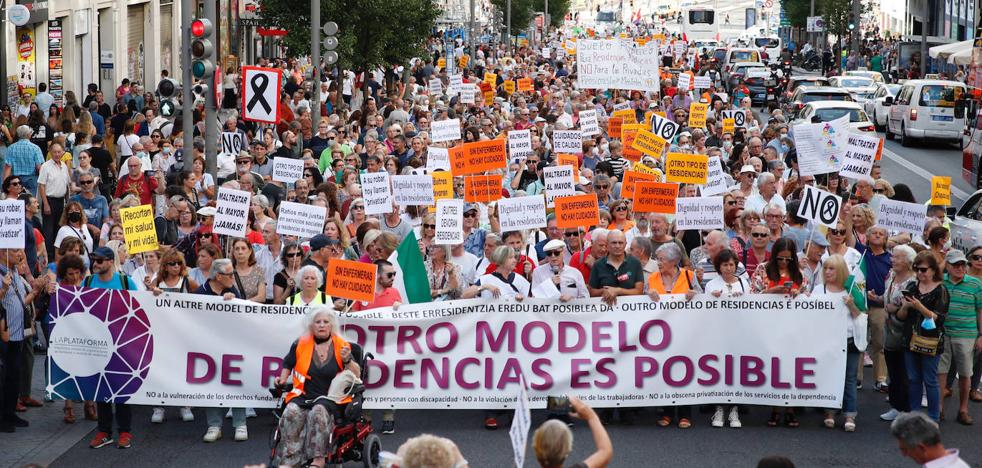 The march passed through the center of Madrid to ask for an increase in staff in the centers, with a caregiver staff ratio of 1.13, more inspections and the end of the macro-centres
Some 1,500 people demonstrated this Saturday in Madrid to request another model of residences at the national level, according to data from the Government Delegation. The convening associations of this march, which ran between the Plaza de España and Callao, ask for an increase in personnel in the centers, with a caregiver staff ratio of 1.13, as well as more inspections and the end of macro-residences.
This protest occurs just two days after a user of the Moscatelares residence in San Sebastián de los Reyes denounced on Thursday in the plenary session of the town council the conditions suffered by its residents, with temperatures of up to 40 degrees and "despicable food." According to his account, the inmates in this residence, with more than 140 patients, have experienced this summer's heat wave without air conditioning, with temperatures in the rooms that have reached 40º, with users who have had to be admitted to a hospital center for dehydration, "despicable" food or lack of clothing.
Some conditions, as this resident revealed, that also cause nobody to want to work in it, which he blamed on the "miserable wages" that are paid.
Faced with this situation, the spokeswoman for Más Madrid in the Assembly, Mónica García, criticized this Saturday in the demonstration that the Government of the Community «abandons» the elderly and has asked that they not leave the residences «in the hands of business and funds vulture". García believes that a society is measured "by how it cares for its elders, the most vulnerable."