A theatrical scene to shake the public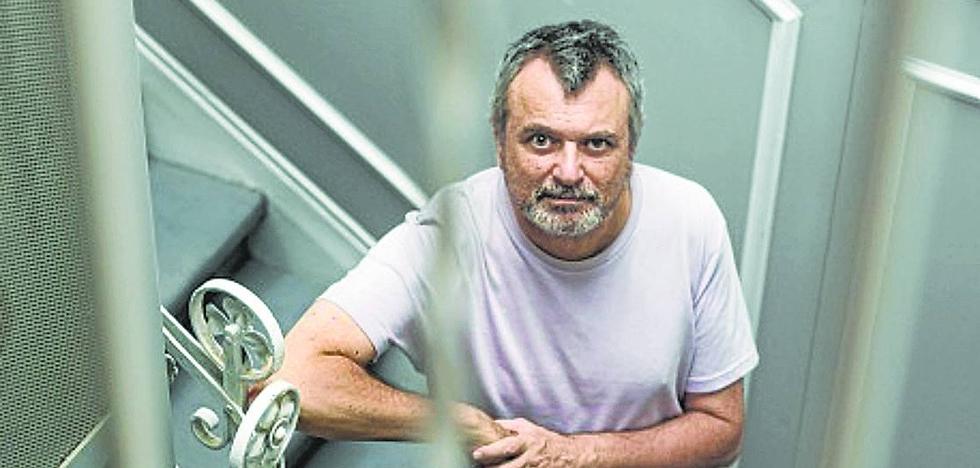 The week of Ernesto Caballero
The playwright and former director of the National Dramatic Center adapts Lorca and prepares the premiere of 'Yerma'. He does it while meditating in the morning and playing chess at night.
Upon leaving the position of director of the National Dramatic Center, where he spent eight years, Ernesto Caballero (Madrid, 1958) founded a singular company called Teatro Urgente, to search for Greek origins and bring the essence of the theatrical debate to the contemporary scene. Author of works such as 'Squash' and 'Tierra de por medio' and director of texts for Calderón de la Barca ('Eco y Narciso'), Christopher Hampton ('Dangerous friendships') or Juan Mayorga ('Darwin's turtle' ), among many others, is now daring with García Lorca, by adapting 'Yerma', which premieres at the Quique San Francisco Theater in Madrid on September 30.
Monday
4:00 p.m. After a break of a couple of weeks, I'm back to rehearsals. I go to the Quique San Francisco theater, which used to be called Galileo, where Teatro Urgente is the resident company. To the actors I say: Error is our tool, you have the obligation to make mistakes. I don't want them to show their best, as is often the case in theater auditions. Here I want you to take risks.
10:05 p.m. I'm done with rehearsals for today. After working with the actors I have done lighting tests with the technicians. Homecoming.
11:40 p.m. With the pandemic I got used to seclusion and watching series, like 'Ozark' and 'Succession'. To sleep, today I watch the fourth chapter of 'La marquesa', the series by Tamara Falcó. I am very struck by that way of generating a story without conflict. It's like an advertising world, but a 'spot' lasts a minute and this, several hours. It is the arcadia, where there are no setbacks or ailments. Nothing stands in the way of realizing your wishes. It's a fallacy, but I'm fascinated by how he manages to catch. In this chapter finally appears a conflict. Someone has knocked down the gate of the farm and she experiences it as a great tragedy.
mars
9:30 a.m. I meditate. It suits me; Anxiety calms me, because I am very nervous. I try to find a fifteen minute slot every day, but sometimes I skip it. Now I do it in the mornings. Some time ago I did transcendental meditation but now I practice a Tibetan one, of 'mindfulness'.
12:40 p.m. I review a database of about two thousand people linked to Teatro Urgente, to select trusted people who come from the public to rehearsals. We have to work with those reactions in mind, and engage them in a discussion. To be faithful to our work guidelines, I will introduce public little by little. I'll have to do a casting.
10:15 p.m. I open a beer. I am a brewer. It's a great pleasure. Coming from rehearsal to open the beer can is blessed glory.
Wednesday
10:00 a.m. I read the press on my mobile. I am subscribed to all the newspapers. I also check it at bedtime. Something can always be happening. I'm also very much into Twitter, which is a bar for grumpy drunks, but if you do it properly, you can find cultural and scientific references. Theater questions that do not come to me by any other means. I was a smoker, and not compulsive. With this social network, the only one I have, it's the same.
5:30 p.m. I stop the rehearsal. I want to talk about what we are doing because we are not looking to make a theater to please. I suggest that Yerma, beyond her symbolic dimension, is someone who kills, a character who ends up murdering her husband. So I ask Karina Garantivá, the leading actress, the following question: At what point can the price of an idea of ​​liberation be a human life? And before she answers, I advise her: As in the old tragedy, be wary of hasty solutions.
00.20 hours. I play chess against the machine. I do it every day, every night, at least three games. There are channels to which I am very hooked, which in ten minutes show you the latest games by Carlsen or Caruana. I learned at the age of seven with my father and brother, and I have not left it. Chess is always a game against oneself.
«The series 'La marquesa' is a fallacy, but I am fascinated by how it manages to capture and generate a story without conflict»

Thursday
6:50 p.m. In the rehearsal I verify that Karina knows how to work in the here and now, and be in the place of uncertainty in which the actor has to move, because each moment and situation is different. She understands that the scene must be produced every day. But I have to ask her to go to the hairdresser tomorrow. So I tell him: That hair you have looks like a mask that subtracts dramatic intensity. Part of my job as a director is to look at the subtle things, the pragmatic and the sophisticated. In this case the subtle, like his hair, can make the audience take attention away from him.
11:10 p.m. I'm not going to continue watching 'La Marquesa'. I take up another one that had already started, 'I am a killer'. This series inspired me a set design that we tested in 'Yerma', in which the protagonist is in an interrogation room and the plot is built with 'flashback'. But we rejected it, because it greatly conditioned the opening of the work. The current approach is made in a larger space, and has become a great black wall, which is more eloquent.
Friday
11:25 a.m. In summer I usually write my works. I am a playwright for six months and a director for the other six. But this year, with the premiere on September 30, I have not been able to dedicate myself to my own texts. This morning I will take a break with a good coffee, since I am a coffee grower, to return to Lorca's dramatic poem, which premiered in 1934. I study his willingness to speak of the human being with his contradictions, errors and vulnerabilities, through the history of this female character seeking motherhood. I do not consider my adaptation finished, which starts from the suspicion that the poet could be revisited from a different perspective. It is very difficult to play Lorca, he is very musical. You have to be very careful.
Saturday
10:00 a.m. We have visit. A friend of my wife who comes from the Colombian Guajira. I like to cook and stay for dinner or lunch. I boast of being from 'Euskadi sur' because I make some cocochas al pil pil that my friends from Bilbao have told me are unbeatable. For today I will make paella, a paella from Alicante with vegetables, chicken and rabbit. I'm going to strive. I make an absolutely homemade life.