A terminally ill Parkinson pleads to be allowed to die with dignity | Society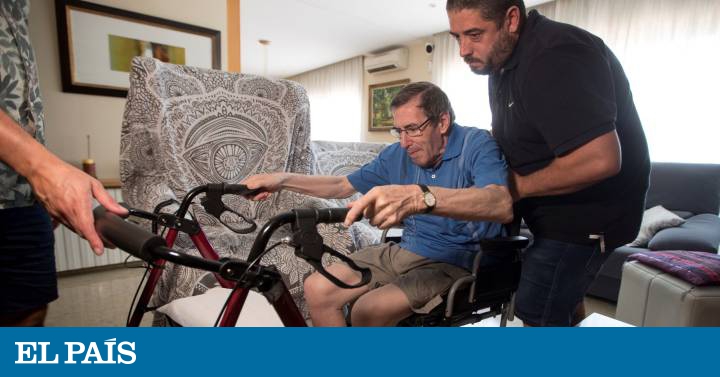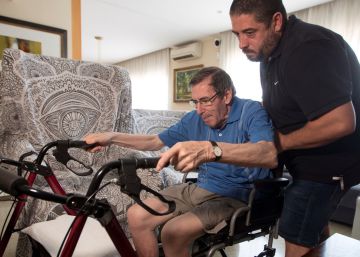 Antoni Monguilod, a resident of Malgrat de Mar (Barcelona) who was diagnosed with Parkinson's 12 years ago and who can no longer fend for himself, begs the politicians to legalize euthanasia to stop "suffering" and die "with dignity" and that recognize that deciding on death "is a fundamental right".
Accompanied by his wife, who serves him 24 hours a day and helps him communicate, Monguilod, 74, explained that doctors have told him they understand his request, but they can not do anything to help him because assisted death is not allowed in Spain. His wife and four children understand and assume the demand, but Monguilod does not want to "compromise or have problems" when he dies, as it has happened in the case of María José Carrasco. Her husband, Ángel Hernández, was investigated for cooperation in suicide and later the Audiencia de Madrid ordered that the case be investigated as macho violence.
Magdalena, the wife of Monguilod, considers that Carrasco "was very brave". "He says he can not do it anymore and that he wants to leave, and I understand him because he has always been a very independent and very free person, who moved a lot, and now you see that he totally depends on other people," the woman lamented. Monguilod, who does not want at all that this situation "extends over time," worked his entire life as an electrician, edited the magazine Som-hi, local publication of Malgrat de Mar, and was also involved in work at the City Council and at the meetings of their children's schools.
His wife explains that they have not considered traveling to another country, such as Switzerland, where assisted suicide is regulated, because they can not afford the transfer. Monguilod has drafted a living will to leave his body to science, although he regrets that they have not allowed him to write down his wish to die when he decides. The samples of support to the family have been very numerous, especially after the publication of a letter in several newspapers in which the patient recounted his situation and demanded the decriminalization of the euthanasia.
"I have reached the point of not being able to fend for myself and I have to depend on other people, especially my wife, and since I know that this has no solution and I love her very much and I do not want her to lose her health taking care of me, I have decided to put end to this situation ", narrated in the letter.
His illness began with almost imperceptible symptoms, such as having trouble fastening his coat or moving more slowly, but in the last two months he has suffered "a slump" that makes it difficult even to eat. His dependence is such that his wife can not take care of him alone. It is helped by three people at different times of the day. "We are all with our hands tied, so we'll have to wait for their time to come," Magdalena said. She says that they have always been "very believers". She says that "times have changed a lot", she has been convinced that "there are religious organizations that will agree" with what they ask for.
"Defending this does not give votes to the parties," criticizes Monguilod, who wants his request to help increase pressure in favor of the approval of a new law. and that your complaint is shared by other terminally ill patients. He acknowledges that he does not believe that he will see any substantial change that involves the decriminalization of euthanasia alive. His wife replies: "We'll see, because the younger generations, like our grandchildren, I'm sure they'll fight a lot."
(tagsToTranslate) sick (t) terminal (t) parkinson (t) plead (t) leave (t) die (t) antoni monguilod (t) receive (t) diagnosis (t) do (t) 12 (t) year (t) want (t) to suffer (t) commit (t) cause (t) problem (t) family



Source link