A tentative first step | Culture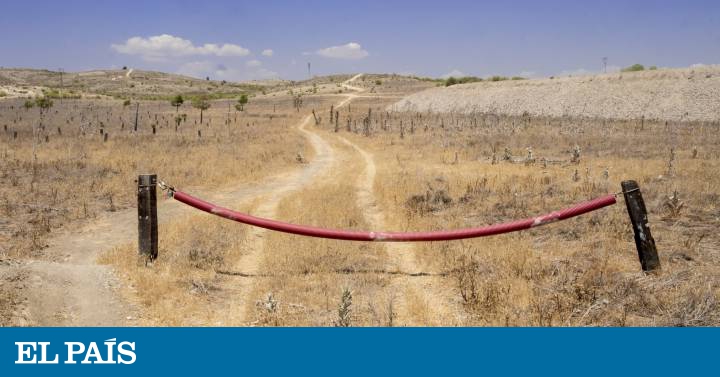 It's half past six in the morning and, instead of arriving, I'm leaving home. Sitting on the portal is a girl devouring a hamburger. I almost swallowed at two. She drowns the party she brings on her Big Mac; I'm going to walk for seven days in a row with a banana in my backpack. I don't know who is crazier.
The first step of this road is tentative, because of the stumbling and because still – already with the boots on, already in the street – I am not sure if this is a good idea. I have accepted the assignment – leaving home, walking straight for a week and telling it – in a clear example of coming up.
"Walking is a trend," the boss tells me to endorse the issue. "Walking as a radical, philosophical, ecological, feminist, poetic act… From the Greek peripatetics to Thoreau, the thinkers have walked; a lot of rehearsals are coming out. " And I, "of course, of course," although I had no idea. But I think: "Hey look, an adventure, children away on vacation, the house falls on me, the same weight loss."
I spend the next week stretching and reading on tiptoe about walking. Fragments of news such as Walk; the advantages of discovering the world on footby Erling Kagge or Hiking with Nietzsche, from John Kaag. Reissued Classics (Walk, by Henry David Thoreau; Walk, by William Hazlitt and Robert Louis Stevenson), and recent classics (Praise of walkingby David Le Breton; Walking, a philosophy, by Frédéric Gros).
I take a short walk through the verses of Machado and Claudio Rodríguez, review Wordsworth's walks and Baudelaire's wandering. I remember two flâneurs that I know and I feel great, poetic tramps in my own city: Belén Bermejo (Microgeographs) and Sergio C. Fanjul (The infinite city).
I take a feminist eye at Flâneuse, from Lauren Elkin and The revolution of the flâneuses, from Anna María Iglesia. I like it alot Wanderlust, a story of walking by Rebecca Solnit (that of Men explain things to me) I put it in the backpack despite its 463 pages and 615 grams.
Step of all books containing mindfullnesGod or trekking in the subtitle.
Before my enthusiasm, the boss also comes up and gives me the novel Saturn's rings from W.G. Sebald, a billet with no separation between paragraphs in which the "Joyce of the 21st Century" travels Suffolk with his feet and the history of humanity with his mind. I feel it is a sand slope and I leave it for later. To lighten, I reread an old edition of Austral that is at the house of Trip to the Alcarria, and the booklet, short and customary, gives me a destination.
Camilo José Cela's trip ends almost in Zorita de los Canes, a town in Guadalajara that I know because it is close to my country house. Sounds like a dick, but no. It is a sixties vest that my parents bought almost 30 years ago, high in the Sierra de Altomira, lost in a sullen forest where it costs me to grow beyond pine and jara. If a oleander that endures everything. In summer it is suffocating, in winter, a fridge and the TV is tube. I went with them some weekends without my adolescence plan, to play Pictonary and Taboo, to do puzzles. But the truth, I went more later, with boyfriends, to play too, you know. When I have gone more, however, it has been with my children, it is the place where I loose the puppies.
The trip from wherever I lived in the last 30 years to this other house, I have done it hundreds of times. Always by car, without looking much out the window. Never stopping, stop what in an hour and peak trip? Lately I take it to see Twitter, just looking up to see where we are going from the string of towns that I know by heart because my mother recited it just to make me nervous: Rivas, Arganda, Perales, Tielmes, Carabaña, Orusco, Ambite, Mondéjar, Albares, Almoguera, Zorita de los Canes, Almonacid, Albalate de Zorita.
Rebecca Solnit says in the prologue of Wanderlust (free translation: lust for wandering) that going by plane or by car means cutting time and the landscape, while "each walk moves through space like a thread through a fabric". I will do that: repeat the road a thousand times torn, bashing myself with the terrain and the hours. A stitch under a highway, another over a river bridge. The known path, a new perspective.
When the date of taking the first step is approaching, everyone has a brilliant idea. "Take a heart rate monitor that measures your strides", "geolocate your location in real time", "put a Go Pro between your tits". Or quite the opposite: "Do it without a mobile!" Pfff, the rock. The most repeated: "If you do not go alone, it is not valid." I refuse everything, at this point I have read enough to know that walking is not a challenge, neither sport, nor tourism. It is something else. I don't even add how many kilometers I'm going to do with a photographer I don't know, between 100 and 150, it doesn't matter. This is a particular path. Mine and I miss. The details remain, nobody will ever repeat it, not even me. It is not a guide, it is a doubt: Why do we walk?
I am open to improvisation, but with a plan: stages of between two and six hours that end in accommodation (if it can be, with a swimming pool) and safe roads, which means stepping on the smallest possible asphalt to avoid dying on a shoulder rolled by a truck, which involves hours of planning on pages of greenways, livestock, paths and routes through the countryside. I walk as I write, which is how I am: everything seems to have just occurred to me, but it has been much ruminated. And I always call an expert.
Juan García is a walking activist, everything is political. It belongs to Ecologists in Action, my pedestrian heroes since they managed to knock down the moratorium of Central Madrid, where I live. "You have chosen the least showy exit on foot from the city," he tells me. He knows them all, he has been opening them to the public passage for years, removing obstacles, freeing roads. The march is going, literal and figurative: he offers to accompany me during the first day and brings a partner. Here we go, a middle-aged Dorothy and her three strangers along the yellow tile road that leads to Albalate de Zorita (Guadalajara). We pass through a parking lot that reads "Enter slowly." And we begin by disobeying: We go slowly yes, but we leave.
. (tagsToTranslate) tentative (t) first (t) step (t) custom (t) walk (t) seven (t) day (t) count (t) touch (t) think (t) destiny (t) plan ( t) arrive (t) die (t) run over (t) book (t) load (t) backpack (t) background (t) doubt



Source link