A slight respite for Europe | Economy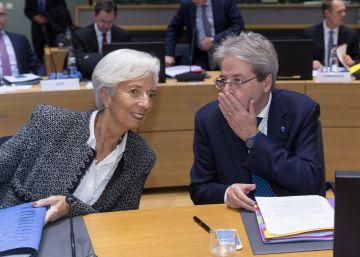 At the turn of the summer, they painted clouds. They forecast the forecasts of a recession in Germany; the trade wars of Donald Trump were still in volcanic mode; the augury of a Brexit For the braves.
Since November, there is a certain turn, true turn but we will see if sustained, of those expectations. The most tangible thing is that Germany, the European locomotive, has once again dodged the recession. For the minimum, yes: it grew 0.1% in the third quarter, for 0.2% the eurozone and 0.4% Spain. Thanks to the increase in domestic demand (higher consumption thanks to wage increases and residual unemployment), a construction and services shot and the good work, against forecasts, of exports, despite a recessive industry.
As key as that: traced the optimism of investors and consumers. News like the announcement of the American Tesla will open its European electric car factory (and batteries) in Germany and not in the United Kingdom, underpinned the relief. Volkswagen started its production of electric cars in the East. And the public investment plan against climate change was finalized with a renewal for this type of product. Automotive remains the heart of German industry, and of the national and European economy. And of its export vigor.
That is why the second factor is decisive, a certain distension on Trump's multipolar trade war board. Because Europe is its main indirect victim: 11% of German foreign sales go to China.
And he is also a direct victim. So it is good news to have won the guillotine date of November 13 without news. By then, Washington intended to start the second round of anti-European tariff aggressions, focused on the automotive industry; the first was against steel and aluminum; the third (Spanish olive, and other sensitive products), in retaliation for aid to Airbus.
Of course, nothing is certain and that the lunatic tenant of the White House invents every day possible punishments, either to France, or to Brazil or Argentina. But compared to the eventual tenfold multiplication of the European car tariff – from 2.5% to 25%, up to $ 12,000 for each vehicle produced in Europe – they are less lethal.
Round the picture the perspective of a soft Brexit – bad, but better than the much worse chaotic Brexit – for January. And it is completed by the premiere of the mandate of the European institutions, around a new common project: the Green Pact.
Especially since the ECB and the European Investment Bank already sharpen the pencil to finance it: with direct aid, better treatment of bank investors … If there is money, there will be projects, because talent is not lacking. The cotton test is that conviction that there is a business opportunity.
. (tagsToTranslate) light (t) respite (t) europe (t) economy (t) eurozone (t) dodge (t) dodge (t) moment (t) recession



Source link