A scenic and rock reflection on self-esteem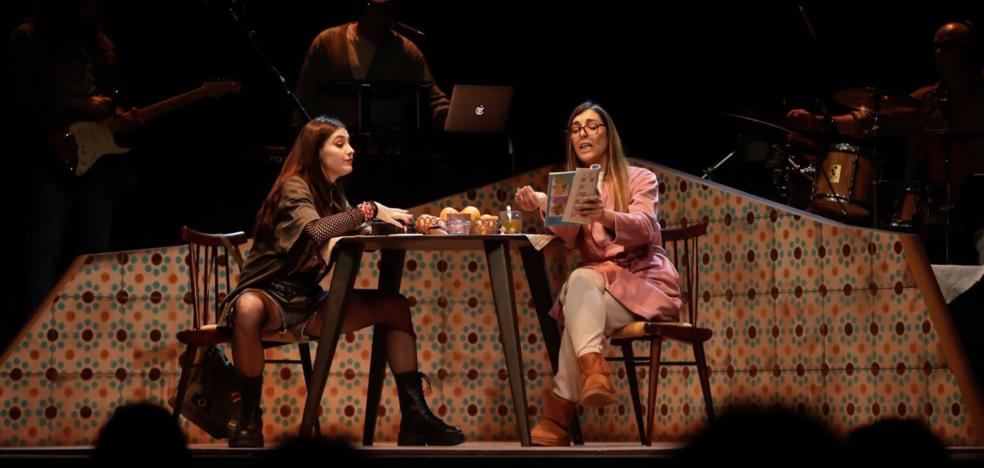 The Sala Insular de Teatro hosts this weekend 'I killed Kurt Cobain', starring the actresses Adriana Ugarte and María de Vigo
The Sala Insular de Teatro (SIT) in Las Palmas de Gran Canaria will be transformed this weekend into a rock scene with the premiere of 'I killed Kurt Cobain', a play that reflects on self-esteem problems, depression and suicide to the rhythm of songs by the mythical band Nirvana performed live.
Reason why "you have to tell people to come prepared to see not only a play, but also a musical show, a concert," warned this Tuesday when its director, Luis O'Malley, presented it just a few days before that it be staged in two performances, one on Friday and the other on Saturday.
After showing the media a preview of 'I killed Kurt Cobain', its director wanted to clarify, in any case, that the references to Nirvana are just one more support for the message of that work.
O'Malley was accompanied by the two actresses who star in it, María de Vigo and Adriana Ubani, while the melody of 'Smells like teen spirit', an authentic anthem for the followers of the ill-fated star, was played by a band formed to the occasion by Nacho Martín, Ximo Martínez and Enrique Martínez.
Since, based on a text by the author Rosa Reig within the framework of the Canarias Escriba Teatro project -annual public call for support and accompaniment of new island playwrights- and promoted by the 2RC company with the support of institutions such as the Cabildo de Gran Canaria, on which the SIT depends, seeks to promote debate about the obstacles that sometimes lead people to consider whether their existence is worth it.
Since "the idea was based on a tribute to an era, the 90s, but speaking a lot about emotions" and "how a decision can mark your life", declared the director of the work.
The show raises these and other reflections to the public, as its synopsis progresses, through the story of Marta, a 46-year-old woman, married with two children who suffers from insomnia and spends her nights in the kitchen of her apartment chatting with Martita , a 16-year-old teenager who accompanies her during her long mornings.
While together they try to unravel a mystery that has haunted them for years, that of who killed Kurt Cobain, their conversations take them further and further, to the point that, finally, "they question whether or not they should continue with their lives. », emphasized Luis O'Malley. Director who specified that, in any case, the importance of the issues addressed by his dialogues does not prevent it from being "a fun work" because of how those reflections are focused. And, furthermore -he underlined-, because of the dynamism that Niravana's rock gives it, which sounds recurrently. An element that is part of the assembly by the will of the author Rosa Escrig.