A Saint Peter by Raphael makes the Vatican Museums even bigger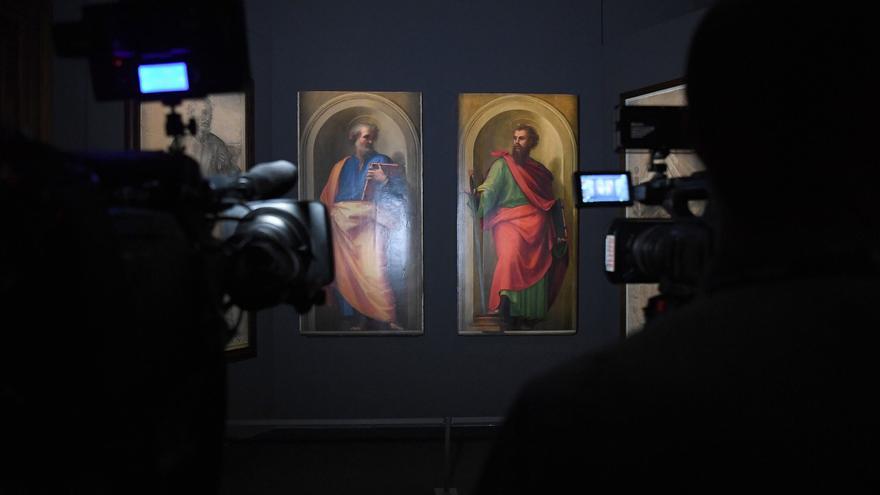 The Vatican Museums inaugurated this Friday the exhibition with the paintings of Saints Peter and Paul, a sample of "two imposing and wonderful paintings", which, with the confirmation that the author of San Pedro is Rafael Sanzio, adds a new work by the famous artist to the Vatican collections, the director of the museums, Barbara Jatta, explained to Efe.
The two pictures "are in dialogue with the cartoons and drawings" that served as a sketch, made by Fra Bartolomé, which are exposed on the sides of the boards, which allows "to capture the artistic process that has led to the making of these impressive paintings, "said Jatta.
In 1513, Fra Bartolomé, a Dominican painter and friar from the Florentine convent of San Marcos, traveled to Rome where he was commissioned the two paintings of San Pedro and San Pablo, although a sudden artistic crisis left San Pedro incomplete. "The investigations and examinations carried out during the restoration" confirmed the indications that that work was finished by Rafael, Jatta exhibited, and now these two paintings can be visited in the Vatican Museums, which until now were in the apartment of the papal audiences of the Vatican Apostolic Palace, closed to the public.
The exhibition 'Saints Pedro and Pablo de Rafael and Brother Bartolomé. A tribute to the patrons of Rome ', which opens this Saturday, is according to the director of the Vatican Museums "a beautiful contribution" to Raphael's study and had the collaboration of the Uffizi Gallery in Florence, which provided the drawings preparatory prepared by Fra Bartolomé.
The restoration work on the tables of Fra Bartolomé and Rafael lasted longer than anticipated due to restrictions due to the pandemic and delayed the opening of the exhibition, which was initially scheduled in 2020, coinciding with the 500th anniversary of Rafael's death.
At the inauguration, the director of the Uffizi, Eike Schmidt, celebrated the collaboration between his gallery and the Vatican Museums, which trust him to continue in future projects, and stated that "the collaboration between Fra Bartolomé and Rafael also inspired" the common work of both institutions for this exhibition. The head of art from the 15th and 16th centuries at the Vatican Museums, Guido Cornini, highlighted "the scientific importance" of this restoration, which shows together sketches and paintings of "some fundamental works".
The exhibition It will open on September 25 and will run until January 9 in the rooms of the Pinacoteca of the Vatican Museums.