A road connects La Laguna and Las Norias on the still hot lava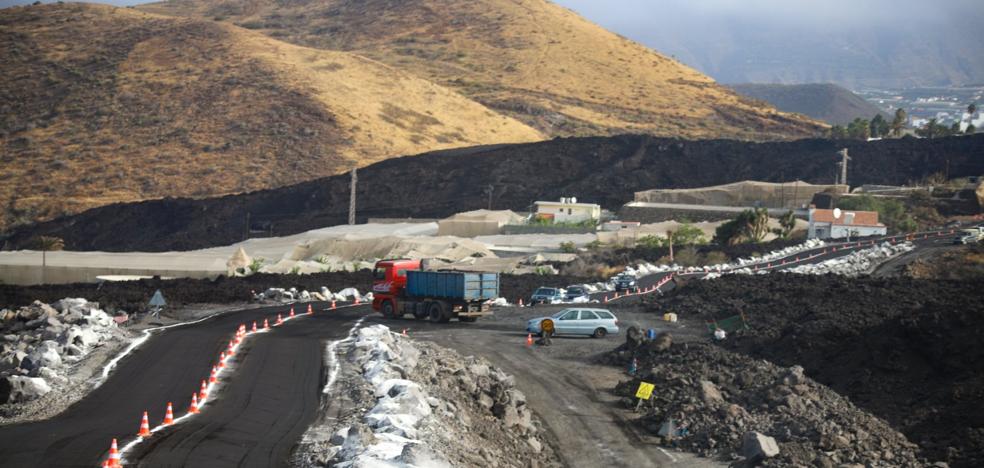 Vehicles will be able to circulate at a maximum of 20 kilometers per hour and it is forbidden to stop due to the risk posed by the heat at certain points
The track that crosses the surface of lava flows from the volcanic eruption in La Palma was opened this Monday to two-way traffic and continuously during the day, which represents an improvement in the connectivity of the Aridane Valley that shortens the journey by more than an hour and a half.
Although the work on the track has not finished, a provisional route has been set up along which
All types of vehicles can travel, from trucks to motorcycles, at a maximum speed of 20 kilometers per hour and with the prohibition of stopping throughout the tour due to the presence of hot spots.
For the first time since the eruption, the road connects the north and south of the Aridane Valley through the neighborhoods of La Laguna and Las Norias. by means of a 3.3 kilometer long track that can be completed in just over ten minutes, when the alternative prior to the opening was a journey of more than an hour and a half around the island.
The president of the Cabildo palmero, Mariano Hernández Zapata, yesterday thanked the companies and technicians for their courage that have made possible the safe opening of this communication channel, "that we made the decision to put machinery on the lava flows to experience what was happening" he declared.
The vice president of the Island Council and Minister of Infrastructures, Borja Perdomo, recalled that
the track is still under construction, so he asked drivers to take extreme precautions when they circulate on the road and that they follow the instructions of the staff and the signs at all times.
Perdomo recalled the characteristics of the newly opened runway, 20 meters wide and on which more than 100 operators and 60 heavy machines have worked, which has allowed "four and a half months later, and thanks to scientific work and some luckily, we can allow passage through this area ».