A retiree who tried to charge for taking money out of the card: "The treatment they give to the elderly is inhumane"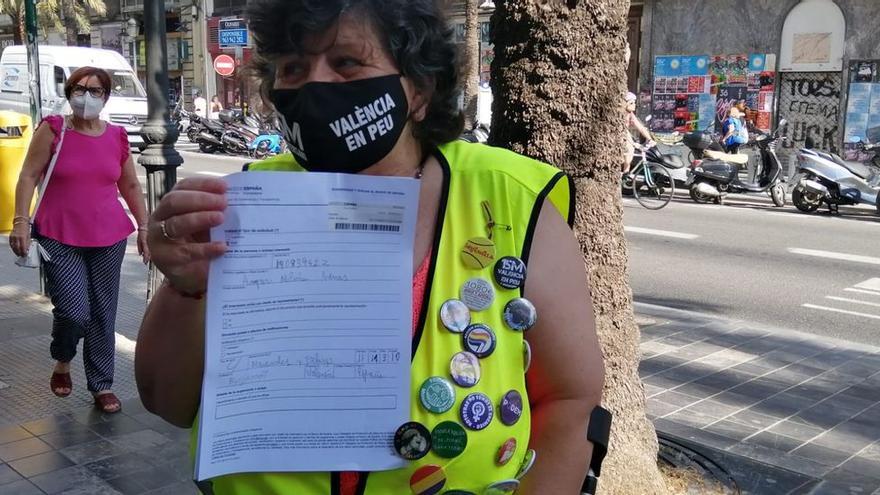 "I still can't believe this happened. banks They have mistreated us older people a lot, but they wanted to charge me for taking money out of my passbook. It's a Berlanga film!" This is how Amparo Molina is dispatched, a retiree with reduced mobility who last Wednesday experienced how the employees of her BBVA office in Burjassot wanted to charge her two euros for assisting her at the window to withdraw money and has ended up denouncing the financial institution for the poor treatment she received.
It is the office of Amparo's life and whenever she goes "help me get money from the passbook because I don't understand ATMsUntil this Wednesday, January 26. "It turns out that now they have the instruction that they charge you if you go to the window, but I don't want to pay because I already pay, I don't feel like being charged more," says Molina.
The intention of the retiree was to get money before going to the City of Justice of Valencia, since she affirms that she had no way of going by her own means. "Yesand I even asked him please, saying that I needed to go to see if at least it moved them, but nothing, I left without being given a dime", complaint. The next day he filed a complaint with the Civil Guard. "The policeman and the chief of police behaved very well with me and told me that this could not be. That they also have mothers and they couldn't allow the banks to go overboard as they are doing and mistreat the elderly like that. It's inhumane and unfair, that's why I want what I've done to be made public," says Molina.
With the help of a colleague from iaioflautes València, an association to which he belongs, he has written the 'Letter from a client to the BBVA workers in Burjassot', where he recounts his case and sentences "now on the street they repeat I'm older, but not an idiot! Well, listen because they are interested". After what happened and before the case was made public, Molina was able to meet with the director of the branch to see if "things changed a little."
Molina has a pension of 689 euros and points out that "what cannot be is that they want to stay even longer and do not give us anything. When they told me I had to pay to get money, I flatly refused, I'm not going to pay any more." of the win, there has to be a regulation", he remarks. Likewise, in a few days he will meet with the Burjassot Consumer Ombudsman and in a few weeks he has an appointment with the Sindic de Greuges to present a claim.
walk to office
"They make us stand outside for hours on end, before there were seats on the bench and they have been removed, but there are many older people with crutches (like her) who cannot stand for so long. What they are doing is inhumane and it must be stopped, that is why I denounce it, so that they realize that we do not deserve this treatment. We are older, we have been through a lot in this life and we don't deserve this," Molina denounces.
According to the retiree, "I am a pensioner and Social Security forces me to have a card. They should set up a window for us and they will attend to us, they will have to do something." For Molina, the pandemic has served to close branches and cut staff, that is, to provide a worse service. "I have nothing against the workers, mine is with those above, who do nothing but close branches, fewer and fewer offices and fewer and fewer people, where there were three people now there is one, and meanwhile we spend hours waiting outside to be attended to. It seems that our time is not worth it, it is inhuman and humiliating," he denounces.