«A race like the one Roberto Guerra did in Gran Canaria is very difficult nowadays»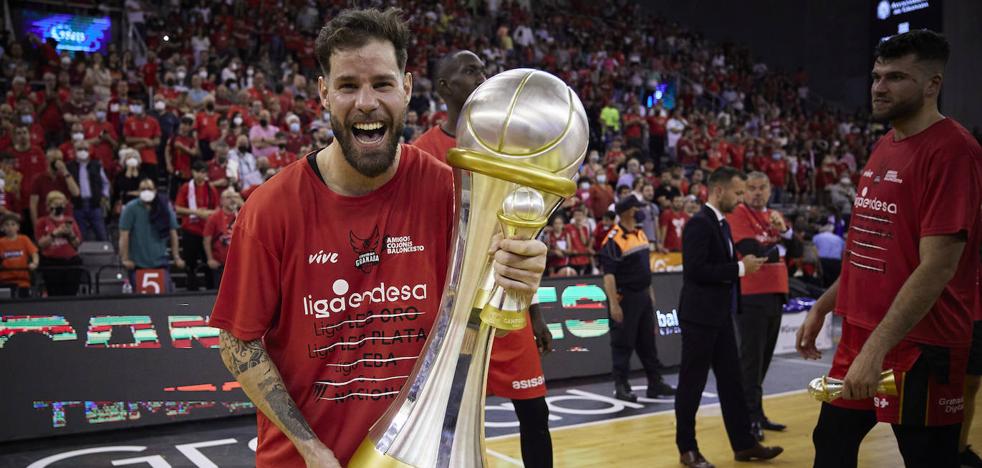 endesa league
The player from Gran Canaria, Christian Díaz Rodríguez, returns to the national elite at the hands of the recently promoted Covirán Granada. The Gran Canaria Basketball Club academy player pursues the dream of establishing himself in the ACB
–You are already in Granada after enjoying the island, family and friends during your holidays in Gran Canaria...
Yes, I haven't stopped. I think it's the longest summer I've ever had in my life and I already wanted to get back here and start the basketball routine. It's true that this summer I've been to the Gran Canaria Arena every morning, but I already wanted to come back here.
–A great season with Covirán Granada in the LEB Oro to obtain promotion to the Endesa League. A city that returns to the elite, although it will be the first time for this particular club. What does it mean for the entity?
-The club has done an incredible job. I think that ten years have passed since it was founded until it reached the ACB. It is said quickly and soon, but it has always had a very bright and simple base, creating a club from scratch and in ten years taking it to the ACB has a job behind it and a daily job that you can imagine.
–You also return after playing in the Breogan River in the 2018-2019 academic year...
On a personal level, I am super happy. At all times I knew what was coming to Granada, my first year we were on the verge of achieving it and the second with a lot of work behind us we ended up achieving the goal. And a better reward than any other is having obtained the renewal and that they continue to trust me to play this season in the ACB.
-Granada has a tradition in the ACB, but in the last edition of the Copa del Rey held there it was found that they missed living a year like the one they will do this exercise again...
-Yes of course. I was very lucky that it was held here and to be able to go to my own pavilion and see how the Copa del Rey was played there, to see all the people of Granada saying that next year we will be here. All very happy and motivated. At that time there was still a lot of season left and we were not aware that we were finally going to make it. We are going to have a season in the ACB and hopefully we will play the Copa del Rey. Obviously, it's very complicated, you know how this goes and we're super happy that people appreciate the work we've been doing for two years.
-The block that Pablo Pin trains has renewed its backbone, while, for now, Luke Maye, from Manresa, and Dejan Todorovic, from Tenerife, arrive. How is this course presented?
-It says a lot about the club that it continues to rely on a backbone of national players, if I'm not mistaken we are five or six renewed players from last season. And that speaks very well of the club, of valuing everything we have worked for and achieved, with that prize that is having the opportunity to play in the ACB. In terms of signings, Luke is a warrior and shooter four and Dejan's character always comes in handy in a newly promoted.
Christian Díaz Rodríguez directs the game of Covirán Granada. /

Fermin Rodriguez / FCBG

–Coincided with Little Niang in the LEB Plata del Granca a long time ago and now in Granada. He will also continue in ACB. How does he see it?
I think the jump will come in handy. It is true that at the beginning of the season in the LEB he was very nervous because he told me that they closed and cheated a lot. He was used to another type of game and it was difficult for him to adapt to the competition. I think that going back to the game that he was used to in the ACB will do him good and he is super happy. I am very happy for him, he deserves it because he has worked harder than anyone to return to his rightful place.
-Jacobo Díaz, from Tenerife, your partner in Granada, and you will increase a list of Canarians in the Endesa League that is unfortunately very small...
-Yes, it is very short and it is a pity, but we hope that year after year it will grow. Now Chacho is back too, but Álex López is down -Fran Guerra and Sergio Rodríguez remain at the Lenovo Tenerife-. It is a continuous rise and fall of Canarian players. Let's see if tomorrow we can all be in the first level, which goes without saying that there is plenty of quality. I will try to take advantage of this new opportunity to support myself.
-Speaking of more youth squads from Granca. Óscar Alvarado dominates in LEB Oro, Fabio Santana and Javier Lopez they are the last ones who have not been able to consolidate themselves in the first Claretian team. With perspective and seeing it from the outside with so many years as a professional, how do you see that piece from Gran Canaria not consolidating in the yellow club?
-The only criticism I could make of Granca, because I have also experienced it, is that it has always been his Achilles heel. There are plenty of players with class and quality on the island and a lot of work is being done in lower categories so that they can reach the first team. But then I don't know what the key is for a player to be able to stay, making a career like the one Roberto Guerra did in Gran Canaria is very difficult nowadays. I don't know if it's because the club has grown a lot economically and as a structure that, in the end, pays more attention to the away player than to the home player. I don't know, I'm not going to get into it because it's something I don't know, but it's true that it's a shame that with the talent that is bred and developed on the island and in the club they have to look for life elsewhere. A little while ago I was talking to Javi and he is scratched because he has spent his whole life there. He told her that we have all had to do that, we have had to look for our chestnuts away from home. I told him not to worry because he has plenty of quality.
-Precisely, you are an example of making a niche away from home after leaving Granca at the age of 20...
-It cost me a lot, but I wouldn't change it for anything in the world. I am super proud of the decisions I made at the time, of looking back and seeing everything I have achieved. You see that all constant work has its fruits. In the end, with the opportunity in Lugo to play in the ACB, unfortunately we were relegated and I will try to avoid that this season to stay in this category. It is the dream and it is what all the players are looking for.
-His family breathes basketball. In fact, her cousin is Yurena Díaz, a youth squad from SPAR Gran Canaria and who exhibits her talent in the Basque IDK Euskotren...
-The female part of my family made me opt for basketball. It all started with my sister -Jasmina- because she played at Sandra, in Begoña's club all her life. I wanted to play soccer because all my friends did, I remember my mother told me one day to try basketball when I was eight years old and stay if I liked it, and that's what happened. She loved it. That day I met Jonay Cazorla, Alejandro Medina, the Parras, Edu Silva, Fabio arrived a little later, but I met that generation of mine at the Aguadulce school. I will be eternally grateful to my mother, to my family for having instilled those values ​​in me through basketball. My cousin is a top-level player, and if it hadn't been for her injuries, I'm sure she would have gone much further than she has. Talking to her, she is super happy and proud of everything I have achieved outside the island.