A puzzle called Chelsea Manning | Television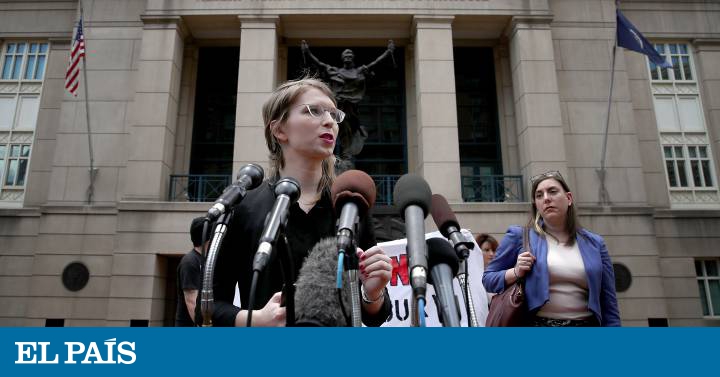 "Resistant to the Grand Jury. Network security expert. Before, intelligence analyst. Trans woman. " It is never easy to summarize a lifetime in the small space of a Twitter biography. And it is much less when it comes to the life of Chelsea Manning: at 31, this transsexual soldier imprisoned for leaking state secrets has experienced conflicts that could occupy several novels.
At the moment, it occupies a documentary. Director Tim Travers Hawkins counts on Chelsea XY (premiere in October in Movistar +, these days are projected in the Zurich Film Festival) what she tries to summarize in those 20 words. The issues surrounding Manning and all the problems he faces, made it clear that his protagonist "is, among many other things, an extraordinary character for a movie," he tells EL PAÍS by phone.

Manning a Manning profile in an hour and a half is equivalent to facing many themes, perhaps too many, in the same film. Trans-born Oklahoma-born girl of alcoholic and abusive parents, enlisted in the Army, where she was able to develop her computer skills by training and working there as an intelligence analyst. While asking for advice on gender change, he began to have doubts about his military work. That was when he leaked information about his country's military operations in Iraq and Afghanistan to Wikileaks. She was arrested almost immediately and sentenced to 35 years in prison. He spent seven of them, between 2010 and 2017, imprisoned as a man named Bradley: he had not begun his transition process. Then came the depression. And suicide attempts. In the last days of his term, Barack Obama granted him forgiveness and went free.
At this moment, and with all that emotional backpack behind, is when it starts Chelsea XY (the title comes from the name What does she use on Twitter?). A story is closed and another one begins before Hawkins' camera. The filmmaker had a hard time sneaking into the ex-soldier's life, but meeting the people who were close to his surroundings helped him gain his trust. "The moment he shared with me the diary notes he had collected from his days in prison, I knew he would believe in me and in the movie," says the American.
In January 2017, just before leaving the White House, Barack Obama commuted his prison sentence. One of the first things she did was show herself to the world with social networks: through a portrait on Instagram. "Hello everyone. Here I am! "He said in a post May 2017. The image showed Manning with short hair, cleavage, eye makeup and lips painted red, after having started his hormonal treatment in prison.
"He found in social networks a new language with which, for once, to have a voice. In addition to criticizing power, he sought in them the empathy he had never received, "says Hawkins, who attaches special importance in his documentary to the way in which Manning dealt with acquired fame. What looked like a speaker to develop his new status as an activist, soon turned against him.
For example, in January 2018, he shared with his followers that he had attended a party organized by the extreme right to "know the enemy". That day he discovered what it means a lynching at the blow of hashtag. "She is a young woman who found a new vehicle of expression of her generation and very close to the virtual world in which she already lived. But, having spent so much time locked up, much of what has happened in the outside world has been lost. Among many other things, how codes of conduct work in networks. "
Manning he is in prison again, now for refusing to testify before a federal judge about his leak of state secrets. With these ingredients, the documentary portrays a world that is changing forever, in which gender, the way of expressing oneself and relating to others have become much more liquid matters.
Although all that could make it an even more powerful symbol than that of Julian Assange and Edward Snowden, neither the international press nor Hollywood seems as interested in their history as they are in theirs. "One of the reasons I wanted to tell his life in a documentary, with a more personal than political tone, is to try to get his essence to the public and not forget about it," says Hawins.
(tagsToTranslate) puzzles (t) call (t) chelsea manning (t) documentary (t) portray (t) former military analyst (t) confidant (t) wikileaks (t) circumstance (t) obama (t) forgive (t) conviction (t) 2017



Source link