A plan to bring motherhood closer to the injured spinal cord | Society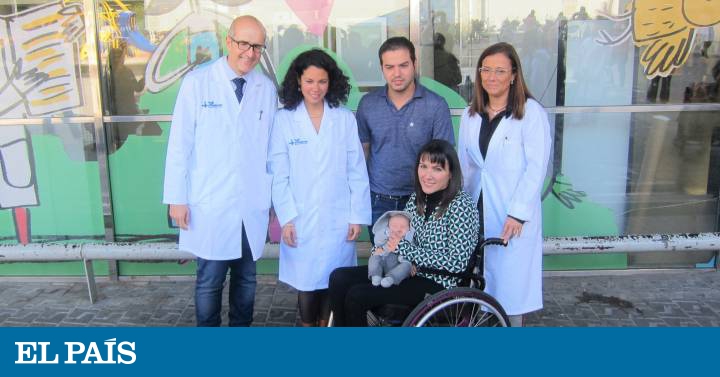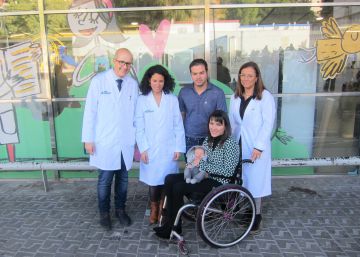 "I already know that I am not going to walk again, but can I be a mother?" Asked a patient to Dr. Karla Rojas, rehabilitator of the Medullary Injury Unit of the Vall d'Hebron Hospital in Barcelona. Just 24 hours had passed since the traffic accident that would leave her, forever, in a wheelchair, and her biggest concern was whether she could have children. "Can I feel the baby's kicks?" He insisted. Rojas said yes, although the journey of doctors was going to be intense, as there are many specialists who are involved in a pregnancy of a spinal cord injury The episode with that patient was the trigger for Rojas to start knocking on several doors of his hospital. The idea: to create a multidisciplinary unit to attend to the sexual and reproductive health of spinally injured people. Three years after that meeting, the device is underway, with two pregnancies in progress and little Rafa, almost two months, in the arms of his parents.
"A spinal cord injury changes your life. If you want to have children, a long path is established that is not well focused and patients have to look for solutions in different centers," explained Dr. Julio Herrero, head of the Unit of Health on Wednesday. Assisted Reproduction of Vall d'Hebron. The new unit, pioneer in Spain, brings together professionals in Rehabilitation, Gynecology and Obstetrics, Urology and Psychiatry. Thus, beyond attending to spinal cord injury, specialists address all aspects of pregnancy, from the first sexual education to obstetric control of pregnancy, childbirth and postpartum.
At first, the experts clarify, People with a spinal cord injury may have children. "With regard to fertility, in women, it remains the same. You can have a stage of minority [without menstruation], but then the menstrual cycle recovers. What changes are some physical and emotional aspects," explained Rojas. In fact, if pregnancy rates are reduced among these patients, it is not due to fertility problems, but because of the decrease in sexual activity after the injury and the perception of difficulty in assuming pregnancy or caring for a third person.
In the event that the patient who expresses his desire to be a father is a man, experts say, the approach is different. Spinal cord injury, in this case, does cause erectile dysfunction and fertility problems, because there are changes in the morphology and mobility of sperm. "The treatment of first choice, for its effectiveness and effectiveness, is the penile stimulation through a vibro-stimulator that acts on the dorsal nerve of the penis. A biopsy of the testicle can also be done to take sperm samples," said Herrero. The sample is processed in laboratories and then used for assisted reproduction techniques.
When a patient with spinal cord injury becomes pregnant, the multidisciplinary unit of Vall d'Hebron intensifies the follow-up, especially after the second half of pregnancy. "They are more likely to have pressure ulcers, spasticity, deep vein thrombosis, neuropathic pain or urine infections," Rojas has listed. Specialists recommend planning pregnancy to carry out a more thorough follow-up and prevent complications as much as possible. The birth, in addition, can be natural and not by caesarean section. Although you have to study each case in a particular way.
"Many of the patients are afraid of not feeling the contractions, for example. But they are taught to notice the changes, such as tightening of the belly", explained Anna Suy, head of hospital obstetrics. When the pregnancy comes to an end, they are proposed to induce labor and apply anesthesia early. The specialists of the unit also follow up the postpartum and breastfeeding because, in some cases, the medication of the patients is incompatible with breastfeeding and also, due to the injury, they may have difficulties in raising the milk.
For now, the new unit, which has barely begun to walk, already has two pregnant patients and a third who has given birth. "We want to increase the pregnancy rate and we want to talk about the sexuality of the couple. The spirit of this unit is to be a reference in the State and to give a multidisciplinary approach that has not been until now," concluded Herrero. Specialists have insisted that the service is open to "all people with spinal cord injury" and each case is studied in a personalized way. They expect to attend about thirty patients every year.
"My fear was childbirth, what would I feel?"
The first official baby of the new unit of Vall d'Hebron is called Rafa and is about to turn two months old. His mother, Yasmina Andrés, is 33 years old and from the age of 16 he suffers a spinal injury due to a traffic accident. The young woman, who arrived in Vall d'Hebron from a hospital in Burgos after a complication of her injury that had to be operated, had a spontaneous pregnancy and gave birth on October 4 naturally.
"My main fear was childbirth. Knowing what I would feel. I was obsessed with childbirth," she says now. The pregnancy went well, just an increase in sweating and the occasional urinary tract infection. "I was waiting all the time, to see what I felt. From the seventh month I began to feel the baby," he explains.
The contractions also felt them. And the delivery was better than I expected. The worst, now he laughs, was the postpartum. "It was awful. The last month of pregnancy was already very uncomfortable, I was running out, I was short of breath and just wanted it to end. When it was over, I realized that the worst was yet to come. But we are very happy," he laughs. .