A new lava flow from the La Palma volcano is heading towards Las Manchas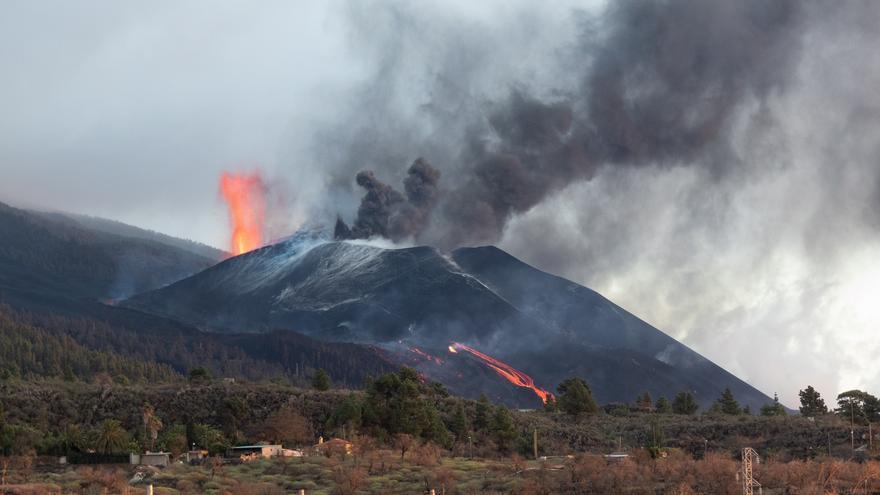 A new laundry that has been generated in the La Palma volcano walk southwest, towards Las Manchas. The same part of one of the more southeastern foci, in the main cone, where the strombolian activity was concentrated this morning, has ensured the spokesperson for the Scientific Committee of the Canary Islands Volcanic Emergency Plan (Pevolca), Carmen López.
For his part, the spokesman for the Technical committee from Pevolca, Francisco Prieto, has specified that "in the northern part the advance of the flows has barely varied, while there is a small advance in the upper area that runs quite slowly, practically returning to the Tacande highway without leaving much of the original wash ". He added that at present the main flow of lava occurs in the central area and "a certain contribution to wash number 7 is sensed."
Lava flows spill into the Fronton area, some moving to the north affecting new areas, while others move to the west on the previous casts. The column height measured today was 1,900 meters with a scattering cloud in a south-southwest direction.
Less seismicity
Seismicity at intermediate depths has decreased in the last 24 hours, being located in the same areas. The number of earthquakes at depths greater than 20 kilometers has dropped even more in recent hours. The maximum magnitude has been 4.2 mbLg of an event registered yesterday, at 21:11, direction V (EMS), at a depth of 11 km. The tremor level is in average values ​​with high variability.
The current level of seismicity continues to indicate that more felt earthquakes are possible, being able to reach intensities V-VI (on the EMS intensity scale) and cause small landslides in sloping areas.
Regarding the deformation, a new episode of inflation in the vicinity of Jedey (station LP03), about 6 centimeters vertically. There is stability in the rest of the network with some stations showing slight deflation.
Currently, air quality is reasonably good throughout the island, except in Los Llanos de Aridane, which is unfavorableTherefore, the use of FFP2 masks is recommended to the population and to limit the exits to the open air.