A necropolis on your doorstep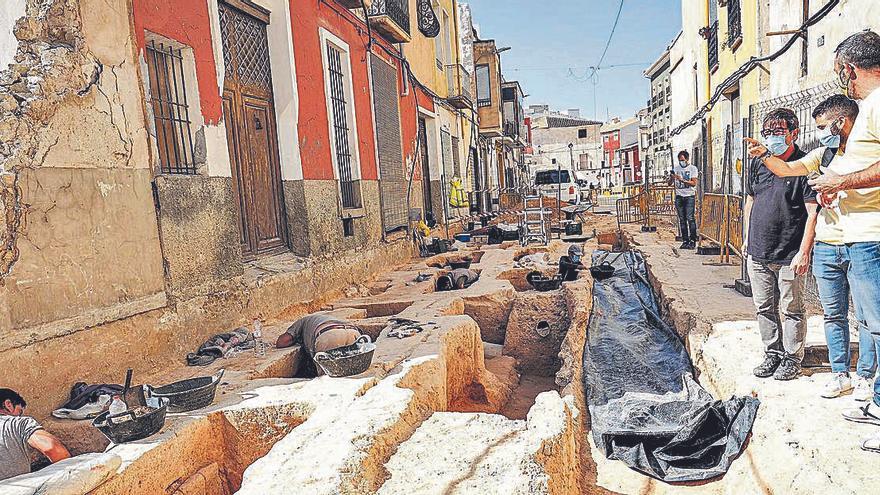 The dating of the necropolis remains unknown but, due to the type of tombs and the funerary rite used, everything points to the period between the 13th and 15th centuries.
As explained by archaeologist Eduardo López Seguí, from Alebus Patrimonio Histórico, the ten corpses extracted – all adults except one child – are on the right lateral ulna and their heads are facing Mecca. They were buried naked, wearing one or more shrouds, but without jewelry or other types of objects that allow the date of the discovery to be specified. In addition, the graves appear perfectly aligned and ordered following the Islamic burial pattern; in this case characterized by being a bricked-up hut in which the deceased was deposited.
The graves appear perfectly aligned and ordered by Islamic patterns
The excavations began last month and will last several weeks, exceeding 45,000 euros. Once all the corpses have been extracted and the area photographed, documented and studied, the work will be resumed as planned. It should be remembered that the improvement works for both streets were approved by the City Council of Caspe just a year ago to adapt them to the basic criteria of the commercial action plan with the aim of improving circulation and pedestrian accessibility by also renovating urban furniture. The action, budgeted at 567,000 euros and co-financed with funds from the Provincial Council, will be delayed compared to the seven months initially set.
All the remains obtained from the excavations will be deposited in the Aspe Historical Museum for further investigation. "We will transfer more than 50 boxes to the museum so that the recovered material is not affected by the works when they are resumed in a few weeks," said the mayor, Antonio Puerto, who added that "the commitment is to continue advancing in the conservation of heritage and history of the town. And for that we will expand the museum warehouse ".
Although for the owners of the houses in the area the discovery has come as a complete surprise, the official chronicler of the town has not been surprised. "We knew that in that area of ​​the town there was an Islamic necropolis and, in fact, in 1925 the press already reflected the discovery of bones," said Gonzalo Martínez Español. More recently, in 2009, a dozen burials similar to those found now came to light on a nearby site.