A Navy ship will take farmers affected by the La Palma volcano from Tazacorte to Puerto Naos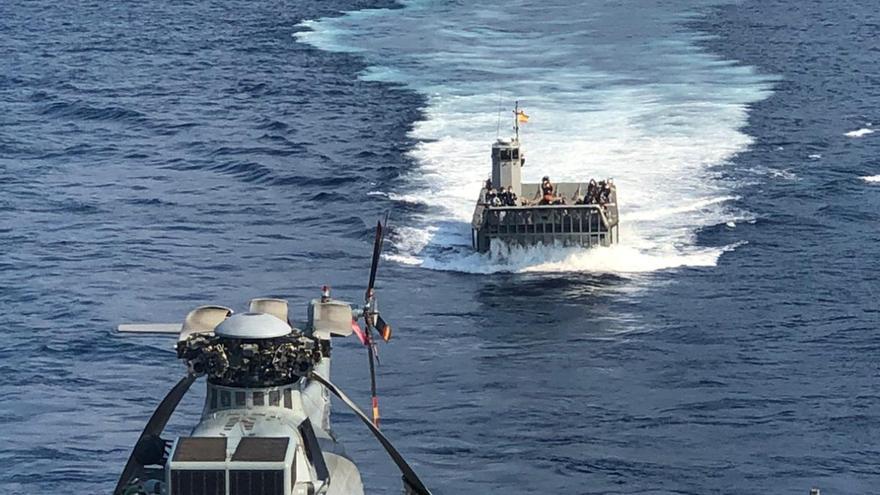 Currently, the farmers of the important banana region of Puerto Naos and La Bombilla They take more than an hour and a half to reach their crops by road, since the usual roads have been buried by the lava flows from the volcano.
With this operation requested by the Cabildo of La Palma, the Navy will guarantee transportation between the five miles that separate the port of Tazacorte and the beach of Puerto Naos in twenty minutes, and it is expected to make an average of three trips a day.
This unit will be in constant coordination with local administrations and irrigation communities to determine the exact number of farmers to transport each day, although initially they estimate an average of 80 per day.
José Lago, admiral of the Canary Islands Naval Command, has commented to the media aboard the amphibious assault ship Castilla displaced to La Palma, that they will remain on the island "as long as necessary."
Admiral Lago also highlighted the speed with which the Navy has responded to the request of the authorities and palm farmers, by first carrying out the tasks of studying the coastline to determine the most appropriate point for disembarkation and transferring the ships and boats to La Palma. the personnel necessary for the provision of this service.
At present, more than 200 members of the Navy have traveled to La Palma, of which 29 will finally remain in Tazacorte in charge of transport operations on barges.