A monster in the shape of a volcano came to see us on La Palma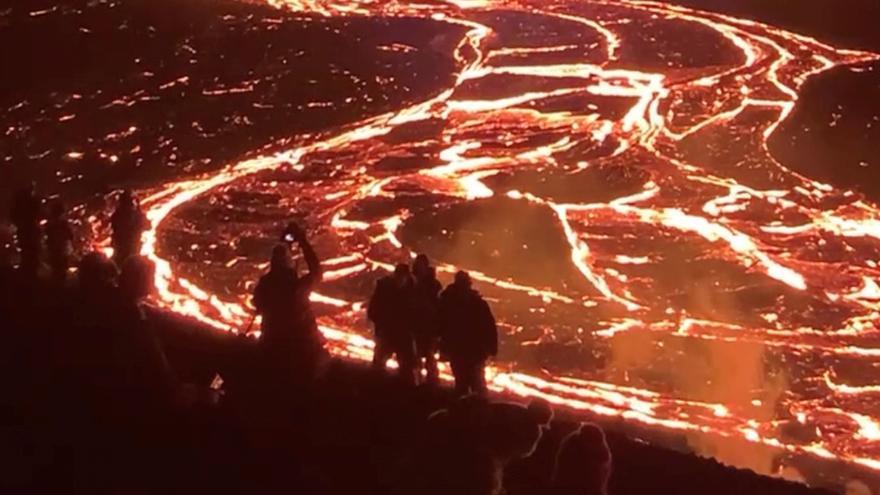 Sunday, September 19
I'm in the kitchen preparing food. Now I don't remember what I was doing. It was erased. A few minutes before he had gone up to the roof. We had been with the flea behind our ear for days. So much information, so many meetings of the scientists. In my work some believed that in the end there would be no eruption. The magma would crouch, gathering more material. But not me. It seemed to me that sooner or later there was going to be an explosion. Maybe I remembered the Teneguía a lot. Then he would be ten years old, and that was a party. I remember going in the afternoons with my parents to have a picnic near the area. We would put a tablecloth and sit down to watch the lava come out. That volcano was very close to the sea. It is true that two people died, but from the gases, from getting too close. But it was something else. This one is scarier.
That Sunday, which I will never forget, I remember that I looked towards Cumbre Vieja, from my house it looks very good. And I saw dust, a nine of dust. Beyond Todoque. I thought I was fantasizing about the eruption and came down from the roof. A few minutes later I heard noise in the street, people upset and my daughter shouting: "Daddy the eruption, it exploded." Red-faced, disconcerted, I went up to the roof again. Then I saw smoke coming out, and there were people watching on all the rooftops of Los Llanos. I was a bit scared, especially since the smoke was very close to populated areas. You could clearly see the summit, the pine groves and on both sides of Cumbre Vieja many houses.
When I went up to the roof in the afternoon, the volcano was already a reality. Explosions could be heard and rivers of lava ran down that dark, black hillside. And at night, and we have to admit it, the volcano stopped being scary for a while. The image caught you, everyone was hypnotized.
"When a volcano explodes elsewhere, you feel sad, but knowing whose house it belongs to is something else"
Between ten and eleven o'clock at night more explosions were heard, and you could see how the lava rivers were lost in the middle of the territory, near the houses, the farms. The volcano began to scare. I called a co-worker who lived near Todoque and she told me that she was at the soccer field in Los Llanos, then they would take her away to the Breña Baja barracks.
I can't imagine what it's like to put yourself in their shoes: to have to run out of your house, with two panties, two underpants and some T-shirts, and to be taken to the other side of the island, to a barracks. The show was short-lived. At dusk we realized the enormous damage, of the real dimension of the tragedy, that this new volcano represented.
Monday, September 20
The next morning everything was worse. You put a face to the horror, to the people who had lost everything. Or that he lived in uncertainty. Companions with houses in Todoque, in Las Manchas, those who had been evicted and who did not know if their home, if their farm was still standing or the lava had engulfed it.
A worker from the Los Llanos City Council told me a phrase that I will not forget: I am alive, I do not have a home, I have nothing. This was not a show.
Tuesday, September 21
This day a small miracle happened. We allow ourselves a certain joy. They had allowed people to go home to take their things. And between all of them they loaded with mattresses, washing machines, clothes. Those who could emptied the houses. They tried to leave only the shell, the walls. The heart remained tight, the lava did not take long to squeeze the houses.
Wednesday, September 22
When you see on television that in other places of the world a volcano explodes, and the rivers of lava destroy everything, it may make you sad, but knowing whose green house is, or that yellow one, which has just been buried is another thing. It is almost impossible not to shed tears when you see that. Because these houses, these farms, have names, and you know them.
"The show did not last long, at dusk we realized the dimension of the tragedy"
Friday, September 24
It was a terrible day. At one o'clock in the afternoon and at three o'clock there were two explosions so big, insane that everything moved. The City Hall trembled. Those on the third floor and those on the second ran down, they did not want to continue up. The streets of Los Llanos were filled with mermaids. I was left disoriented, not knowing what to do, where I could go to feel safe. Then we saw on television the shock wave of the explosion over the main mouth: it was just like the images they offer of an atomic bomb. I really thought the island was going to hell.
And the permanent noise of the volcano. For me it is not like being on an airport runway, and I have discussed this with other colleagues. That clamor is like the roar of the sea, when there is a storm and you hear the dragging of the stones, which are thrown against the shore. And you listen to it all the time, day and night. It is exasperating.
Monday, September 27
Maybe it was one of the mornings I was most scared of. Suddenly the lava ceased and nobody said anything. At 11 in the morning, the scientific committee talks about four possibilities that can explain this new situation. Neither looks good, but I was terrified to think of a plug blocking the passage of magma.
He thought that this could unleash an explosion that would end everything. I didn't want to imagine that option. Many others preferred to believe that the volcano had definitely stopped. I suppose I was more fed up. The desire for this nightmare to come to an end.
After a few minutes smoke comes out of one of the mouths again and the truth is I felt relief. Anxiety is something that is affecting us all. And something is also happening with those of us who have not lost anything. We feel ashamed, or feel guilty if we tell that we are wrong. A colleague told me that she was at her house over the weekend and she began to cry. He needed to release all that pressure and he could only do it alone, he didn't dare cry in front of others. That gives you trouble, for the others, for those who have been left without a home, without a garden, without part of their life.
Tuesday, September 28
I feel tired, fed up. Since the volcano exploded we have been living like a roller coaster of sensations, walking on a jagged mountain range. You go from fear to relief. I have the impression of being stuck in a centrifuge of emotions. And you don't allow yourself to laugh, even if I need it. So much anguish hurts.
«Anxiety is something that affects everyone; those of us who have not lost anything are ashamed "
Wednesday, September 29
The lava finally reached the sea. He did it at night. And once again I feel relief. I would like to think that by going down that road I will no longer end up with more houses, with more farms, with more memories of life. And this new movement may be the beginning of its end. Although we have so much left. A man who had a farm in Todoque passed by the City Hall yesterday. I wanted to ask about the small municipal gardens. He lost everything, and now he can't imagine his life having to spend the mornings in the center of the Plaza de los Llanos. That is not his life.
Many people pass by the City Hall and a few days ago a man came, he arrived happy, happy, the lava had not been able to with his house. His daughter was with him, and she told me, I don't know why he is so happy. It is true that his house has been left standing. Standing and surrounded by lava, what is it for? How are you going to get through that wall.
Within a month or two
I want to think that the volcanon it will not take some time to spill lava. But then we will realize that a part, a piece of Los Llanos, an entire neighborhood will no longer exist. Only Todoque's name will remain, but nothing else. That piece of the island will be buried. And I'm afraid forever.