A matter of gloves | Canary Islands7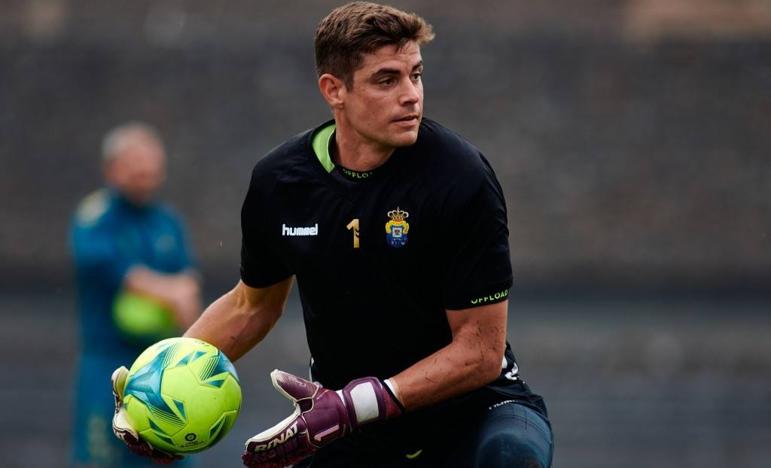 Football
Álvaro Valles starts as the starting goalkeeper, after a great end to the season that earned him a renewal. Raúl Fernández and Álex Domínguez dispute the other hole in the squad
In the goal of UD Las Palmas there is maximum competition this summer. A question of gloves.
Álvaro Valles, Raúl Fernández and Álex Domínguez, the three goalkeepers who from July 11 will begin a noble fight to gain a place in the squad for the 2022-2023 season. Three category goalkeepers that Barcelona coach García Pimienta will have.
Nothing has been decided at the club, but the approach of the sports management is that one has to leave. for now,
Álvaro Valles starts as the team's starting goalkeeper. His great season finale earned him the renewal, ignoring other proposals to leave.
For the technician it is untouchable.
The Andalusian goalkeeper knew how to wait for his moment to grab the title and since then his presence is unquestionable. "This is not the time to talk about my future, now we have to think about the team," he said a few months ago when his continuity at UD Las Palmas was still up in the air.
Regarding the Basque goalkeeper Raúl Fernández, he has one more year on his contract and he is willing to fulfill it. He faces a new preseason with the utmost enthusiasm and at the stage in Mijas (Málaga) everyone is sure that he will be one of the great protagonists.
In the recently concluded championship he defended the sticks for 28 consecutive days, curdling notable performances. It is not that he left the eleven due to a bad performance, no one disputes that. A dynamic of team results caused García Pimienta to choose to make a small revolution in the team after the 2-1 defeat against Zaragoza, La Romareda.
Raúl Fernández has always been an example of professionalism and improvement. After a long inactivity of two years, due to the serious injury suffered in the match against Cádiz (2018-2019 season), being affected by an employment regulation file (ERTE), and accepting a significant salary reduction, he never had a bad gesture towards the entity. Quite the contrary, he always pitched in and spoke up when he tagged him with his saves.
Álex Domínguez, finally, had a meteoric appearance with Pepe Mel on the bench. He raised his level to such an extent that he was international with the Sub'21 in numerous calls.
The covid deprived him of going to the Tokyo Olympics. She was left without a medal. Last season the club understood that he had to go out on loan to another club to continue his progression.
In Ibiza he alternated titles with substitution and now, back, he has to show that he fits into the new sports project. His youth is his best ally, but the decision will be made during the preseason. The important thing is that UD has guarantees under the sticks.