A lyrical legend of flesh and blood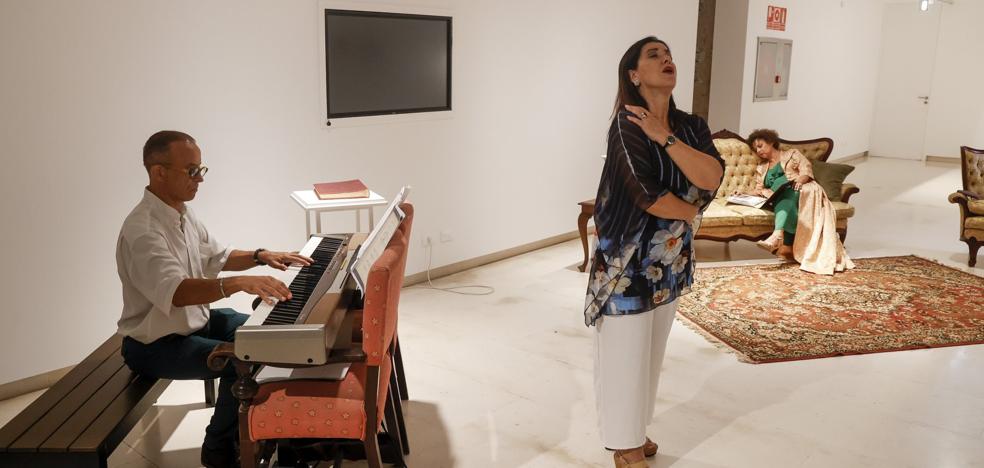 Premiere. The theatrical and musical production 'Myths' delves into the figure of Maria Callas. The actress Paola Morales, the soprano Rosa Pérez and the pianist Sergio Alonso star in their debut at the Temudas festival.
"Although my parents were Greek, I was born in New York." With this phrase begins the scenic-musical journey through the most human side of one of the greatest myths in the history of poetry,
Mary Callaswhich proposes the montage '
Mitos', which is performed today and tomorrow, Saturday, starting at 8:00 p.m.at the Guiniguada Theater, within the 16th edition of the Theater, Music and Dance Festival of the capital of Gran Canaria,
You movewith the intention of later turning around the islands.
Maria Anna Cecilia Sofia Kalogeropoúlou (New York, 1923-Paris, 1977) was a before and after for opera. Not only because of her voice, that she is a legend and a reference for current and future sopranos. But because of the way of interpreting her, of
bring some roles to lifemost of them dramatic, as befits the operatic characters of the repertoire, who
in his hands they reached a dimension hitherto unknown in this artistic discipline.
The assembly that directs the grancanaria
Blanca Rodriguez and star
the soprano Rosa Pérez, the actress Paola Morales and the pianist Sergio Alonso It is theater with live music and singing. Which is completed with poetic brushstrokes that are born from another Greek legend,
Yannis Ritsos and his 'Moonlight Sonata'.
Musical theatre

"This
it's musical theater, where reality comes to life with the theatrical aspect. Music and singing are part of a daydream," explains Blanca Rodríguez during one of the rehearsals held in a room at the Mata Castle Museum in the capital.
Sergio Alonso defines this bet as
"an operatic play". «In opera, the music has a greater weight along with the scenes. Here it is a play in which the essence is the scenic part. More than concrete arrangements,
hewhat I do is fit what I play to the theatrical contextthat's why I cut some introductions and some endings to achieve harmony between the composition and Paola's dramatic context, "says the musician from Gran Canaria.
'Myths' kicks off with Maria Callas
in his Parisian apartment in his vital twilight. «His career had plummeted, because he no longer had a voice. Aristotle Onassis had already died. She was taking many anti-anxiety medications and there has been much speculation as to whether she committed suicide or her death was natural. What we do is recreate a kind of review of her life, where the repertoire that she sang appears in the form of a daydream. That's why
the work has two moments, the reality that happens in that parisian flatwhere the actress Paola Morales plays Maria Callas, and the musical moments,
pure reveriewhere the soprano Rosa Pérez appears singing some of her most significant arias and the maestro Sergio Alonso at the piano», advances the actress and stage director.
Since his childhood

The Callas that Paola Morales embodies remembers the different peaks of her own existence. From a childhood marked by the complex world historical moment and the tyranny and contempt of her mother, to the beginning of a professional career in which she reached the highest levels. She always, yes, surrounded by controversies and a turbulent private existence, with
as many lights as shadows that marked an almost habitual unhappinesseven when he was with Onassis, the great love of his life.
"In the end, in the text of the work, he recognizes that the
Medea myth It has pursued him all his life and it ended up catching up with him, slowly and relentlessly. His life was a tragedy, like that of many of the operatic characters he played. She lived them, because she was also a great actress.
Her success was incredible, but that same success also crushed her. She had a very intense, dramatic and at times happy life », emphasizes Rodríguez.
The director makes it clear that 'Myths' seeks «
honor both the artistic facet of Maria Callas and value her person». "We try to do it in an honest way. And it's not easy. We do not pretend, far from it, to be above his figure. Forgive us if you see us from wherever you are if we fall into any offense. We aspire to reinforce and emphasize her figure as a woman. She was mistreated by her environment, by her profession and by a public that believed they had the right to own the myth.
He had a lot of character and above all he defended music, art and honesty at work. The three of us, as women, feel very identified deep down and in form with Maria Callas. She suffered as a woman and deserves a big tribute », she adds.
From left to right, behind, Helena Trujillo and Blanca Rodríguez. In front, in the same order, Rosa Pérez, Sergio Alonso and Paola Morales. /

cover

The constant search for perfection that characterized at all times
'The divine', as it was called, was not always well understood. «His dedication to art was understood by some as an excess of ambition.
She was obsessed with perfection and that's why she lost weight and mutated into a skinny diva. He left very unfairly with her, because above all there was always her dedication to her art».
Interpretation

Her sufferings, her joys, her frustrations, her successes, the nostalgia that marked the last years in which she began to be heard for the first time to recall that unique voice that she had lost emerge during the montage in the skin of Paola Morales. «
It has been a very intense and important process.. We work on it with rehearsals every day since the beginning of August. She was a real character and a very strong and intense woman that we have approached very honestly », she defends.
This project was born five years ago around the soprano Rosa Pérez, who lives in Italy, and now Blanca Rodríguez has
"gone around dramatizing it". «Paola is a great actress and she deserves a great text. She gives the character the right tone », points out Blanca Rodríguez.
The singing

Soprano Rosa Pérez assures that singing the Callas repertoire is "a great responsibility". «
It is not easy to sing in my land, in a land so fond of opera and so understood. I do it with humility and I'm not looking to play Maria Callas. I sing some of the arias that she sang, like so many sopranos do, but I don't try to imitate her. I have always adored her, she was always my great reference, since she studied singing.
I like to work well the scoresI study them in depth to capture everything that appears in them", confesses the singer.