A 'Love Bus' only for heterosexuals sows controversy in Toledo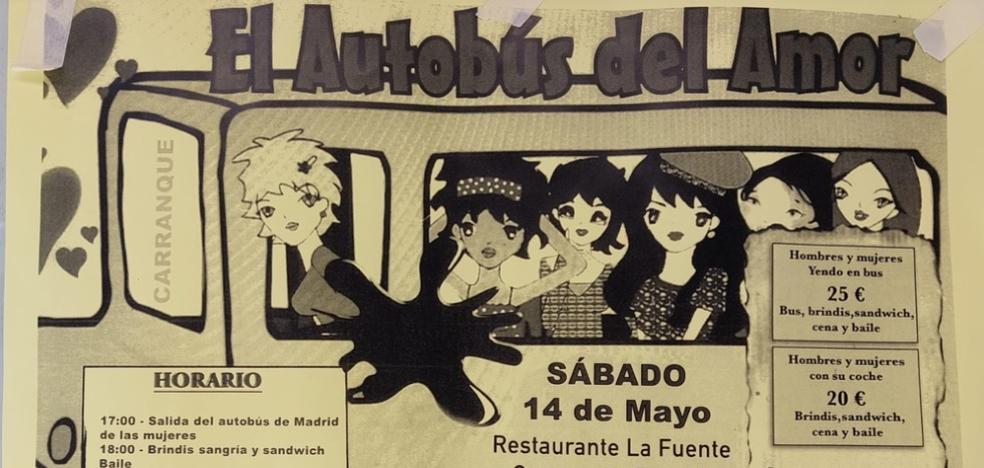 A private developer organizes the modern version of 'women's caravans' in a small town in order to 'repopulate rural areas'
"What we want is to form pairs to repopulate rural towns." This is how Manuel Gozalo, the 'Cupid of Villaverde', expresses himself to justify the organization of the 'Bus of Love' this Saturday, May 14, in the small municipality of Carranque (Toledo), with 4,700 inhabitants, famous until now for its spectacular Roman mosaics.
This modern version of the 'women's caravans' that the Aragonese town of Plan inaugurated in 1985 has generated a strong controversy in which both the United Left of Castilla-La Mancha and the mayor of Carranque, Mario Sánchez, of the PSOE, have entered. The latter describes this event as "shameful". "It is a regression, it is something archaic and we are totally against this type of activity, even if it is private initiative", explains this mayor who does not share "the concept of repopulation that these kinds of acts have".
The head of the United Left Women's Area in Castilla-La Mancha, Isabel Álvarez, has also criticized this meeting of couples. In his opinion, "we are not in the American West, Carranque is not California and does not belong to an unpopulated area, although, if that were the case, unpopulated areas, even with great deficiencies, have more or less accessible communication routes to get around, so it is not necessary to act as a pimp or matchmaker to fill loving needs, to call them in some way». "Women are not merchandise that, like cattle, gets on a bus to unload at the fence, a bar in this case, with a sangria and stew dinner as a bonus," adds Isabel Álvarez, who is committed to developing policies of awareness "and put an end to the marketing of women's bodies that are used as a claim".
only for heterosexuals

Nearly a hundred people, most of them women, have signed up for this 'Love Bus', paying between 20 and 25 euros. A bus that will end its journey in a bar-restaurant in the town where there will be dinner and later dancing until 5 in the morning, more than enough time for more than one couple to emerge. The promoter of this event responds to the controversy raised by stating that "here goes whoever wants and wants to go" and clarifies that it is a meeting for heterosexual single men and women. "Some women have called me to ask me if they could go to find another woman as a partner and I have told them that it is only for heterosexuals, but if homosexuals or lesbians want to go, they can do it, although they will not find anyone," indicates the ' Cupid of Villaverde'.
"Everyone is free to go to the events they want. It's like when the Gay Pride parade is celebrated. I have never been but people are free to go, "says Manuel Gozalo, who has already organized a good number of love buses from which couples have come out. "Up to five children have been born to couples who have met in these caravans," adds Gozalo, who has a database of nearly 3,000 people, most of them women, with whom he contacts via WhatsApp when he organizes an event of these features near their respective counties.
"When I organize a love bus, people always sign up. This shows that it is of interest in rural areas", recognizes the "Cupid of Villaverde" who insists that his objective is to fight against the depopulation of towns. And it is that, according to him he says, "in rural towns there are single men to kick, more than single."