A Let's sing! 'Will be Netflix's first' talent show 'in Spain | TV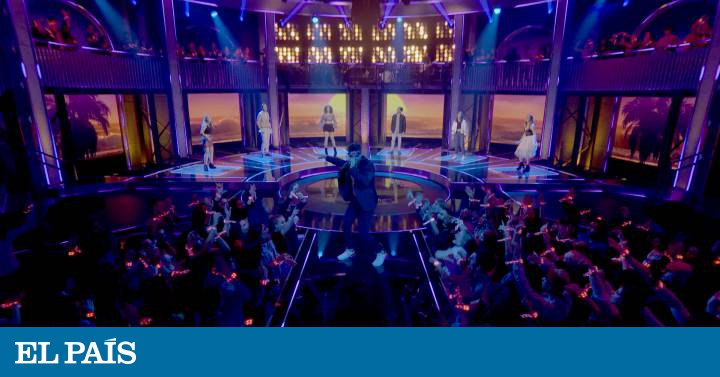 Netflix He has come to Spain to stay. That his commitment to this country is firm was clear when last year he opened in Madrid its first production center in Europe and a few weeks ago opened its offices in the capital. In a presentation to the press on Thursday of the content that will arrive on the platform soon, Diego Ávalos, vice president of Netflix original content, said that in 2019 the company premiered 17 original Spanish titles, a figure that in 2020 does not seem to decrease in depending on the number of projects underway.
One of them is the first talent show produced by the platform in Spain. To sing! It will be a musical contest where six participants will test their vocal skills performing well-known songs. The program will begin with a prize of 30,000 euros that will increase as the contestants pass the different phases to show who refines better. Ricky Merino, one of the participants of OT 2017 and now driving OT chat In La 1, he is in charge of presenting this format that will be released this year.
This is the second entertainment program that the platform produces in Spain after Niquelao!, the Spanish version of Nailed It! international format in which different amateur confectioners try to replicate sweets with high technical demand. The Earthquake of Alcorcón presents the Spanish version, which premiered on October 25, 2019.
In the field of fiction, Netflix machinery is still at full throttle in Spain and by 2020 it has planned releases such as Valeria, adaptation of the novels of Elisabet Benavent that will be seen in spring, or anime Idhun's memories, inspired by the Laura Gallego trilogy and that will also arrive in spring. For autumn they are expected Red Sky, new creation of Alex Pina; Somebody has to die, three episode drama created by Manolo Caro; The mess you leave, based on the homonymous novel by Carlos Montero; or The innocent, with a book by Harlan Coben in its origin.
Yesterday he also announced several novelties, such as the first series created by the filmmaker Daniel Sánchez Arévalo, still without a title, and that his synopsis describes as a "history of friendship and overcoming" that is under development. After the end of The cable girls, which premieres the first part of its last season on February 14, Blanca Suárez will return as the protagonist of another series with the same producer behind, Bambú Producciones. Is about Jaguar, a story set in the sixties. In it, a young Spanish woman who managed to survive the Mauthausen death camp is on the trail of a dangerous Nazi. To do this, he will join a group of agents in search of justice.
In addition, a quarter of The paper house, which will premiere on April 3, will be accompanied by a documentary about the phenomenon that has surrounded the Spanish series, an unprecedented worldwide success. And three Spanish films are also in the production phase: Mother's Love, directed by Paco Caballero and with Carmen Machi and Quim Gutiérrez as protagonists; a new film by Dani de la Orden, a romantic comedy with Álvaro Cervantes and Susana Abaitua in his cast; and we were songs, which will be released next year and that adapts the books Songs and memories, from Elísabet Benavent.