"A large part of the population is vulnerable to monkeypox," warns the ECDC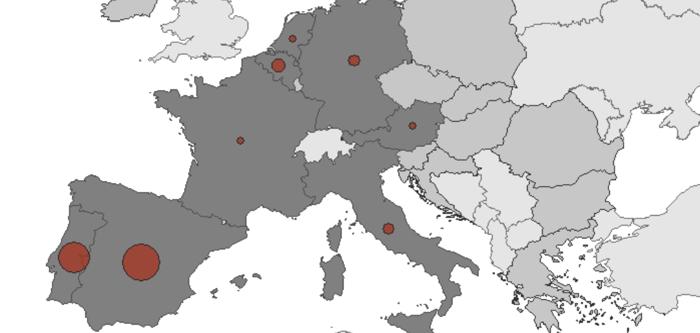 The European Center for Disease Control warns that eight European countries are already confirming cases and calls for caution at "pride events" and "chemsex parties"
In the European Union there are now eight countries that have reported cases of monkeypox. At the head of confirmed cases is Spain with 36 positives, all men, and twenty under suspicion. It is followed by Portugal, with 23 affected. The other countries with fewer than five diagnoses each are Austria, Belgium, France, Germany, Italy, Sweden and the Netherlands, according to the European Center for Disease Prevention and Control (ECDC). Patients from Germany, Belgium and Italy had traveled to Spain and Portugal on the possible days of contagion.
The agency assures that this disease "does not spread easily between people" and that the "current outbreak of human cases" is "among men who have sex with men and the nature of the lesions suggests that transmission occurred during sexual intercourse" . The risk is increased among those who "have multiple sexual partners." So far the reported symptoms are mild but could be "severe in certain population groups, such as young children, pregnant women and immunosuppressed people."
Information is still lacking to ensure that the smallpox vaccine is effective, says the ECDC, although it presumes that it "confers protection." However, "smallpox vaccination was discontinued in the 1980s and only a small percentage of military and front-line health professionals have been vaccinated in recent years."
Although contagion by skin contact is "less likely", the ECDC warns that "having multiple casual sexual contacts, multiple sexual partners or attending chemsex parties" does facilitate its transmission. Thus, he asks caution from those attending the "pride events", common in Europe in spring and summer. "A large part of the population is vulnerable," he warns. The risk is "high" among "people with multiple sexual partners in interconnected networks."
The European Center also warns of the differences between the cases that occur in countries where this disease is endemic, such as Nigeria, or with the 2003 outbreak in the US, in which the transmitters were pets and barely affected 34 people. In Europe there are already 68 confirmed cases, until yesterday in the ECDC accounts, and 42 under investigation, in eight countries, with a high possibility of transmission in sexual practices.
endangered pets

There is a "potential risk of human-to-animal transmission in Europe", observes the ECDC, with a double risk. One, the pet is exposed to an infected person, and two, the virus escapes into wildlife.
The authorities of each country must "test" the pets of people who have tested positive, especially domestic rodents, and keep them in quarantine. "Euthanasia should be the last resort." All mammalian pets are susceptible to infection, especially mice, rats, gerbils, guinea pigs or squirrels. If contact is reported, these animals should be isolated in safe places.