A joy for literature | Culture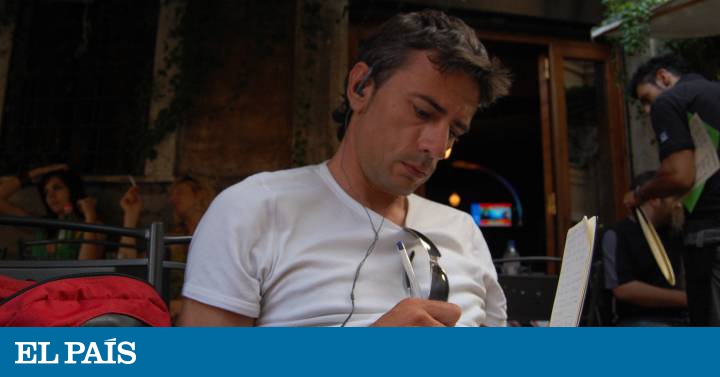 It is a sad book and it is a joy for literature. Rewind (Anagram), of Juan Tallón, Galician who turned 45 last week. As if a novel by Raymond Chandler had rewritten, or mustered, Samuel Beckett. A calm and unforgiving air blowing on a tragedy that occurs in Lyon. All were victims, except one, a painter who, like the family of the rest of the dead in this tragedy caused by Islamist terrorism, tells the terrible ("terrible, terrible, terrible") glow of that multiple murder of a group before happy of university students. The woman who runs the neighborhood kiosk, who became friends with the boys, also intervenes in the hopeless choir that contemplates the desolation of the chimera, the end of life with so much energy. It contains the seriousness with which those unforgettable books remain in memory (Abroad, The Great Gatsby) that twist the arm to the topic.
There is pain and there is no scream. The writing calls for peace, not as resignation but as a complex exercise of the whisper. The author comes from other more sparkling books, but here he stops and commands, he summons himself to an exercise from which he leaves without giving you respite. It is obligatory to read it, not only because it is a surprise, but because it is full of the surprises that he took writing. The surprise of excellent writing.
He searched for history by changing the history of his own syntax. "Turn one hundred and eighty degrees, or ninety, or at least give a twist and write a novel different from the previous one, that almost puts you before the challenge of learning to write, because before the unknown doubt that you know." From that novelty before the empty canvas, his painting has all the colors of subtlety, of containment, of economics. "The will of essence," he says, "is coming out of your own path." That evolution "sharpens" the writer's style, which "crashes less against his own phrases."
"An event of as much emotional burden as the one that in itself generates the destruction of that building in Lyon seemed to me that it required a lighter, contained narration, that was reserved when the right to be unleashed was necessary, of course." It is a story of destruction, of destruction and love, with the express absence of the thunderous contents of the tragedy in a building like the one Gay Talese (in Life of a writer) describe to narrate the eternity of the routine. The tragedy exists, but it is as if you are blowing on the crying so that it is done in silence. A writing without exclamations.
It is a new Tallon that is coming. Did he expect it? "I was looking to reproduce that process that leads people, through the intervention of chance, from well-being to destruction. And how each one later remakes himself in his own way, or simply does not remake himself. It is a novel about the brutality of existence, and about the things that are lost forever, without you almost noticing, and without which it seems impossible and even almost inconceivable to live, and yet you live. We have had to live a time that randomly fabricates innocents, in which a A complete stranger can kill you, a time when someone you thought you knew turns out that you don't know at all. Rewind it's the story of those people who break and rebuild, as if nothing in life were real enough. "
Ode to broken things
It is, so to speak with Neruda's words, an ode to broken things. Poetry, like prose music, intervenes to complete the turn Tallón imposes on his writing. The requirement of seriousness in rhythm management. Precision, ellipsis. "One of the charms of writing is that you send you." He ordered that Lyon be the scene of the explosion that confers success to the novel. "Sometimes a new place, coupled with a story that nobody expects of you, or yourself, teaches you to write in another way, or at least push the limits of your writing."
This book went to bookstores on February 13. Tallón causes hazards in his writing, like Cortázar, for whom this month was tremendous. And in Rewind the story is told of a music man who falls into the void from the stage, like what happened in Madrid just when this novel began to defy the weather of the shelves. Now, like her final words, she goes alone and on the road.