A Japanese capsule manages to return to Earth with the first remains under the surface of an asteroid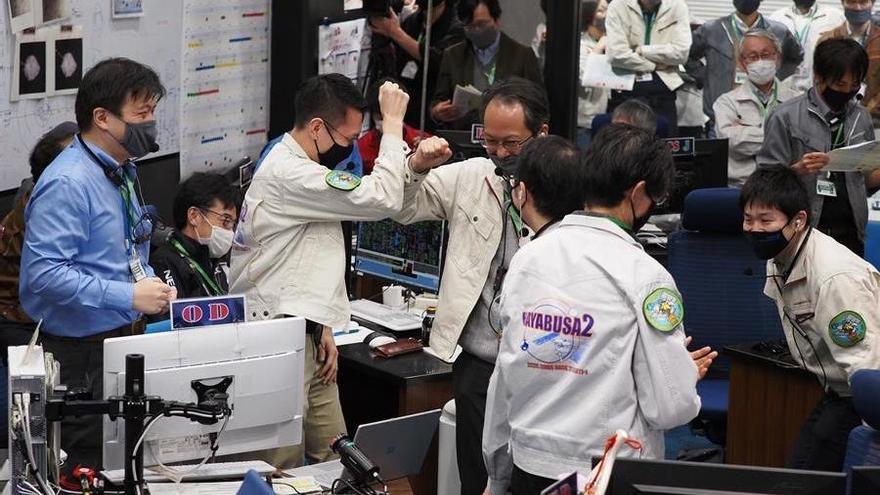 After a space trip of more than five billion kilometers, a capsule sent by the Japanese space probe Hayabusa 2, containing the first sample in the history of materials mined under the surface of an asteroid, has landed this Saturday in Australia.
The Japanese agency Jaxa has confirmed that it has received radio signals emitted by the small capsule after its landing in Australia, reports Europa Press. A helicopter has been sent to search for the capsule in the Woomera desert in the south of the country.
The capsule was successfully undocked from the probe at a distance of 220,000 kilometers from Earth, according to the Japanese agency.
The artifact has mined 4.6 billion-year-old material originating from the "early days of the solar system," according to mission chief Makoto Yoshikawa.
The samples from the asteroid Ryugu are the first to be taken from below the surface of an asteroid and will begin to be analyzed in June in the country of the rising sun.
The researchers hope that analyzing the samples will help them trace the origin of the solar system and could contain organic material, which could be "the origin of life on earth", according to Yoshikawa, since one hypothesis is that similar asteroids will hit our planet at some point and thus bring water to the earth's surface.
With the landing, an operation that began in December 2014 with the launch of the Hayabusa 2 probe is ended, which has started a new path towards another asteroid that should reach in about ten years.
An earlier model of the Hayabusa 2 brought solid samples from an asteroid to Earth for the first time in history in 2010.