A hug of complicity – La Provincia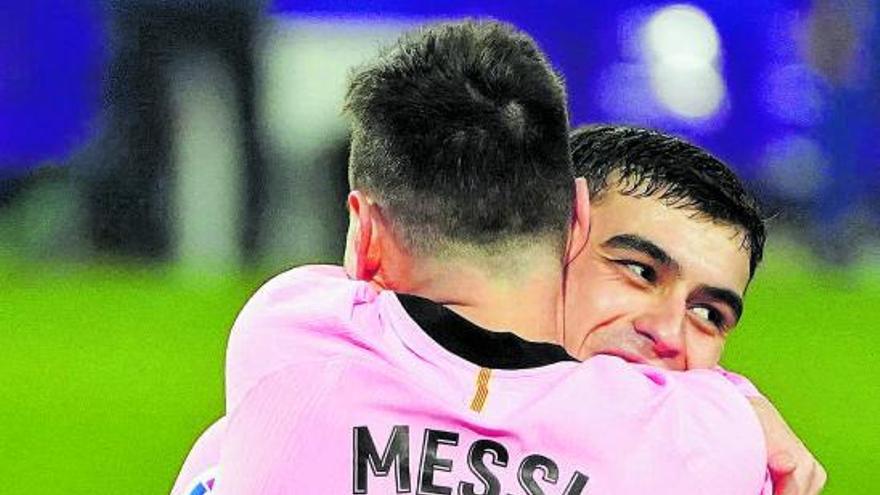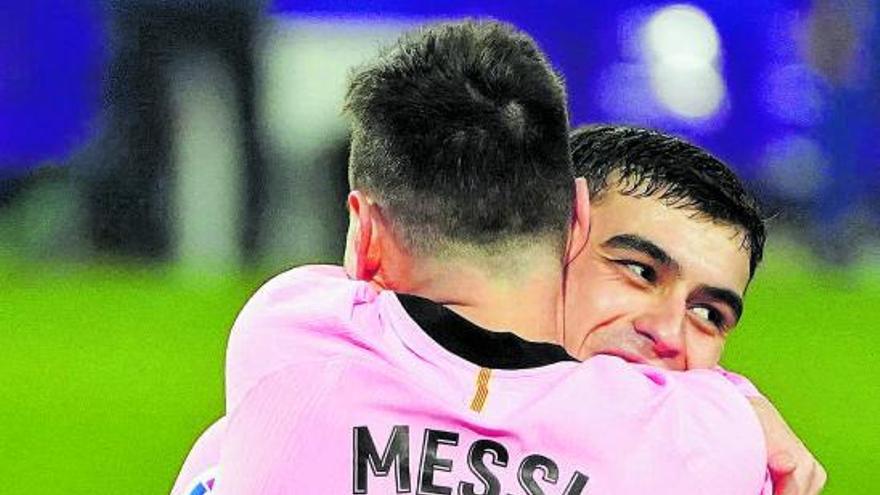 Happiness. Gratitude. Emotion. Love. Liberation. Affected. Relaxation. Feeling. Passion. Recognition. Plenitud… Although it was only the consequence of a simple goal, Barça's third in Zorrilla, neither decisive nor relevant. A hug as significant as the horse with which Ronaldinho raised Messi when the Argentine, then a teenager, months before turning 18, scored the first goal of his career at Barça. It was 2005. On Tuesday he wrote down the number 644. One more than Pelé. The umpteenth record exceeded.
Eyes closed and arms clenched. It is not a conventional or formal hug. It is not one more. It seems a sign of satisfaction from Pedri for feeling adopted by the greatest and from Messi for having discovered one of his peers. The staff of his old age in the unequal age, between the 18 of Pedri and the 33 of Leo. Someone to get along with speaking the same language in the field while outside they talk about whether something serious could arise from this new relationship. And, above all, if he can have some continuity with Messi's permanence in the Barça, only guaranteed until June 30. Who knows if Pedri recovers the captain's desire to continue.
A sprout of understanding
It is not, far from it, the intimate bond that Messi had with Luis Suárez, sharing life and family. Neither the fraternal relationship with Gerard Piqué cultivated since childhood, nor the silent treatment with Sergio Busquets after a decade enjoying success, nor the intuitive connection with Jordi Alba, a frequent assistant.
It is a connection arising from football understanding, a green outbreak in the communicative dispersion of the locker room, with Coutinho lost in thought again for not meeting expectations, with Griezmann thinking of celebrations for the goals he does not score, with Dembélé entering and leaving the infirmary and with Trincâo trying to assimilate, open-mouthed, what this elite football is, so different from the peace he enjoyed in Braga. Not to mention a Busquets who fears the substitution around the corner – only four complete games, the first four -, a Pjanic upset at being a substitute – twice a starter in the League – and a De Jong waiting to hear from his Former Dutch coach if today he has to act as a midfielder, interior or pivot.
"Good players understand each other well. Pedri is a player with a head. He does not have the physique of a high-level athlete but plays with his head and thinks faster than others. He has a different feeling with Leo, they are very intelligent on the pitch ", described Clément Lenglet, triply satisfied for having returned to the starting position, for having won the game and for having scored a goal thanks to a gift from Messi.
Two Pedri candies
After giving and distributing assists facilitating the final show of others, for a day Messi felt gratified with a candy. Although he had to remove the wrapping, of course, because Pedri's unsightly high heel was not a goal assist in itself; it only prolonged Leo's vertical run into the area. You had to make a control oriented with the right, sneak between the defenders and face Jordi Masip, an old teammate who knows all about Messi after so many years sparring in the goals of Sant Joan Despí.
Yes, it was an assist from Pedri's 40-meter pass to Messi that left him facing the first heads-up with Masip. Messi, stupefied, missed the ball due to lack of habit in receiving such gifts. Then he did take advantage of it. He knew how to recognize Pedri's gesture with his thumb, while assuming his mistake.
"Pedri's connection with Leo and the others is very good. Works a lot. And without the ball it is important in our team. I see Leo happy, with his creativity he is very important. You can tell if there are very good players by his side, "explained Koeman, eager to see a lasting relationship in the team. The youngest, like the injured Ansu Fati and Pedri, are the ones who are responding the best.