A Galician hotelier, on hunger strike for his pub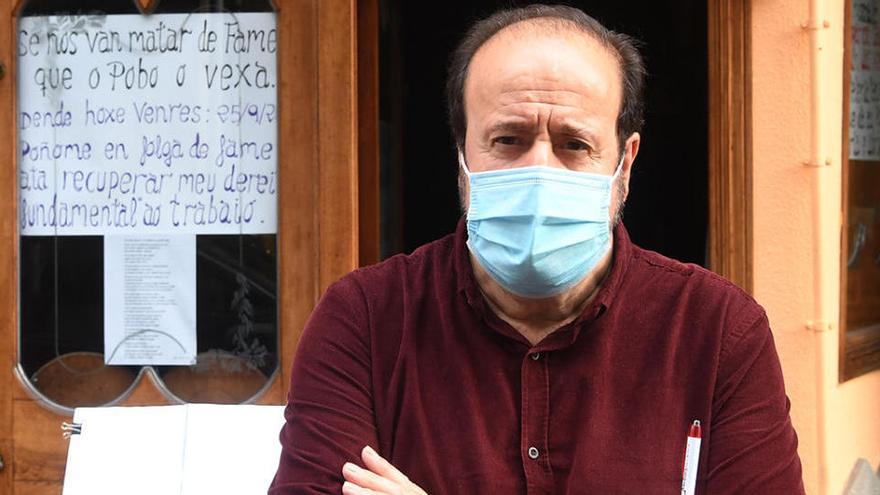 Without income, with many expenses and with a very black horizon. That is the reality of Lolo Villaverde Domínguez, owner of the Critical Area pub in A Coruña, which has been closed for almost seven months. "We want to get back to our work. We are not the focus of infection of anything", states as a member of the nightlife.
Since Friday he has been locked up in his establishment, which he opened 35 years ago. You have started a hunger strike to demonstrate the "calamities" that the sector is suffering. "If we continue like this, many of us will have to close," he says, worried about the nearest future.
What Lolo Villaverde is clear about is that he is not going to shut up in this situation. "If I stay by the way, well I stay, but let it be fighting because nobody is going to laugh at me, "he assures, while insisting that all he wants is to be" let work. "
Orzán Street -where the place is located- now seems like a desert, far from the image of a few years ago, full of young people, music and open pubs. "I never had a problem with the neighbors. I just want to open and I see that there are others who continue with their activity. Can not be. Nightlife is very bad, "he complains.
The plan of the owner of the Critical Area is "to continue with the hunger strike until it can be opened." He has chosen that path because "everything else is forgotten"." After talking to politicians and moving to solve this, we see that we are still very bad, so I decided to lock myself up and let it be seen, "he says.
His family, how could it be otherwise, is "very worried", but understands the position of Lolo Villaverde, who recognizes that "based on work" he has always defended his premises. "It cannot be that now all the work of the last 35 years is thrown to the ground", summarizes.
It claims "more financial aid" for nightlife and that "compensate for the closing period of the alarm state and now"." During this time we have paid rent and receipts. The SGAE continues to send yours, but we are closed, "he criticizes and wonders" how is this going to be resolved. "At the doors of the premises he has a signature book, so that anyone who wants to support him in this adventure can leave a record of his Villaverde also recalls that this strike "is not a lie," he assures that will not cheat and that he hopes this fight gets somewhere. "Nobody is going to pay attention to me if I don't do something like that," he concludes.