"A friend of mine died from a shark attack: I decided to change my life": the story of Amaury Lavernhe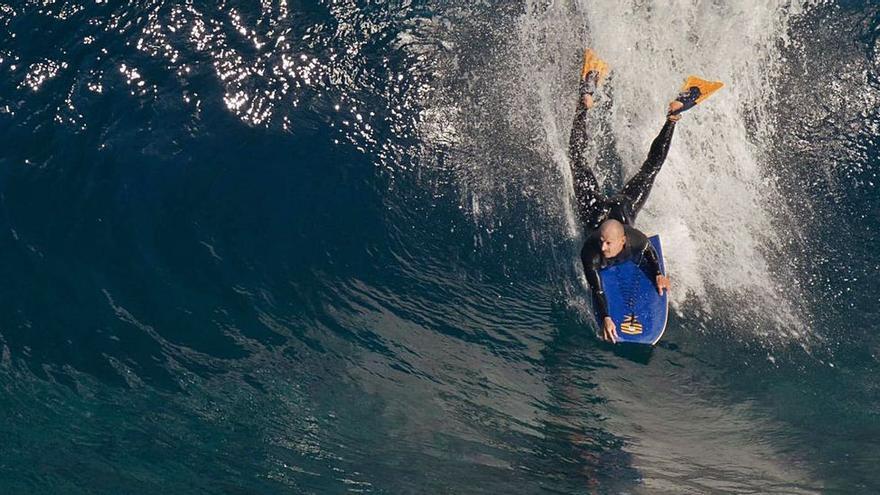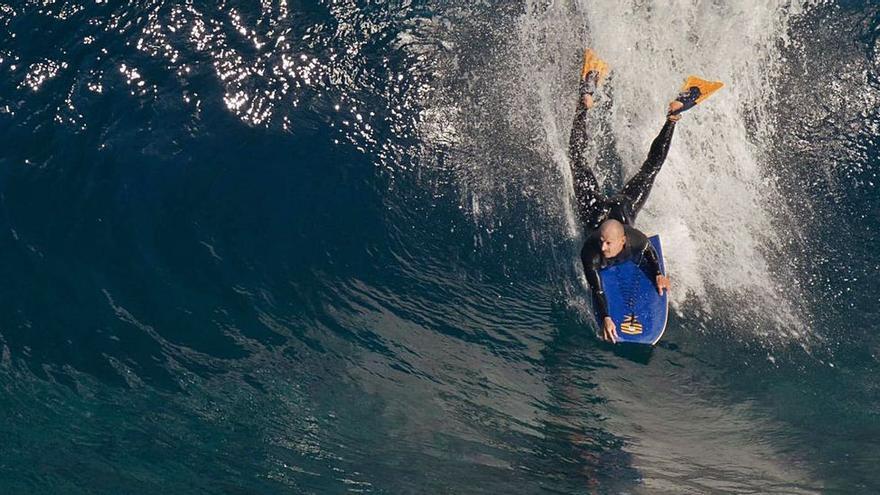 "The truth is that I have not stopped, but now I have a wife and two daughters and I am happy," explains Lavernhe, who runs a bodyboard school and was in the Principality teaching a discipline that in Asturias is very minority and unknown. It has wide differences with conventional surfing. "It's about sliding in the waves with a cork board and fins. There are several modalities: lying down, kneeling or standing ", sums up the Frenchman, who tells his experiences from Salinas.
Lavernhe's prolific love affair with bodyboarding began with a family drama. His father passed away when he was only 3 years old. "We changed our lives due to the death of my father and we went to Reunion Island. We were first in Martinique, but my mother (a journalist) was not convinced. I grew up in the country, but in Reunion I discovered the sea and the world of surfing and bodybuilding ".
In Reunion, this wave sport is practically like a religion. "The champions there are stars and my gods of the moment were dedicated to the body. There it is a very structured sport. I started doing it three times a week and at the age of 9 I was already competing ".
Lavernhe did not forget her studies, but it was difficult for her. "I went back to France and wanted to do physiotherapy, but it seemed hard to me and I wanted to continue with the bodysuit. I went back to Reunion and started studying Physical Education while combining it with the table. If he had a championship, the date of the exams would change ". The athlete then made a decision that shocked his family: he left his studies for the table. And it worked. He was world champion in 2010. At Réunion airport there was a crowd waiting for him after that triumph in Portugal. Of those Lavernhe earned 50,000 euros a year.
Everything was perfect, until a finned enemy appeared. "In 2011, a great friend of mine was killed by a shark attack while doing bodysuit. They did not find the corpse".
The deceased was Mathieu Schiller, Lavernhe's childhood idol and bodysuit champion. The management of the shark attacks in Reunion is a highly controversial and political issue on the French island. Lavernhe, fed up, decided to emigrate to the Canary Islands. And once there, in Gran Canaria, he met his current partner. Years later he returned with her to Reunion, where another shark attack took him away from an island that marked his character. He bought a house in the Canary Islands, has two children, ages 4 and 8, and opened his academy. Every little bit he goes to different parts of the world to teach classes.
"Now I have a new life, I am happy because I do what I like. When time permits, I can go to championships. My grandparents follow me online ", he says from Salinas, marveling at the Asturian landscape. "The bodysuit is a minority here, but we are on the way to making it known. I was in Xagó, Bayas and Gijón. We have to adapt to the tides. I had only been out for a walk in Asturias many years ago and the landscape is spectacular, nothing to do with the Canary Islands, which is much drier ", concludes Lavernhe. He emphasizes that, as he has always done in his life, he will return.