"A few minutes of the Stock Market is equivalent to months today. I only sleep four hours a day "| Funds and Plans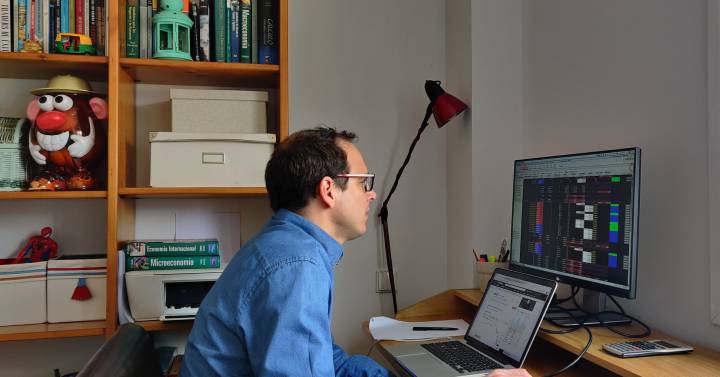 Jorge Ufano is the manager of the investment fund GPM Alcyon, one of the best in its category. For three weeks, he has hardly slept. Following the evolution of world stock markets in the midst of the worst financial crisis of the last decade is not easy. Still less do it from home. His wife works in a hospital and has two young children. The image of Leonardo Di Caprio in The wolf of Wall Street it is far removed from its current routines. Half a dozen asset managers explain what their day-to-day life is like in the midst of the storm.
"Many days I hardly sleep more than four hours," explains Ufano. "I order operations at three in the morning, and before eight I am already awake to see how they have worked. You cannot stop. These days, the minutes of the Stock Market are equivalent to months," he explains. The fund it manages has lost 4% of its value in 2020 and, even so, it has been one of the best.
One fact illustrates very well the exceptional situation. Of the 25 largest declines in the S&P 500 in its entire history, five have occurred this March. Among them, the two largest: 16% collapse on March 16, and 9.5% four days earlier.
Almost all of the Spanish fund managers, and the support staff, have been working from home for a week now. "The managers had contingency plans for this type of catastrophic events, and they updated it periodically. Now they have only had to apply it, and they are working well. We are not aware of any firm that has had problems operating," explains Elisa Rincón, director General of Inverco, the association of fund managers and pension plans.
The large Spanish fund managers (CaixaBank Asset Management, BBVA Asset Management, Santander Asset Management …) have already been operating 100% remotely for 10 days. "From before the confinement was decreed they sent us home. We are lucky that our work can be done exactly the same remotely," explains Lola Solana, investment fund manager at Santander AM. "The only positive thing is that we have more time to read and think. We have to get used to it, because it seems that the situation is going to drag on."
Distributed teams
"I was caught by the announcement of the confinement in my house in Jávea, and here I have had to stay," explains Rafael Valera, CEO of the firm Buy & Hold and manager of fixed income funds. "We have a very distributed team. Some in Valencia, where the manager has its headquarters, others in Villaviciosa de Odón … and there was only one colleague at the Madrid headquarters, who preferred to work from there."
Valera began to telework using his wife's computer, waiting for his laptop to be sent from Madrid. There were no technical problems to operate. "The big problem is that the market is broken, and that it costs to buy or sell any bond because there is a lot of mistrust," says the investor.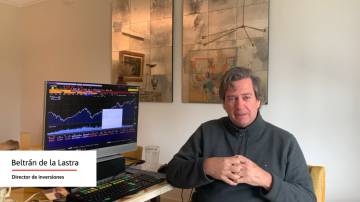 One of the challenges for small managers is access to Bloomberg, a news agency that is also the essential provider of financial information worldwide. Normally, Bloomberg terminals can only be used by an appraised number of people. "We are in contact with them to request permission to be able to access all the functionalities remotely," explains a manager of a small firm.
The main task of fund managers is to analyze the situation of companies (or countries) to decide whether to buy or sell their stocks or bonds. That requires a meticulous task of scrutinizing financial statements, presentations, audits …
"In our case, we haven't noticed much change, "explains Flavio Muñoz, founder of Andromeda Value and advisor to a fund." LThe big difference that we noticed is that now we have all the events online, and the quality of communication between the team loses a little,we do have to look at the agenda to make video conference calls. "
Seals
In managers of a certain size, the work of selecting securities and assigning the weight that assets have to the client portfolio is more collegial. "We maintain a small checkpoint in the offices, to easily access Bloomberg, and for certain key meetings. But we are very few, and we always keep our distance," explains José Ramón Iturriaga, manager of the Okavango Delta investment fund, in Abante. Advisors.
In almost all cases, investment committees that decide the allocation of assets and that assess the firm's global position are held by videoconference. "We just had one, from twelve noon to two in the afternoon," explains Mikel Navarro, fund manager at Santalucía Asset Management. "We are also videoconferencing meetings with the chief financial officers of the companies we invest in."
All managers consulted recognize that working from home is not a limitation in itself to work. A good example of this is the work of Fabio Ricelli, the best Spanish stockbroker in recent years. This investor, who works for the American manager Fidelity, has been living in his native Brazil since 2012. "For me it is not a 'handicap', but an advantage, because I avoid a lot of market noise," he explained in a interview Five days.
Psychologist work
One of the changes that all investors are undergoing is that they have to spend a lot of time dealing with customers and distributors, alarmed by the drop in funds, which in some cases are close to 50% in 2020. "I am dedicated to making psychologist with clients and employees. You have to convey calm and optimism. Many days I spend hours talking on the phone, "says Valera, from Buy & Hold.
Communication in these times of confinement and incipient financial crisis is essential. "Our president, Santiago Satrústegui, prepares a letter every day for all clients, so that they are well informed and keep the letter," explains Iturriaga, from Abante Asesores.
Another sign of increased interest in the financial markets is what is happening with specialized YouTube channels. For example, David Galán is an investor who has been running the Bolsageneral.com trading academy for more than a decade. His weekly summary videos used to have 8,000 to 9,000 views, while his last week's video had over 19,000 views.