A father denounces the waiting list of more than a year to see his son in Valencia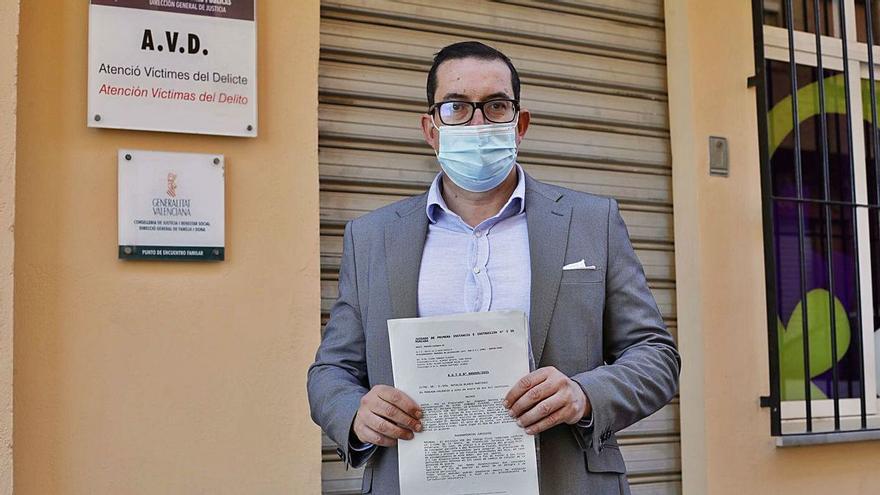 A waiting list of more than one year for parents, grandparents or direct relatives to visit the child, in supervised meetings or as a point of delivery and collection of the minor, after family disagreements that end up in court.
And it is that more than a year is the waiting time that there is in the Family Meeting Point (PEF) of Paterna, which affects Álvaro Mulas (number 41 on the list), but also the rest of the families who, like him, make up that list in a place that open full time one day a week (Thursdays), which is operational only three afternoons (Tuesday, Wednesday and Friday) and is closed on weekends. And the complaints about the inattention of the service accumulate. This is one of them and there is no trace of abuse or sexist violence in this history.
When Álvaro and his ex-wife divorced in 2017, the judge established a shared custody so the father and mother spent alternate full weeks with the child. The pandemic arrived and the father, Álvaro Mulas, was overwhelmed by the situation. He was diagnosed with depression and spoke to his ex-wife because "I was not in a position to take care of my son." In August 2020, he traveled to Madrid to enter a clinic and treat the disease. Two months later he was discharged, returned to Valencia and told the boy's mother his intention to see the child. But the mother refused. "Depression is highly stigmatized, but it is a disease and can be treated. There is life beyond depression and I am on that path. I am working and have got my life back. I do not want to lose my son for having been ill, for treating openly with a mental health problem that is temporary and for which I asked for help, "says the man, a bank employee.
Faced with the mother's refusal to visit her son, Álvaro went to court in autumn 2020 and the judge handed down a sentence in January 2021, establishing a visiting arrangements in several phases, which will be overcome through favorable reports determined by specialists and so indicated. Thus, the judicial order indicates that in a first period "supervised visits will be made in the PEF", then it will be "to pick up the minor in the PEF on Saturdays and Sundays, but without overnight" and in a third phase the child will be with his father on alternate weekends "from Friday afternoon to Monday morning." The judge emphasizes that the PEF must send the court periodic reports on the evolution of these visits and their affection in the minor. Once the three phases have been completed, "the custody regime established in the divorce decree will be applied again."
However, to finish the visits, you have to start them first, and that won't happen until well into 2021. "It seems like a nightmare not being able to see my son because he grows up and I want to accompany him, I want to share time with him, I want him not to Forget. He is 7 years old and growing up quickly. I call his mother every day. Sometimes he happens to me and sometimes he does not pick up the phone. The boy is happy when we talk and I tell him that I am traveling and why We cannot see each other, and I emphasize that I love him. He is a child and other times, if he is playing or looking at the pictures … he is more sparing in words or says to call at another time. Normal children's things, that I of course don't even take into account why I know that my son loves me and that we have lived together a long time and we were a team. My parents (his grandparents) live in Madrid but they also miss him. This situation has become too complicated and I see very unfair a waiting list of more than a year just to start the visits agreed by a judge, "explains the father.
When Álvaro was told that his number on the list was 41, he proposed to his ex-wife to see his son in the presence of a friendly couple or to carry out the visits in a private PEF. But neither. So Álvaro went to court again because, in addition, the boy has Asperger's syndrome and "I want to be close to him." The judge, however, refers him to the January car where he guides the visits since the management of the PEF corresponds to the Ministry of Equality and Inclusive Policies.