A drawing of Picasso's blue stage is auctioned for 85,000 euros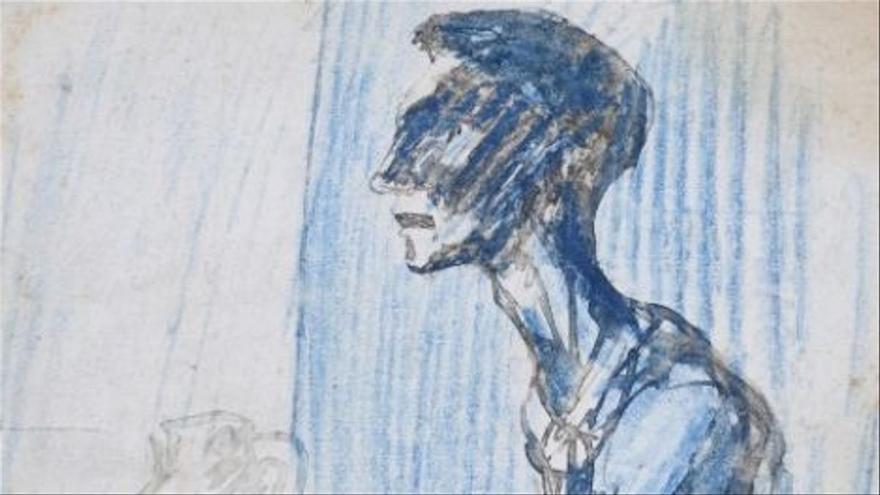 The auction house Subarna has sold this Thursday, October 7, an original and signed drawing by Pablo Ruiz Picasso from around 1900-1903 for 85,000 euros, doubling the starting price, which had been set at 40,000 euros.
As the auction house has explained to Europa Press, at the final price of this preparatory work for the famous 'The food of the blind' we would have to add the sales rate of 21 percent.
In addition, they have indicated that the Generalitat of Catalonia, through the Ministry of Culture, has exercised "the right of first refusal, with which they have remained for the last bid of 85,000 euros."
From Subarna they have pointed out that institutions, both public and private, have been able to bid for the work through three entry channels: bidding in the room, by telephone and via streaming.
Of course, they have ensured that, for the moment, they do not know to which museum the work will be destined and that the Generalitat "will have to communicate it once the studies have been done."
A work in its blue stage
By dates and location, it is consequently one of the few creations of his blue stage made in Barcelona and that they still existed in private collections in Barcelona. This drawing had been considered lost for almost 100 years..
A relevant detail is that the signature that appears in the Zervos reproduction differs completely from that of the drawing that appeared today. At some point someone who was not the author of the drawing left a false signature in the lower right corner.
However, the first owners of the work, the Junyer-Vidal brothers, close friends of the Malaga painter and owners of an important collection of his work -among them, some drawings, like this one-, asked Picasso, probably at the end of the 50s or early 60s of the twentieth century, that he signed the work himself (as he did with other of his creations), proceeding to eliminate the previous one.
Proof that it is the same drawing is that it is still the slight presence of that first signature can be slightly perceived, close to the most recent and authentic. This is the first time that the work has been shown to the public in color, with Picasso's handwritten signature.