A draw in Gijón is enough for UD Las Palmas to secure their place in the promotion playoff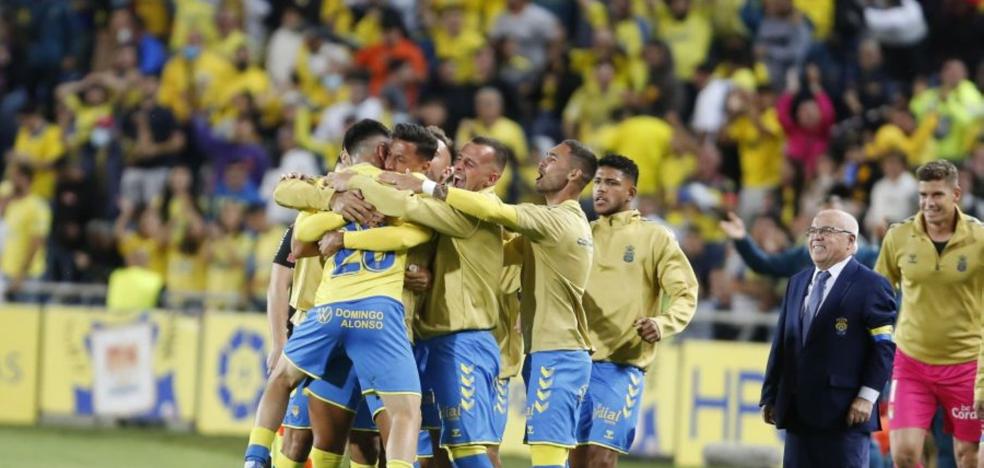 The match will be played on Sunday, at 7:00 p.m., at the El Molinón stadium. Pepper's team has options to be 4th
UD Las Palmas would be qualified to play in the playoffs for promotion to the First Division by scoring a point in the last League match against Sporting de Gijón, next Sunday, at 7:00 p.m., at the El Molinón stadium -Enrique Castro Quini-. La Liga, for the second consecutive week, changing the schedule, initially scheduled for 5:30 p.m.
The team led by Abelardo has nothing at stake, since their goalless draw with Fuenlabrada gave them mathematical salvation. Also, depending on how the results turn out, Las Palmas could finish in 4th position, a place that would allow them to play the first leg as a visitor. We must remember that this season the goal in the opposite field is not worth double. With one game to go, Las Palmas is sixth with 67 points, two behind CD Tenerife, which is fourth. The blue and white team would only have to win at home against Cartagena to secure this place. He has the goal average lost with Las Palmas in case they equal 70 points.
Girona has the goal average won over all its rivals, so it would be classified if, at least, it draws against Burgos.
Real Oviedo, 7th with 65 points, would have to beat Paco Jémez's Ibiza at the Tartiere and wait for Girona or UD Las Palmas to lose their matches.
On this last day the two direct promotions will also be decided. He Éibar, leader with 80 points, depends on himself. He plays in Alcorcón. He has the goalverage won against Almería and lost against Valladolid. In the triple tie he ascends as second. He is worth a tie.
It is enough for Almería to draw in Leganés, as long as Éibar does not draw and Real Valladolid wins. Those from Pucela, who receive Huesca, are the ones who have it the most complicated. Everything that is not won would condemn them to dispute the promotion promotion. They need to win and that Éibar does not pass the tie or that at the same time gunsmiths and Almeria do not win. If everything stayed the same, Valladolid would be UD Las Palmas' first rival, as was the case in the 2014-2015 season. This first game would be played on Thursday, June 2, at 7:00 p.m., in Gran Canaria. The yellow team, however, travels to Asturias willing to improve the field factor and will have a good number of fans who are planning the trip to Gijón. The club has already put tickets on sale at a price of €18.
These are the points that UD has with one game to go until the end of the championship, that is, two more than Oviedo and the goal average. Reaching 68, the yellows would ensure the promotion playoffs to First.