A drag queen from Alicante defends Vox and criticizes the LGTBIQ + collective: "It's a sect"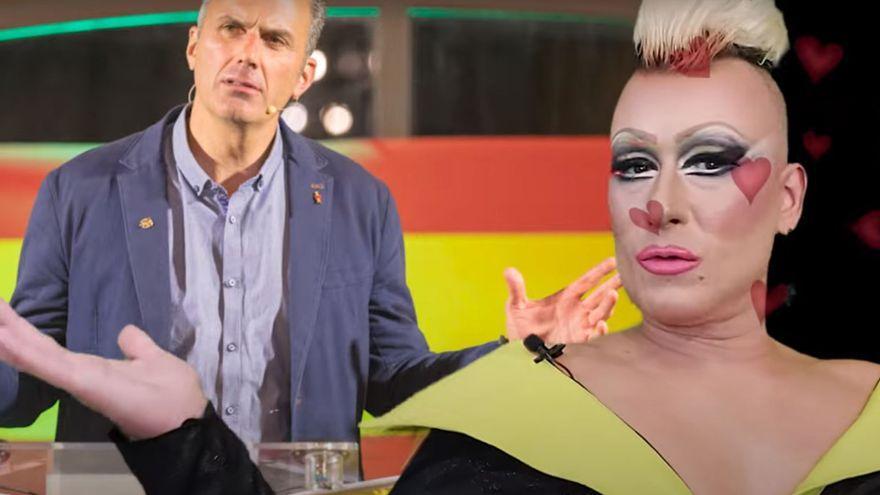 The 'drag queen' from Alicante Madame Perlan has become one of the main flag bearers of Vox in social networks. His videos defending the far-right party led by Santiago Abascal and harshly criticizing the LGTBIQ + collective, which he qualifies as "sect" and "homo matriarchal chiringuito", have become the subject of controversy on social media.
Under the pseudonym Madame Perlán is the makeup artist from Alicante Jose Javier Bravo, which was also dedicated to performing at home shows until the beginning of the coronavirus pandemic. And, on his channel 'Madame in Spain'in the well-known audiovisual platform, he analyzes the current political situation charging against the Government and praising Vox, a political party that he considers to be fighting for "recover the freedom that they are taking from us ".
"Why do I vote for Vox? Humble opinion of a drag queen" is one of the most played videos on the channel of the transvestite from Alicante. "I'm a little tired of people asking me in surprise and I wasr why i'm gay, drag queen and vote vox. Girl, because I think with my head and I am not influenced by the false media and politicians that we have, "he begins by pointing out." I listen to his speech, I read his proposals and represents me 80%, in the main, "he adds.
"We are foreigners in our country"
Madame Perlán also affirms in the video that "she supports an immigration that wants to come to work, regularize itself and respects the country to which it comes; but if they come to squirt and commit crimes, no". Similarly, he points out that "we must protect the border and equip our state security forces to return them, now call me a racist and whatever you want." It is a recurring theme on his YouTube channel: "We are foreigners in our own country and with fewer rights and aid than the illegals. If this is being racist then I am".
It also explains what measures Vox could take such as "call gay marriage civil union"or" bringing Pride to the Casa de Campo "does not imply a limitation of rights; and it argues that the ultra-rightist formation"he is not Francoist"but" respects the historical memory. "However, he indicates that there are also aspects with which he does not agree:" Abortion, bullfighting, euthanasia … ".
The 'drag queen' has been in full swing this week after Macarena Olona, Vox deputy in Congress, will reply to a tweet. Specifically, he asked her to participate in a live video to "disprove the fallacies that are said about Vox about sexuality" and the parliamentarian agreed: "It will be a pleasure." However, he was criticized by his party's voters when he considered that he had "sold himself to the official discourse."
"The LGTBIQ + collective is a sect"
The transvestite from Alicante also takes advantage of another of his videos to criticize the LGTBIQ + collective, which he describes as a "sect" and "homo matriarchal chiringuito" and guilt of "make us slaves of their political indoctrination"." Tags, tags, and more tags. The 'progresia' already reaches some exasperating limits and, instead of becoming freer, we are going back like crabs, "he denounces.