A 'Don Giovanni' contemporary and inspired by the Strauss-Kahn sex scandal | Culture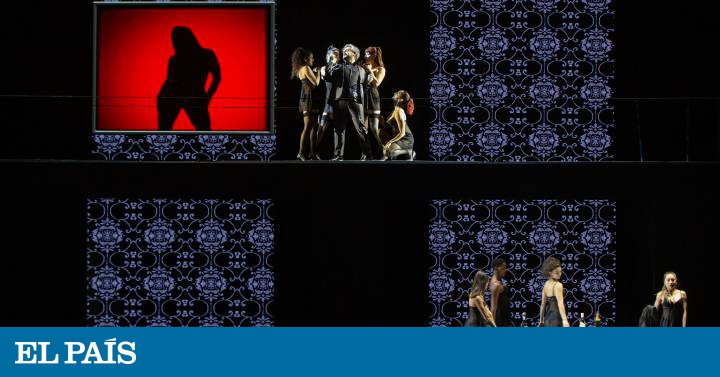 "Today we know that Don Juanism is not a heroic event, in the same way that there is no crime of passion but feminicide and abuse is abuse in every way." The words of the opera director, Marcelo Lombardero, in dialogue with EL PAÍS, gather the keys to the staging of Don Giovanni, his version of this famous opera that is presented in co-production with the Teatro Mayor Julio Mario Santo Domingo in Bogotá.
The production is a review with Latin American look and performances, a piece that has already been premiered successfully in Argentina, Chile and promises to cause a stir among the most purist audience of the opera or away from contemporary versions. Inspired by the case of sexual harassment committed by former IMF director Dominique Strauss-Kahn to a waitress, This production wants to resignify the piece of the Italian Lorenzo da Ponte and Wolfgang Amadeus Mozart, based on the original work 'The Mocker of Seville and Stone Guest', by Tirso de Molina.
"There is nothing more like Don Giovanni than this Strauss-Kahn wanting to violate and abuse the Afro maid in a New York hotel, feeling with the power to take a body from another being. I was inspired by how that very powerful character is condemned to hell, first that of public scorn and then that of the most ostentatious oblivion that is the worst hell a media person like him can have, "says Lombardero.
It is not the first time that this director reinterprets classics. I had already done it with Carmen, of Bizet, in which he strove to show that it was a femicide. "It happened that one saw Carmen and was like' poor Don José who had no choice but to kill the wicked by jealousy. " No, that's not possible. Today that work speaks to us again, it puts us in front and helps us think about our world and resignify it. The theater does not change attitudes but it does leave us reflecting, "he says.
Lombardero also did Lady Macbeth in the Mtsenk district, opera by Dmitri Shostakovich, who will present the next days in Mexico and Rise and fall of the city of Mahagonny, among other. For him, in the opera there are still discussions that have already been overcome in the theater. "Today you can no longer interpret Shakespeare in the same way as it was at the time. The same thing happens with Mozart and Da Ponte. I think you have to resignify the classics, first because they have a lot to tell us, but also because the return of time requires us to have a slightly more responsible look. "
If this bothers the public more specialized in opera is not something that worries you. Lombardero says he works to "thrill the audience that goes to the opera for the first time" and that he as a director does not intend to give "a history class or explain, but to show a live and tell-tale show".
Released in 1787, Don Giovanni It is a buffa (comic) opera, but it also shows the marked differences of classes and the appearance of this man who departs from the norm and is punished. "It's a political opera, where there is a unifying element that is a outsider that society wants to hide but really wants. That shows how terrible we are, "says the director. However, he adds, the myth of Don Juan has caused a fascination for the character to graduate as a seducer. "Mozart never speaks of seducer."
The musical direction of this contemporary vision of Don Giovanni José Areán is under Mexican, known for his work in opera, symphonic and chamber music, as well as in cinema; and it was made in coproduction with the Philharmonic Orchestra of Bogotá and lyrical voices of Colombia, Argentina, Mexico and Venezuela.