A dolphin has been living in Ibiza waters for more than 10 years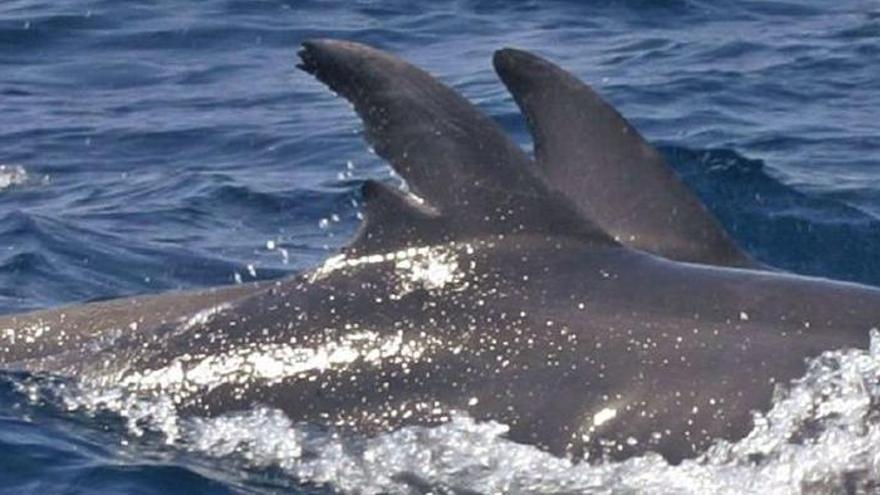 Through the research work on cetaceans carried out by the Tursiops Association, in collaboration with the Sant Josep City Council and other administrations and entities, it has been verified "the high loyalty of the population of dolphins on the shores of the island of Ibiza". What's more, a specimen has been identified that has lived in Ibizan waters for more than a decade. These are some of the preliminary conclusions of the 'Es nostres dofins' project, within the framework of which a total of six hydrophones have been installed around Ibiza, two of them on the Sant Josep coastline.
Thus, hydrophones they realized that as a result of the confinement and the reduction of navigation, the average noise has been reduced by almost 3 decibels (dB), which means that the acoustic pressure on the Sant Josep coastline has been reduced by half.
The dolphin with the tagged fin
A high local geographic fidelity of dolphins has also been discovered, which live in groups and stay in the same area without major displacement. In fact, in 2020 the same individual that had been identified in 2009 was identified, a dolphin with a marked dorsal fin that has been permanently on the coast of Sant Josep for at least 11 years.
Another phenomenon that has been observed is that the presence of commercial fishing boats (especially trawlers) attracts dolphins, who take advantage of the collection of the nets to feed themselves acting opportunistically. It is even suspected that dolphins can identify and recognize individual boats by their characteristic noise.
Likewise, in the area of ​​es Freus, this year it has been detected that noise has dropped considerably, although the significant distortion represented by the Ferries from the peninsula pass at night, with noise peaks at 3 in the morning.
The deployment of hydrophones was proposed within the framework of the collaboration with Tursiops that began in 2017, with the aim of studying the underwater noise of both environmental and human origin and also the presence of cetaceans, mainly bottlenose dolphins, in Ibizan waters. The first three hydrophones were installed in January 2018 in the first experiment of its kind taking place throughout the Mediterranean.