A dependency worker: "My back hurts so much that I cry" | Society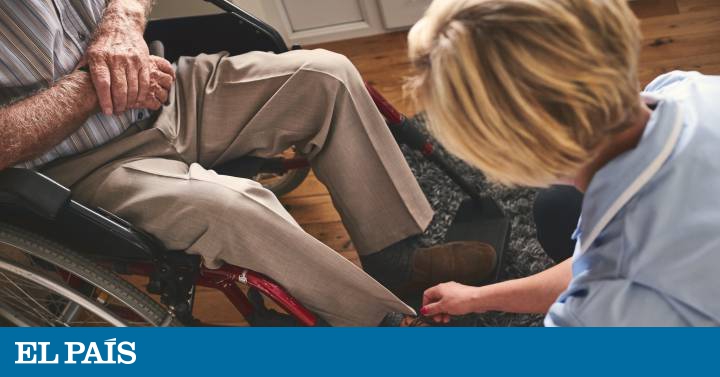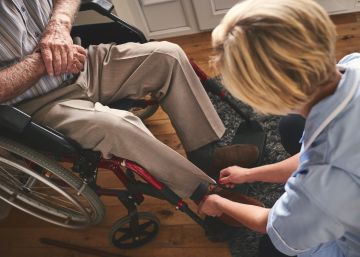 They begin to wake them up at seven in the morning so that they have time to clean them and that at ten they are ready for breakfast. There are only two gerocultoras in the plant to serve 17 elderly people in a situation of great dependence, the most serious. "I even had a shoulder injury from repetitive movements and from moving users. When you get home, everything hurts and all you do is take an ibuprofen to continue with the housework," says Juani Peñafiel, who He has been working in the sector for 17 years, now in a private residence in Madrid. "There are gusts in which my back hurts so much that I stretch on the floor and cry," says this 50-year-old woman. Unions complain about the overload. A study of CC OO shows that a large part of the employees end up taking medication to alleviate the pain.
She is one of the 250,000 people who work linked to the Dependency Law in Spain, according to an estimate by the Association of Directors and Managers in Social Services, an expert in the field. The vast majority (almost 90%) are women, according to estimates by CC OO, which raises the number of employees in the residential sector alone to more than 290,000. The unions lament the "precariousness" – the gerocultoras and auxiliary of help at home do not reach 1,000 euros per month, according to the agreement – and working conditions, which have an impact on the quality of the service provided to users in such vulnerable situations . If something generates consensus among workers, unions and companies in the sector is the need to finance a law drowned by the cuts.
Women take more tranquilizers and sleeping pills than men, and the percentage of the population that claimed to have taken hypnosedants rose between 2007 and 2013, the latest available data, among the working population of the socio-sanitary, educational and Administration services. "It went from 5.7% to 8.6%, according to the survey Ages of the Ministry of Health. It is a percentage higher than 7.3% on average for the entire workforce," explains José Rodríguez Valdés, of the secretariat of labor safety of CC OO. This includes social service workers. "It is the third sector in which the consumption of hypnosedantes grew the most in these five years (the first was that of domestic activities)," he says.
"This led us to conduct a study among more than 80 residential workers, through discussion groups and about twenty in-depth interviews with employees and union delegates, human resources managers, doctors …", he adds. They report an overload of physical and psychological work. "Almost 80% manifest pain on a regular basis and three out of four say they take medication to alleviate it. The results cannot be extrapolated to the entire population, but they give an idea of ​​the seriousness of the situation," says Rodríguez Valdés. "They say they feel pressure, fatigue, under professional recognition," he says. "Before getting medicated to calm anxiety or fall asleep, they take anti-inflammatories or painkillers," he continues.
"They have high workloads, which are also involved in stressful situations, because they see that they do not arrive and because of the people they serve, they are very vulnerable," says Gracia Álvarez, head of dependency at UGT. "Its conditions directly affect the quality of the service," he adds. More than one million people receive a benefit or service through this law. More than 257,000 people are on the waiting list. More than 146,000 await to be valued to know if they are entitled. "Women workers have low wages and many have physical problems as a result," says Alvarez.
Juani Peñafiel confirms that pains are common among the companions. She charges 700 euros a month for working "three or four days a week" from seven to three in the afternoon. "The sector has been getting worse over the years. In my plant 15 years ago we were four workers to serve the same people as now, that we are two." Users of this private residence pay "from 2,600 to 3,400 euros per month". "For that money sometimes I think they would be better at home," continues this worker, who says that, even without stopping all day, they are not giving them adequate service.
Unions ask for salary improvements. They have been negotiating with the employer for months the new collective agreement, which brings together the residential sector, home help and telecare. UGT and CC OO have convened precisely this Thursday concentrations in cities throughout Spain – in Madrid before the CEOE – to demand a raise in salary. "There are four categories below the minimum wage, they do not reach 900 euros per month in 14 payments. We demand a 10% salary increase between this year and next," says Antonio Cabrera, Secretary General of the Health Federation from CC OO. Jesús Cubero, general secretary of the Association of Dependency Services Companies (AESTE), which brings together the large companies in the residential sector, replies that they are willing to negotiate, but that they have not accepted that proposal, "raised in October because they would raise their salary by more than 8% in 2020". Ensures that they meet the ratios set by the autonomous communities – that unions call insufficient – and demands more funding.
Cubero affirms that the public place prices set by the councils go back "in most cases before the crisis" and recalls that the General State Administration has the obligation to co-finance the law at 50% together with the autonomous communities . "Now it pays 20% and the autonomous communities, 80%," he says. And here the consensus with the unions is absolute. "A big problem of the dependence is the financing. It was born without economic endowment and the cuts have not recovered", maintains Gracia Álvarez, of UGT.
But it also affects the precariousness and overload, also of the auxiliary home help. A UGT study, presented last year, highlights the difficulties of women workers. "It is a public service, but usually privately managed. They usually have partial, but divided, days so that they may work a few hours in the morning and others in the afternoon, which prevents them from combining it with other jobs. houses are not usually adapted, they make a lot of physical effort, so they accumulate pathologies, "says Álvarez.
Estrella López de la Rosa, 45, from Seville, attends five elderly people in different areas of Huelva. "I take care of the toilet, but also with tasks such as shopping, cleaning the house or helping them walk." He assures that "much has been spent on physiotherapists." He charges 982 euros per month for a full day in which he makes a "great effort" physical. "Most of the houses have neither articulated beds nor cranes," he explains. She doesn't medicate on a daily basis, but she knows colleagues who "take anti-inflammatory or muscle relaxants before going to work." To support the new day. And the next day, start over.
(tagsToTranslate) worker (t) dependency (t) me (t) hurt (t) back (t) cry (t) union (t) complain (t) overload (t) sector (t) report (t) cc oo (t) reveal (t) high (t) high (t) medication (t) resort (t) employed



Source link