A dead man on stage and the ikurriña that scared Franco's wife | Babelia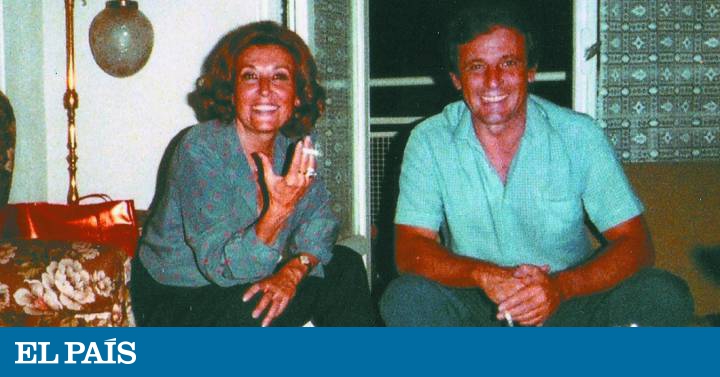 What the hell has been lost to me on stage? What am I doing here? Who sent me into this theater mess? This is what usually goes through the mind of an actor in the moments before a premiere. Scenic panic. A terrible desire to run away, abandon the trade. Questions about the meaning of life and the profession. TO Emilio Gutierrez Caba it always happens, which often leads him to remember his family: son, brother, uncle, grandson and great-grandson of actors, in his case the difficult thing was not to end up on the boards. So it is not uncommon to find him behind the scenes before a performance evoking one of his ancestors: "Why I did not study more and better History, which is what I have always been passionate about, instead of risking to show myself to an audience that is Notary of successes and failures, of my aging, of my way of dressing, of my attitudes, of my character, of my opinions? Why would my great grandfather decide to devote himself to theater? Why couldn't he remain a printer? What motives prompted him to leave Valencia and embark on this adventure? "
Many times Emilio Gutiérrez Caba has given these questions throughout his extensive theatrical life, which we could say that began at the very moment of his birth, in Valladolid 77 years ago. The same thing has been asked so many times since then that it has accumulated quite a few answers. Many found them searching through papers and letters from their relatives. Others arose from the memories of his sisters or his aunts. And he even locked himself in a newspaper library to check dates or fill gaps in family memory. It was inevitable that all of that did not end up in a book. "I've been writing down all the documentation I was finding in a database for 40 years. I always knew that I would end up ordering it and that moment has finally arrived, "the actor explains to this newspaper.
The book has just been published with the title The inherited time (Aguilar) and not only collects in detail the history of his family, especially women, but is a compendium of the evolution of Spanish theater in the last 75 years. Not the theater that is studied in the books or is included in the press reviews, but the one that is lived on stage. The one that "smells like freshly varnished wood and fresh paint" when everything is still dark and the seats are empty. That one that sounds like "candy wrappers, coughs and mobile phones." He who burns by the fire of an overheated bulb or the spark of an old wire. "A lightning between two obscurities," as Gutierrez Caba defines it in the book, reusing a verse by Vicente Aleixandre.
The great-grandfather
Let's start at the beginning: Pascual Alba Sors, ​​born on May 12, 1843 in Navajas, province of Castellón. Son of a family of farmers, he lived in that town until his father died in 1855 and moved with his mother to Valencia, where he began to combine a modest job in a printing press with his taste for theater, which he developed in amateur cadres performing "Beards", that is, characters of "character." He was given that facet so well that he ended up being hired by a professional company that paid him more than any of his other jobs. He married Irene Abad in 1865, with whom he moved to Madrid to have more job opportunities. But he was widowed soon, so he soon took his three children to the theater. The two girls, Leocadia and Irene Alba, had no qualms about getting on stage when a child character was needed. Thus began the saga.
Dove's Verbena
At the end of the 19th century the sisters Leocadia and Irene Alba are already renowned singers and actresses, work together with their father until his death in 1895 and participate in milestones as the first representation of The Dove's Verbena, That year he achieved unprecedented success. When Irene died in 1930 while on tour in Barcelona, ​​one of the actresses who performed with them at that premiere, the Catalan Pilar Vidal, offered her burial to the family so that she did not have to move her to Madrid and could be buried. "Pilar Vidal died in 1932 and is also buried there, as is logical. And another interpreter of that premiere, Luisa Campos, also from Barcelona, ​​left this world in 1946 and her body was buried next to those of Pilar and Irene: in the old cemetery of Montjuic a beautiful tomb houses the remains of Mrs. Antonia, the Caste and Susana, "writes Emilio Gutierrez Caba in his book.
A dead man on stage
After the great-grandfather died, Irene Alba married another actor, Manuel Caba, with whom he moved to work in Buenos Aires. From that time, Emilio Gutiérrez Caba rescues several anecdotes that show what the trade was like in those years. Like the one he remembers the night the public believed that Irene had murdered her co-star in the play The red chiripá, of Enrique García Velloso, who died of a fulminating infarction just at the moment in which the grandmother had a knife with a trickled dagger. "The rumor spread throughout Buenos Aires and my grandparents had to work hard to deny that falsehood. Even the three employees who helped the family at home said goodbye. "
Mother
In 1915 a new actress was born, Irene Caba Alba, who went to work in the company of her parents. I had no other choice. "My mother never had a real theatrical vocation, she was dragged into that profession because circumstances ruled, because there were many daily expenses at home and some money had to be contributed, because she had finished basic studies and because My grandmother sent, "writes Emilio Gutierrez Caba, demystifying the trade. The same thing would happen to his aunt Julia five years later. "In those days the silence of women in Spain was evident. They were totally subordinated to parents or husbands and only the very brave, the very intelligent, the very economically independent could meditate on their future and condition, and choose where appropriate. In my family it was not like that. "
The censorship
"As the forties progresses, the hunger and frightful backwardness that the country is dragging after the Civil War and which, of course, also accuse culture and theater are accentuated. The works that attract the most public are the most simplistic, the most obvious. (...) The works in which my parents participated were no exception (...) My sister Irene she was tired of representing maidens, daughters of a good family and girls of good heart (...) The fierce national-Catholic censorship made the theater a mere object to distract or hang out, unless it served to propagate the regime or content friends of the same".
The ikurriña
"In the summer of 1954, at the end of July, a play by Benavente was performed in the Prince of Madrid theater in the afternoon and I, as usual, tried to help lower the curtain at the end of the show [tenía 12 años]. But that day was special: I attended the performance no less than Carmen Polo [esposa del dictador Franco] accompanied by her court of friends, flatterers and bodyguards. The lady occupied, as always, a silver box and, as always, all the tickets that were made available to her were free, more would be missing, that is to say that to her many virtues she accumulated that of a very careful gorron to which it was necessary to give In addition, with chocolates and flowers, since a couple of days before a letter was received from Franco's civil house suggesting it. Come on, a remarkable shamelessness. The letter also said that in any of the entreactos the lady could require the presence of the first actress to greet her in her box (...) The final applause sounded and the red light bulb that indicated that the curtain should go down; He started to do it, but immediately we noticed something strange, it seemed that something was working right in his middle and hindering his descent (...) I looked through the mouth and glimpsed a strange half-deployed flag that had been hooked in one of the folds of the curtain. The driver shouted at me: 'Get out of here, run, go to the dressing rooms' (…) Someone had hung a Basque flag on the curtain as a protest against Franco (…) I think that day I knew what fear was ".
The scared
Good Friday 1970. General rehearsal of Olivia, by George Bernard Shaw, at the Club de Madrid theater. Starring Manuel Collado and the brothers Julia and Emilio Gutiérrez Caba. "A light British comedy, well written and little else. Without any significance, "as the latter recalls. However, after the pass, at eleven o'clock at night, Emilio returns home very restless. There was no concrete cause, but the responsibility of premiering in Madrid with his sister weighed on his mind. "Suddenly, I had the idea of ​​getting in my car, a humble Seat 850, and running away, leaving Madrid, leaving the profession, reaching the French border in the morning and getting lost in Europe, maybe in France itself, maybe in Italy ... I would leave without a single suitcase, a handbag with the strictly necessary and nothing else. I went down the street. I got in the vehicle and shortly thereafter, very shortly after, I climbed the road to Burgos. When I arrived at El Molar, I stopped to refuel (…) A few kilometers away, suddenly, I remembered when I was a child, from the beach of La Concha de San Sebastián (…) I remembered my mother, my young sisters, full of life (...) and those memories made me start to calm down, to accept that in order to live I have to dress in a certain responsibility (...) so that I gave up my flight to France, to Europe, and forgot that absurd decision by making the first change to return to Madrid ".
The future
"On October 19, 1988 born Irene School Navarro, granddaughter of my sister Irene. When the girl, from the hand of her mother or her father, goes to see my sister at any of the theaters in Madrid, a few years later, where she works, the tiny Irenita caresses respectfully the makeup tubes, recognizes pencils of eyes, lipsticks, he enjoys watching his grandmother make up and asks, even, to also make up her makeup. That secret, underground relationship between an actress and her granddaughter is not new in the family (…) That instant of play owned by the theater, that magic that perhaps only children understand and more a daughter, granddaughter, great-granddaughter, great-granddaughter of actresses. "