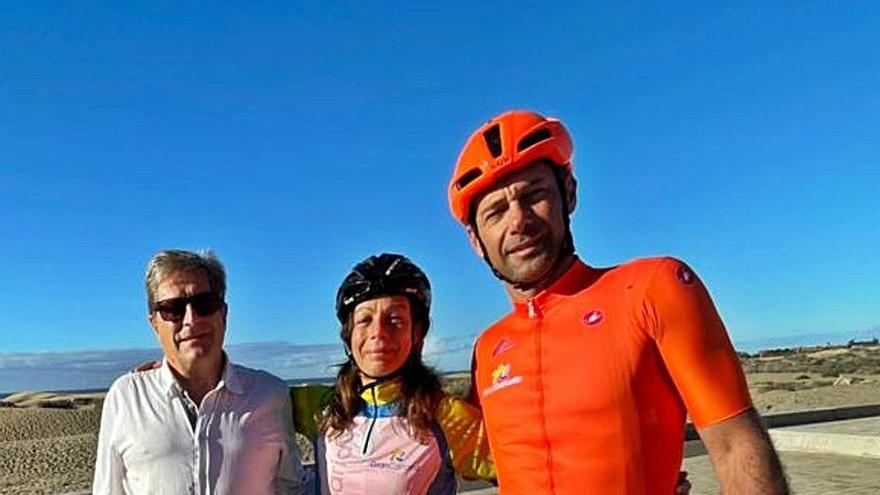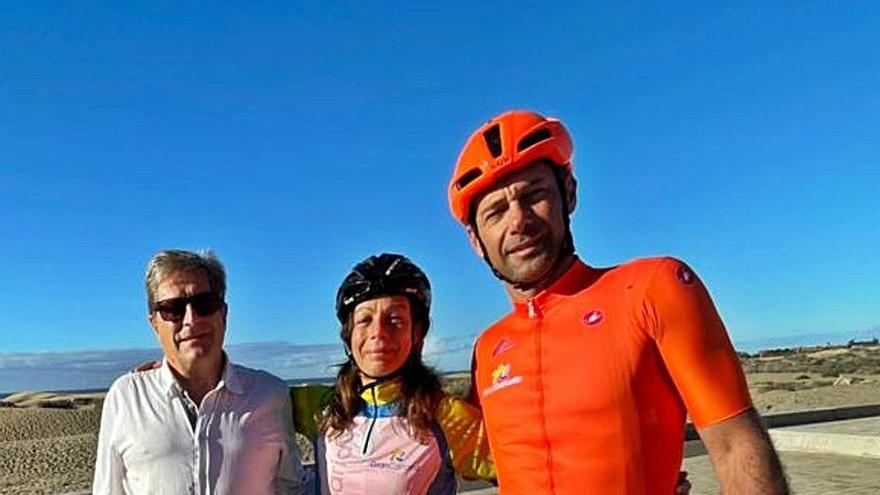 There are places you fall in love with, places you always want to return to. They are locations that evoke happiness, that bring light, that are only synonymous with pleasure. It is pure love, a crush. Something like this has been living with Gran Canaria for 25 years a group of Italian cyclists who leave the cold of Europe behind every winter to enter the bowels of the Island, to travel and skirt the asphalt of a scene that always asks for more.
"They have been some spectacular days. Reaching the Pico de las Nieves and seeing the Teide in front, with that snow, is incredible. It is a perfect island to train, there are many routes and to roll. Gran Canaria offers a variety of routes, from hard ports, less hard, shorter, longer … It is a perfect territory to train, really. That and the weather makes us always repeat ".
Speaking is Marco Velo, a professional cyclist for 15 seasons. He is the right-hand man of Davide Cassani, also a former professional cyclist and Italian road cycling coach. With its platoon of the Bike Academy that bears its name, Gran Canaria has become an obligatory stop, a place where you can pedal without worrying about anything other than enjoying every inch of asphalt. Not even the pandemic has deprived them of their appointment.
"This year has been a shame for the Covid, we have come less, but it has been a spectacular week. Every day we train in a couple of groups, it depends on the level of strength. We all enjoy the island, its charm ", emphasizes Velo, 'leader' of a group that left behind Cassani, who contracted the coronavirus in the weeks before the trip.
In total, almost 40 Italian cyclists who dyed the winding routes of the summit orange. "There are many routes, very different. The only penalty are some cut roads, such as the Ayacata or Taurito sections, "says Velo, who continues with a total passion for two wheels. "Now the suffering is different on the bike because I can allow myself to stop, take photos, have a coffee, look at the sea, the ports … When I was racing, the only thing I could look at was the wheel of the one in front of me. Now it's a spectacle to go out on the bike ", he says with a laugh.
You know well what you say. Three times Time Trial champion in his country (1998, 1999 and 2000), the Mercatone Uno linked his path to that of a legend: Marco Pantani. Pedaling for him, he managed to make 1998 the best year for the 'Pirate': Giro d'Italia and Tour de France. "For a cyclist, sharing a team with Marco is like being with Messi or Cristiano Ronaldo for a soccer player. I feel very lucky to have won that Giro with him. For me, he is and will be number one, "Velo recalls.
Tragic anniversary
Today marks 17 years since the tragic death of Pantani and his memory remains indelible in the collective memory of cycling. "Off the bike he was a friend, always with his smile. And with his companions it was simple. We felt it day by day, we felt it like a brother. On the bike he improvised. There might be a tactic, but five minutes later he forgot and did whatever came to mind. It was something incredible ", sentence.
Something that, like many other cycling fans, Velo misses. "Now everything is not in your hand, you have to be aware of the indications. It is a very calculated cycling, too much, but if you want to win … It is not as human a cycling as it was 20 years ago ", emphasizes Velo, who is very hopeful about what his Italian team can do in the World, European and Olympic Games. "With the names that we have, we cannot be afraid, only hope that this is a great season for us," he adds before giving notice. "We will return to the island. Cycling is my profession, but also a way of life for all of us," he argues.
Engine for the economy
The Bike Academy Davide Cassani is guided in Gran Canaria by one of the island's cycling institutions: Ángel Bara, former director of La Cicloturista and one of the pioneers of two-wheel events in the Canary Islands. "In the last year before the pandemic, some 600,000 overnight stays were calculated related to cycling. That is a very important number to take into account, very important for the entire tourism sector in the South, "says Bara. In the case of this group of Italians, it all started 25 years ago with an international demonstration of the Campagnolo brand. "We have not been able to sell this paradise quite well anyway. The world of cyclotourism is very strong and institutions must give it a push and bet on it ", he says. | THE