A course in quarantine – La Provincia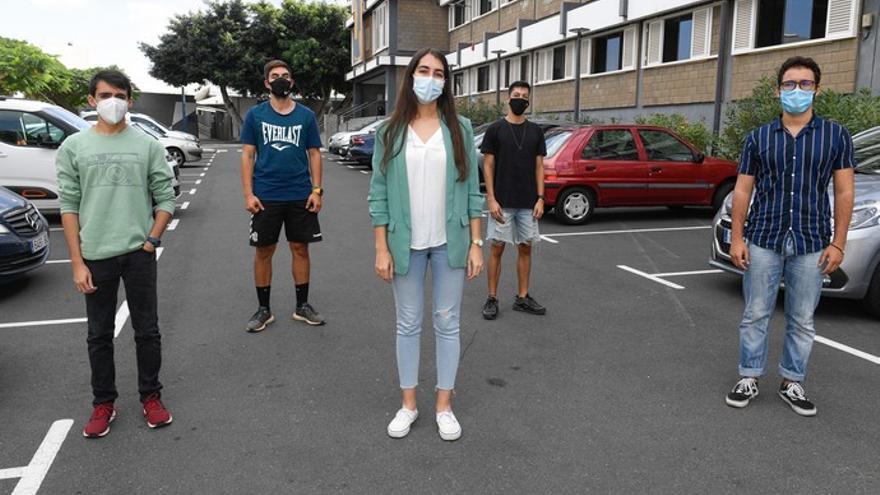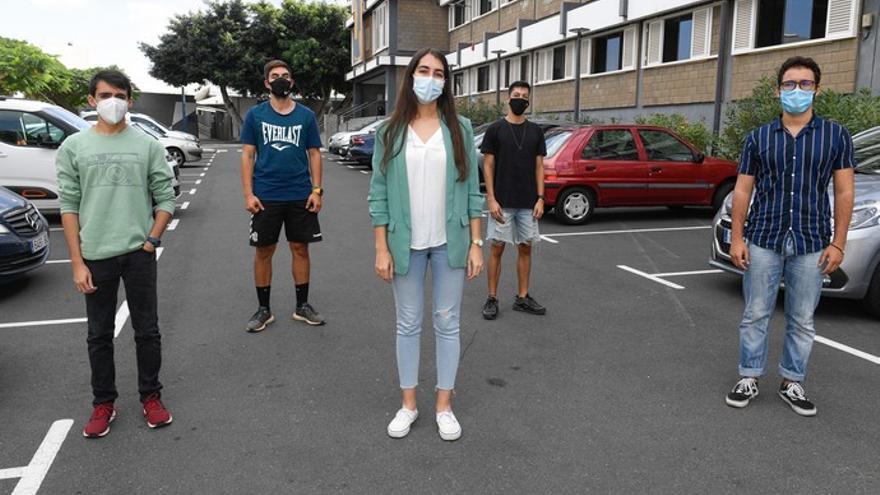 Ada Santana – 4th of Law
"The situation has normalized to the point that we are comfortable with online teaching"
Ada Santana (Las Palmas de Gran Canaria, 1998), president of the ULPGC Student Council, and a student in the last year of the Law degree, makes a positive balance of the first month of the 2020/2021 academic year. "Since classes began, things have improved a lot. Now we have a much more favorable epidemiological situation than the one we had a month ago and that has allowed some centers to have been able to move to the blended mode, this is the case of the Faculty of Economics, Business and Tourism that began last Monday with this model , as well as Philology that will do it from this Monday, or centers such as Telecommunications that have absolute presence except for at-risk students ". However, he points out that there are other faculties like his, Legal Sciences, that are still studying how to adapt to blendedness, especially for students in the first years. "At the moment they are all online. The legal problem is that we are many students and we have to organize it well, "says Ada Santana, while satisfactorily evaluating her experience in the virtual campus. "It has improved in recent weeks and the situation has been greatly normalized, to the point that the student is comfortable with online teaching. This new modality has nothing to do with the one we had last semester. Before we had many complaints on a daily basis and now practically none, even in cases where there is a digital divide, we refer them to the Vice President for Students, which gives them the solution they require ". Although she recognizes that tele-training is an advantage for her, because it allows her to better manage her studies with her responsibilities as a student representative, she is aware that an effort must be made towards face-to-face teaching, especially for students in the first years, " for those who the transition to university requires an adaptation and a greater connection with colleagues and teachers "; and for more experimental or technological careers. "In the previous semester the pandemic caught us by surprise, now we have more security, we know what teaching and evaluation will be like in a face-to-face and not face-to-face model. Now it remains to be specified and that the centers open up more to blendedness ".
Daniel Díaz-Temdero – 1st of Primary Education
"It is a disaster. Those of us who arrive at the University for the first time are very lost "
The situation varies greatly by careers and courses, being more chaotic for those who are new to university. This is the case of Daniel Díaz-Temdero Carrera (Madrid, 1999), a 1st year primary school student at the Faculty of Education Sciences of the ULPGC. He uses the word "disaster" to define his experience so far this year. "Both my class and I think so, because since we started, the Virtual Campus of the University fell many times, the lists of the groups came out practically 3 or 4 days before starting, we did not know which classes each one had , then the lists were all crossed, and you would see classes of subjects that you don't have … If in case one arrives lost when entering the university, with all that disaster, you are triple or quadruple lost ". At the moment his course has a blended teaching, although the first two weeks were telematic for all the groups, and then they were divided into three subgroups of 20 people, so that the face-to-face classes were alternated one week each. The problem, according to the young man, is that the two weeks that they have the online mode, they hardly teach. "In the end, what happens is that in a week where we are supposed to have four days of classes, we actually only have two. For example, last Tuesday and Wednesday I did not have a single subject, because when the other groups go in person, the teachers do not do online classes. We are doing at home half the time that we should do ", something that worries him above all with regard to exams. For Daniel, a solution would be the mirror classroom model – face-to-face class in one classroom and the rest of the classmates follow her in another through cameras or from home-, "but I don't know if the teachers really don't want to or can't do it because there's no infrastructures ". He insists that an effort should be made to raise the level of presence in the first year. "We have five subjects this semester that we have never given, they begin to give it to you online, and you don't find out anything. I came to find out what each one was about the first week I was in person, because I did not understand what the agenda we were giving consisted of ". He ensures that there is a high level of demotivation, both on his part and among his colleagues. "It is very frustrating, I had a tremendous illusion to get to university, I knew this year was going to be different, but you come across all this and it is tremendous. It worries me because as a sub-delegate I see that there are already people who are considering leaving, and that makes me sad. It's disheartening that such a beautiful race is losing so much because of how things are being done ". This is also influenced, in his opinion, by the fact that there is no university environment. "We don't know life on campus, we don't even know each other as classmates."
Samuel Taviro – 2nd grade double Translation
"I am happy because my faculty is one of the few that has opted for face-to-face classes"
Samuel Taviro Rodríguez-Brusco, (Ciudad Real, 2001) is studying the second year of the double degree of Translation and Interpreting English-French / English-German. Despite being also in the first years of his career, his experience is very different from that of Daniel Díaz-Temdero since his centers bet from the beginning on presence. "In my center we have had the incorporation of the mirror classrooms, which at first were a bit of a disaster, but as the weeks have passed we have been doing them thanks to the help of the teachers. I am happy because my faculty is one of the few that has opted for face-to-face classes from the beginning. Online we have practically nothing, simply when we have to go to a mirror classroom, the teachers let us follow it from home, but we can always come to the faculty and have our space ". A very different situation from last semester, given that he considers that during the quarantine "we did not learn anything, I finished first with the feeling of having lost training, but now we are recovering it." He thinks that his faculty has reached "normality" thanks to the face-to-face classes. "We have been here for a month and we have adapted well to the class routine. In the center they are quite strict when it comes to meeting the physical distance at all times, even in the corridors, with the gels, and the worst thing is having to wear masks in class, it gets a little bad because it bothers a lot and sometimes makes it difficult to communication with the teacher, especially in language subjects, you have to repeat a word up to four times ".
Juan Manuel Kesraoui – 3rd year of Nursing
"It is a strange course, but the blended modality works very well in my class"
Juan Manuel Kesraoui Alemán (Las Palmas de Gran Canaria, 2000), a 3rd year nursing student at the Faculty of Health Sciences assures that, unlike last semester, the new course has started "quite well" at his center. "It's certainly a weird course, but the blended modality works very well in my class. I have no problem with the schedules, the teachers have organized themselves very well, they have agreed among themselves so that the students are not harmed by the schedules ". In their case, their group was divided into three subgroups and they alternate one week of face-to-face class with the next two online. "We are 25 students per class, we have cameras in the classroom and microphones and we follow the online classes very well when we don't have to go to school, even from home we can interact with the people who are in the classroom. Sometimes the connection goes a little bit, but it works well ". Even so, Juan Manuel is in favor of returning to presence as soon as possible, provided that epidemiological conditions allow it. "This situation affects us, like everyone else, although the question is to adapt. But if it is true that in the two weeks in which I do not go to class it is much more difficult for me to attend, being in front of a computer, it is easier to be distracted, it is not the same as being in a classroom, in front of the teacher, but better that nothing ".
Gerardo Herrera – 4th of Architecture
"We have difficulties when adapting some subjects to virtual teaching"
Gerardo Herrera García, (Las Palmas de Gran Canaria, 1999), studies 4th year of Architecture, in the blended modality, although his model is different from other centers, given that he gives some subjects in person and others online. This means having to go, practically, every day to the School of Architecture on the Tafira Campus, because he lives in Teror and with online subjects the first two hours, it is impossible for him to go to the center for the face-to-face class at the third hour, for example. "Sometimes I only have a face-to-face course at 10.30, because first thing in the morning is online and the last hours too, but I come from the first hour. On Tuesdays and Thursdays, the third hour is face-to-face, but I come from 8.30 in the morning and I give all the classes here, with the computer but inside the classroom. And like me, several colleagues ". Although he acknowledges that this course is more organized than last semester, he considers that in Architecture teletraining makes learning very difficult. "We have certain problems when adapting some subjects to online teaching, due to the fact that Architecture is a more practical than theoretical career, and more work is needed in the classroom, where the teacher is constantly correcting you, which is difficult online. more. It is true that we have very large classrooms where many students can fit within the safe distances, but since most teachers are quite old in this School, they are within the risk group, and there are subjects, which have to be yes or yes online . Even in the same subject, some teachers give it virtual and others face-to-face ". He thinks that there are subjects such as Projects, which should be face-to-face. "Now we are giving it online but there is no time to correct everyone in the same class, because you have to be sharing the screen, opening the file … and with all that, a lot of time is wasted." It also points out that not all students have the necessary infrastructure to follow the course on the Virtual Campus. "There are colleagues who do not have a camera on their computer, or the microphone is not good for them, and they cannot follow the classes on equal terms with others. There is a digital divide. Where I live, for example, the Wi-Fi signal does not reach me, I have to share mobile data, and it is very slow, it is more profitable for me to go to school. However, Gerardo describes this course as "experimental", with new measures for everyone. "I see that there is an organization, the measures that are supposed to work have been studied, but we do not know with certainty how they will evolve. I don't think this will harm my training, but hopefully we will return to the presence. You have to be patient, but I hope this situation will be solved soon ".