A Champions Sevilla aggravates Elche's situation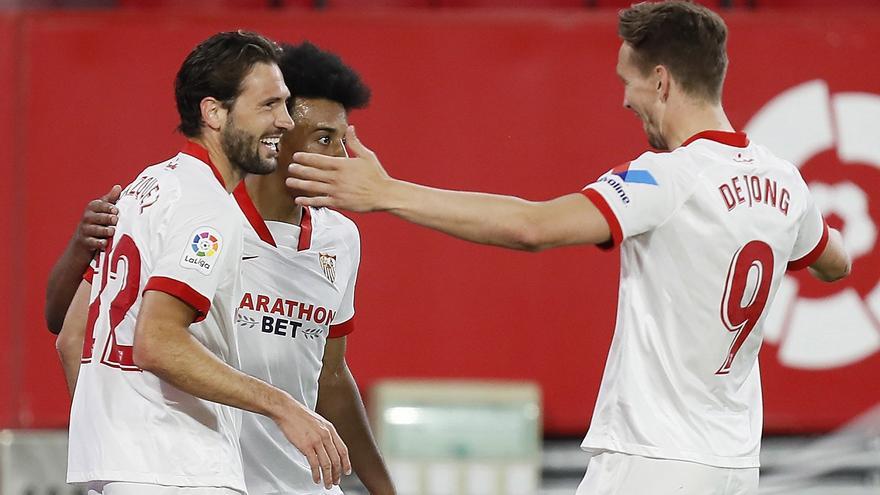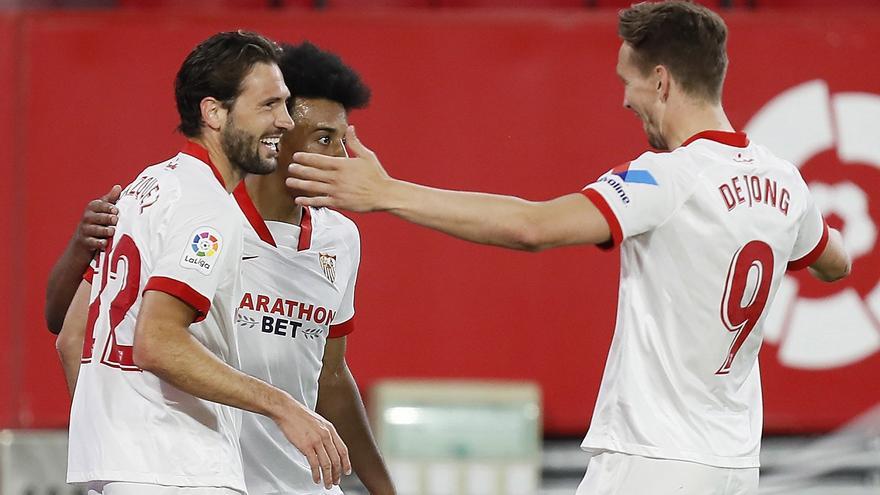 Sevilla strengthened its fourth place that would classify it again for the Champions by winning this Wednesday against Elche (2-0), which continues to touch the relegation places, in their postponed match of the second day of The league, which the Moroccan decided Youssef En-Nesyri, in vein of successes, and the Argentine Franco 'Mudo' Vázquez, with a high heel goal at the end of a lackluster clash.
The first half was equalized and blurred, although Sevilla took oil out of their few arrivals with goal number 21 of the course -15 in the League- En-Nesyri, when heading a great center of Suso two minutes before the break, and in the second the Sevilla fans generated opportunities to increase their income, which did not happen until 89, with the goal of Mudo Vázquez, against an Elche who never gave up.
In a duel with disparate objectives, which was presented as a magnificent opportunity to secure their fourth place for the Andalusians and to move away from relegation for the Alicante people, Sevilla and Elche faced it with sensitive casualties that were noticed from the beginning.
In the premises they were absent due to injury Aleix Vidal, the medium Joan Jordán and the Brazilian central Diego Carlos Santos by sanction, plus two other strongholds such as the Brazilian Fernando Reges, the anchor in the midfield, and the Argentine winger Lucas Ocampos, for inconvenience.
Eleven days after their 2-1 triumph against Sevilla, in a terrible match for Sevilla, Elche also appeared in this new appointment without the winger. Alberto Barragan, the Argentinian Emiliano Rigoni and veteran forward Nino due to physical problems, with which Colombian Helibelton Palacios made his debut on the right.
The first half was boring, very balanced, with hardly any clear chances, with Elche pressing very well and exhibiting claw to control a Seville asleep and without ideas, which could cost him dearly in two ads from the Argentines Lucas Boyé and Guido Carrillo.
However, the lack of clarity and verticality It was common to both teams, intense, but not at all brilliant and more concerned with thwarting their rival's specific attempts in a bad match.
Suso Fernández tried it with a shot from the front on the edge of the first half hour who came off slightly off track, as did Carrillo and Fidel Chaves from Huelva, also from afar, and who ran into a very safe Moroccan goal Yassine Bono.
However, the panorama changed two minutes before the break, when Suso took out his quality and scored a magnificent center at the head of Moroccan En-Nesyri, in vein of successes, so that he scored 1-0 in one of the few clear arrivals of an erratic Seville.
In the resumption, the Lopetegui team, without any brilliance and with more pragmatism than other things, did come out with another verve, ready to sentence, but they did not get it in the options available to them. Óscar Rodríguez, En-Nesyri or Rakitic, on a ball that hit Edgar Badía with his left, due to the great success of the goal from Elche.
Elche, technically limited and that abused the centers to the area, stretched, but without success as it was conditioned both by its deficiencies in attack and by the reinforcement of the defensive framework made by Lopetegui with the first changes, although Raúl Guti, Lucas Boyé and the Argentine Pablo Piatti, who debuted, they tried in isolated actions.
Sevilla did not suffer, since Bono was always very sure, but, although Munir or En-Nesyri again could score, the relief did not come to the end, with Elche already overturned and leaving many spaces, when Mudo Vázquez, who ends his contract at the end of the season, rounded off the victory with a spur goal, with a subtle touch with his left foot, after one against Oliver Torres.
In the end, three points that Sevilla adds to distance 9 to Real society already 12 to Betis, and to be 3 from the third, the Real Madrid.
– Data sheet:
2 – Seville: Bond; Jesús Navas, Koundé, Sergi Gómez, Acuña (Papu Gómez, m.87); Rakitic, Gudelj, Óliver Torres; Suso (Rekik, m.78), En-Nesyri (De Jong, m.87), Óscar Rodríguez (Munir, m.61) (Franco Vázquez, m.87).
0 – Elche: Edgar Badía; Palacios, Gonzalo Verdú, Dani Calvo, Josema (Mojica, m.77); Josan (Pere Milla, m.69), Marcone, Raúl Guti (Víctor Rodríguez, m.84), Fidel (Piatti, m.77); Lucas Boyé, Guido Carrillo (Tete Morente, m.69).
Goals: 1-0, M.43: En-Nesyri. 2-0, M.89: Franco Vázquez.
Referee: Javier Alberola Rojas (Castellanomanchego Committee). He admonished the locals Sergi Gómez (m.11) and Óscar (m.39), and the visitor Mojica (m.78).
Incidents: Postponed match of the second day of LaLiga Santander, played behind closed doors at the Ramón Sánchez Pizjuán.