A canary on the run to Mars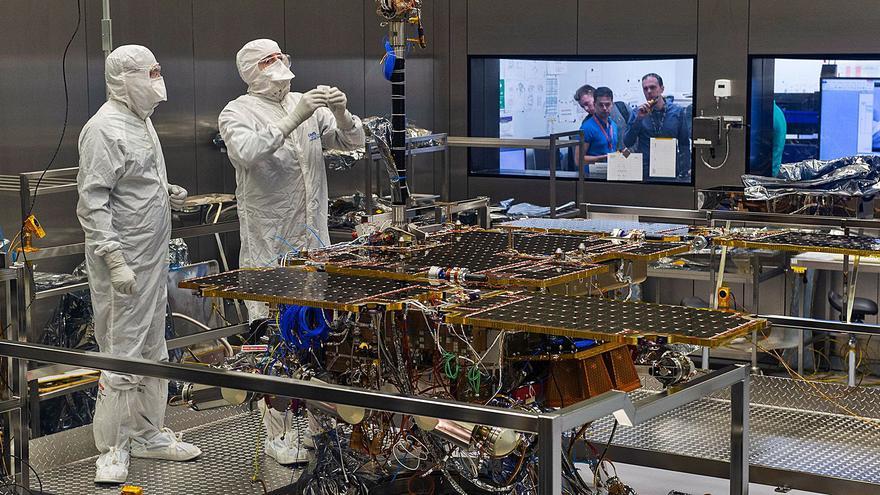 "Doing and playing with our own hands something that you know will be on another planet in two years, it gives an incredible feeling, I still can't believe it, it's a dream come true." This is how Javier Pérez Matos from Gran Canaria defines his enthusiasm for participating in the ExoMars project of the European Space Agency (ESA), as head of the integration and avionics test group of the first rover -space exploration vehicle- developed entirely in Europe that will be launched. in 2022 and will land on Mars in 2023. Doctor in Telecommunications Engineering from the University of Las Palmas de Gran Canaria, and Master's degree in Aerospace Science and Technology from the UPC, he has been working since 2014 at Airbus Defense and Space, in the United Kingdom, and from May he will be part of the ESA staff. An impeccable professional career, which he shared last Thursday with future Canarian engineers through the videoconference ExoMars: The first European rover to arrive on Mars in 2023 organized by the ULPGC's School of Telecommunications and Electronics Engineering (EITE).
Javier Pérez is responsible for supervising the integration tasks of all the rover electronics and executing the operational tests that guarantee that the space exploration vehicle works correctly, that it can handle the instruments it has incorporated, that it can be controlled … In short, it works and is ready for launch, a responsibility that, far from weighing on him, gives him wings to continue advancing in his profession. "I am grateful to Airbus for giving me this opportunity, I have an excellent team and when the people are good, you don't feel the responsibility because you can trust everyone, you just set the standards."
Pérez is already working on another robot that will bring samples from Mars to Earth for the first time
Manufacture of the flight rover was started in England in 2018 in a special clean room located north of London, built expressly for interplanetary missions. Due to its dimensions and characteristics, it is unique in Europe, as it is equipped with technology that guarantees a very high level of protection for the vehicle. "We cannot contaminate the rover with our organisms, microbes or bacteria, because that could contaminate Mars. Hence the importance of this room, in which to enter we have to get into a series of gamma-ray sterilized suits, go through air showers, etc. Each of us took almost 20 minutes to enter and leave the special room ", explains the Canarian engineer.
The robotic vehicle was built in that space between 2018 and 2019. Equipped with cameras, it has a built-in drill that will drill up to two meters below the surface of Mars, to collect samples from the earth that it will then analyze with a series of instruments. that it carries inside to try to detect traces of life, both present and past, on the red planet. "The starting hypothesis is that if there is any microbe on Mars that has survived, it will not be on the surface, but below, protected from radiation, from the corrosive atmosphere, and the idea is to drill as deep as it has been now, two meters, to extract samples at that depth and process them in a laboratory that has the rover integrated ", indicated the researcher.
What's new?
Unlike the rovers that NASA has built – the last one, the Perseverance that landed on February 18 on the red planet – the main novelties that the robotic SUV of the European Space Agency will provide is the extraction of samples from two meters deep; and its own navigation system, with three-dimensional technology, where from Earth you can mark a target and take photos of the surface of Mars with the cameras that it has integrated, so that, as if it were an autonomous car, it has the ability to decision on the path to follow to avoid the rocks.
In May he became part of the ESA staff where he will take on new missions
An achievement in which Javier Pérez has played a fundamental role thanks to his tenacity when it comes to betting on the aerospace sector. "I feel like a child, the whole part of the space has always been something that has excited me and when this opportunity arose in 2014 I did not think twice. I came directly to Airbus and still today, there are days when I wake up and I don't believe it. Knowing that I am working with a wonderful team, made up of colleagues from many countries, from France, Germany, Italy, England … Together we are building the first European rover that will arrive on Mars in 2023, it is a dream come true ", he reiterates.
Work has also just begun on what will be the second European rover, called the Sample Fetch Rover (SFR), which is included within ESO's Mars Sample Return mission, which will collect a series of samples obtained by the Perseverance rover. from NASA that landed on Mars in February, and will bring them back to Earth. Another challenge of great global scope given that it will be the first time that a sample collected from another planet has returned to Earth for analysis.
As explained by Dr. Pérez Mato, one of the objectives of the NASA rover that is now on Mars, the Perseverance, is to collect soil samples from the surface and put them in about 30 test tubes that are incorporated, then leave them scattered around the surface of the red planet. For its part, the second rover to be built in England, the SFR, has the mission of traveling to Mars and collecting those tubes that NASA has left behind. It will keep them in a kind of sphere, it will deliver them to another lander that will already be on the red planet and that will take off from its surface with this sphere to deliver it to another ship that will be orbiting Mars and that will transport that sphere to Earth with the samples. "It is a project that starts now and the samples will be back on Earth in 10 or 15 years, a period that, in spatial terms, is nothing. We will bring the tubes, and it will be the first time that we will be able to analyze samples from another planet on Earth. This sphere must also be treated with great care, because just as we take care not to contaminate the rover so as not to contaminate Mars, we do not know if there may be something on Mars that contaminates us, therefore, a study is already being carried out on how to they will receive these samples, they will be taken to a special laboratory, with great security, to open the tubes and analyze their content ".
"Step by Step"
The secret to getting so far in the professional sphere is, in the opinion of Javier Pérez Matos "to do things step by step, see where you would like to be, and take small steps in that direction. I always liked the space, I studied engineering at the ULPGC, I opted for electronics, I chose to do a master's degree in Aerospace Science and Technology in Barcelona when I finished my degree, I got to know the companies, the ESA projects, and little by little I was getting involved in this world. Although at first everything seems very distant and inaccessible, you have to start taking steps in that direction and if that is what you like, little by little you will see that there are many opportunities ".
The vehicle incorporates a drill to extract samples from a depth of 2 meters
In this sense, the Canarian engineer emphasizes that the space field is an emerging sector with a lot of job offer. "Now there is a kind of race to Mars, even the private companies that can afford it want to try to get there first. We are reliving with Mars what many people lived with the Moon, and it takes many people, from doctors, physicists, astrophysicists, electronic engineers, computer scientists … Many ESA and NASA projects have it as a priority objective, and everyone is fighting because in ten or fifteen years, we will experience the same as the landing on the Moon, with the first astronauts arriving on Mars ".
A career in which Javier Pérez already has a special role. After six years linked to Airbus Defense and Space, in May he will join the staff of the European Space Agency, which has hired him after checking his brilliant work on the ExoMars project. He will move to the Netherlands to join ESA's European Space Research and Technology Center (Estec). In addition to continuing to prepare and support the rover until it launches next year, it will also begin work on other missions to study the expansion of the Universe.
It has an innovative navigation system with three-dimensional technology
A promising career that was developed at the ULPGC, since in 2011, as a doctoral student, he was part of the team responsible for organizing the IDeTIC ISS Contact 2011, the first radio contact with the International Space Station (ISS) held in the Canary Islands. "The ULPGC not only gave me good training, but also supported me to carry out extracurricular projects. If you are curious about something, there is a very good atmosphere of professors and researchers willing to support you. That was what allowed us to make contact with the ISS, they gave us day and night access to the laboratories, to test and contact the Station. I would say that thanks to that I was spinning the rest of my professional career, and I want to thank the ULPGC for that ", he concluded.