A Canarian meteorologist watches the formation of an anomalous hurricane in the Atlantic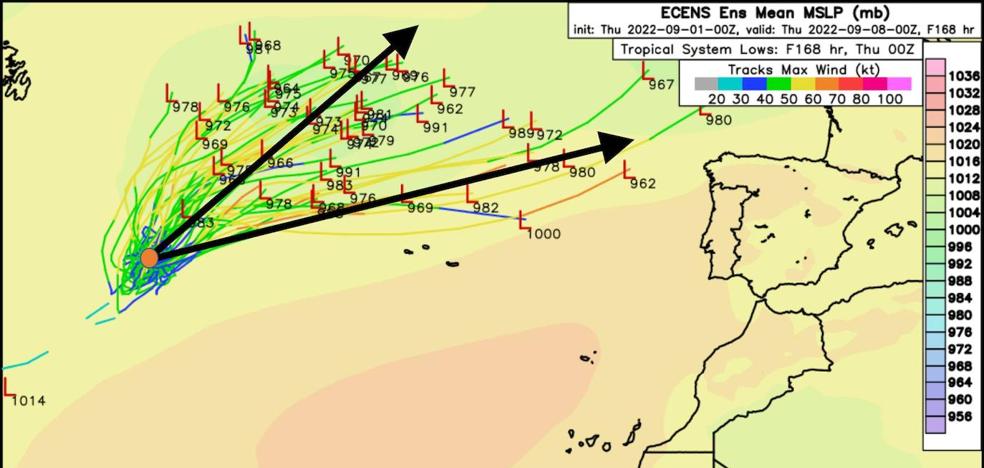 Climate change
Juan Jesús González warns that Cyclone Danielle, located west of the Azores, is strengthening, "something extraordinary" in this area
The Canarian physicist Juan Jesús González Alemán has been watching for days
the strengthening of a tropical cyclone west of the Azores at unusual latitudesmuch further north than usual, and
attributes this phenomenon to the marine heat wave in the Atlanticwhose surface waters have recorded the highest temperatures since 1981.
The cyclone, declared this Thursday by the United States National Hurricane Center, «
is strengthening to a hurricane as it moves north, something extraordinary in the area", explains the doctor in Physics, AEMET Senior Meteorologist and researcher of the atmospheric dynamics of severe tropical events on his Twitter account.
Map of current temperatures of the Atlantic Ocean.

It is still early to define the trajectory that the cyclone, called Danielle, will adopt, although the dynamic models predict that it will move towards the
northwest of the peninsula.
This depression could bring
very strong gusts of wind to the extreme northwest of the peninsula in the second half of next weekalthough if it happens, the chances of suffering the effects associated with said tropical system in Spain are "very low", less than 10%, the spokesman for the State Meteorological Agency (Aemet), Rubén del Campo, told Efe.
However, González warns that nothing can be ventured about its dynamics, beyond its "anomalous intensification in the area, which is very likely."
In addition, the meteorologist points out the possibility that the cyclone, by moving away from the tropical area and finding lower temperatures, will suffer "an extratropical transition, becoming a powerful
storm capable of also leaving a great impact».
In any case, the scientist insists that the anomaly of this event lies mainly in its formation and intensity so far north and stresses that it is not "the first time that we are threatened by the possible arrival of a tropical cyclone, but the potential is which is increasing in recent years.