A Canarian aeronautical engineer at Teruel airport, a benchmark in Europe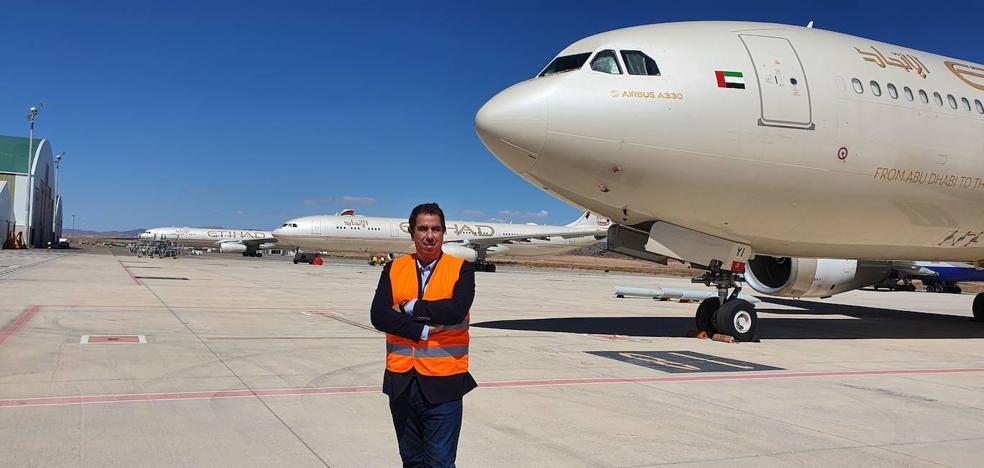 Alejandro Ibrahim makes the business of the country's largest aircraft parking, recycling and maintenance platform profitable
Commercial flights are not the only way for airports to make money. There is one that is unconventional and unique in Spain, directed by an aeronautical engineer from Gran Canaria since it was launched ten years ago, and which today is
the largest aircraft parking, maintenance and recycling platform in Europewith a current capacity of 180 large aircraft but with a forecast of housing around 400 in about three years.
Alejandro Ibrahim (1965-Las Palmas de Gran Canaria), director of the Teruel Plata industrial airport, has shown that there is another profitable management model with planes on the ground.
Ibrahim explains that Plata's business is not only to be the largest parking, maintenance and recycling center for large aircraft in Europe, but also to be an aeronautical industrial airport where
air operations, tests and trials, aircraft maintenance, rocket engine testing, general aviation, flight schoolsthat is to say, a space where the aerospace sector is fine-tuned».
The airport and aeronautical infrastructure occupies an area of
550 hectareswhich makes it the third largest airport in Spain after Madrid and Barcelona, ​​and generates more than
350 direct jobs of the companies installed at the airport and indirectly there are some
800 jobs in Caudéa Teruel city with some 33,000 inhabitants, making it the largest generator of employment in the city, he says.
«Every day is a challenge with new opportunities and always pointing towards the future of aeronautics as a goal. It is an exciting job because we are constantly growing », he points out. Ibrahim has managed this international airport since the beginning of its air operations, "when it was not yet certified" and today it is an airport and aeronautical infrastructure
"reference in Europe".
Although it is true that the infrastructure -a public entity- started out as a space for parking, recycling and maintenance of aircraft, over the years it has been taking advantage of the opportunities in this dynamic sector, and now we plan, design, project and execute infrastructures such as, currently,
the largest hangar with capacity for two A380, the largest passenger aircraft in the world. We also manage the air operations of aircraft that land and take off, the uses for new businesses such as the space zone for rocket motor tests with PLD Space or the aircraft maintenance zone with the company Tarmac", states its director.
Innovation is another of our hallmarks and the one that "has given us the most success". "We work on issues that I never imagined could arise 10 years ago, but that once launched represent a new way of growing and supporting companies that produce
new technological challenges: rockets, aircraft recycling, airships, drones, aircraft testing and technological prototypes.«