A badger has been killed: a crime has been written | Babelia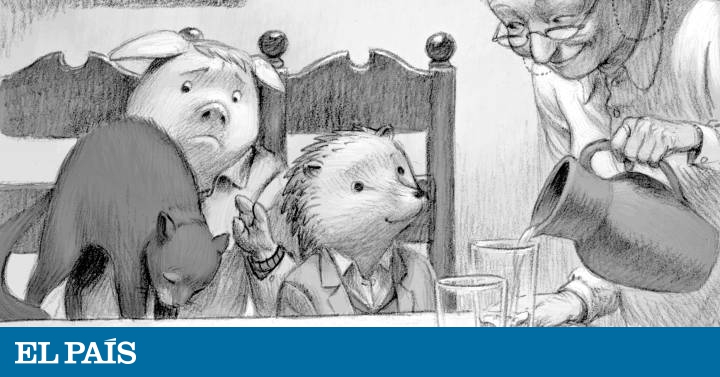 Jefferson Bouchard de la Poterie is a very cute hedgehog and a great reader. One autumn morning, like any other autumn morning in the world of animals that walk on two legs, dress, talk and use their cell phones like humans, Jefferson leaves the house to touch up his toupee. Upon arriving at By the Hair, his usual hairdresser, he finds Edgar, the owner, on the floor, his shoes staring at the ceiling. The badger has scissors stuck in its chest. A badger (according to the slang of the world in which Jefferson lives) in which a hedgehog who only wanted to touch up his toupee – and by the way see his beloved – ends up involved.
Jean-Claude Mourlevat, one of the most successful French writers among young people in his country (some of his novels have sold more than two million copies and are compulsory reading in schools), makes his debut in the crime novel for the most little ones with Jefferson (Children's Nordic). "The police intrigue of my novel is simple," acknowledges the author through an interview by e-mail. "Although technically it is a crime novel: it has a murder and an investigation. But, curiously, there are no police, or they are very little present ".
As the writer emphasizes, the structure of the novel is fixed on the mold of a thriller, while the plot is more like an adventure story. Remember, at times, the sagas of The Hollisters, The five or The three researchers (the series in which Alfred Hitchcok participated). In this case, the hedgehog on the run will try to fulfill the mission of finding the real culprit alongside his best and faithful friend, the pig Gilbert. "It's a classic lead couple of this genre," says Mourlevat, "a main character who joins a friend, less intelligent than him but funnier, and willing to give his life. Two companions who could be Sherlock Holmes and Watson, Don Quixote and Sancho Panza or Don Juan and Sganarelle.
In the novel they are two animals. Well, two fictional characters, says the writer: "Let's be serious. Jefferson is not a hedgehog: he talks, he dresses … He doesn't exist in real life ". Jefferson, with his human ways, will have to travel to the country where women and men – the real ones – live with domestic animals; they eat pork, cow and lamb; and they dress in furs, to prove their innocence. It is in this other world where the writer and his character recover their animal identity. On the one hand, because, in the words of Mourlevat, "boys and girls are attracted to animals, because they are vulnerable, like them, and because they are also at the mercy of adult humans". On the other, because from his condition Jefferson will be aware of the injustices suffered by his fellow men in that other reality.
"Beyond the intelligence of each other, what sometimes adult readers do not accept is that he affirms that humans are animals. I think so. Amazing and exciting animals, but animals, after all ", sums up the writer.
As a good first-time criminal investigation rookie, Jefferson puts his intelligence, courage, and insight to the test in the process of solving a crime. And in addition, the adventure in which he is involved will awaken activism in defense of animals. This is also a history of denunciation against slaughterhouses. "It is more difficult to make adults see how animals are treated, especially in factory farming, but I have my arguments," says the author who considers himself "hardened in the debate."
A story in which not only a murder is described, but the treatment that lambs receive when they are going to be slaughtered is detailed – unsweetened -. "I softened 'that scene by presenting it as a story told by Gilbert, and not lived directly," says the writer. "What I perceive in the schools is a feeling of indignation regarding this hidden and horrible reality. Jefferson has caused many people to convert to vegetarianism (or eat less meat) both among the smallest and among the adults. I am proud that it is so ".

'Jefferson'
Author: Jean-Claude Mourlevant
Translation: Delfín G. Marcos
Editorial: Nordic Books. 2020
Format: Board. 250 pages